Inside Former 76ers Teammates Ben Simmons And Joel Embiid's Complicated Relationship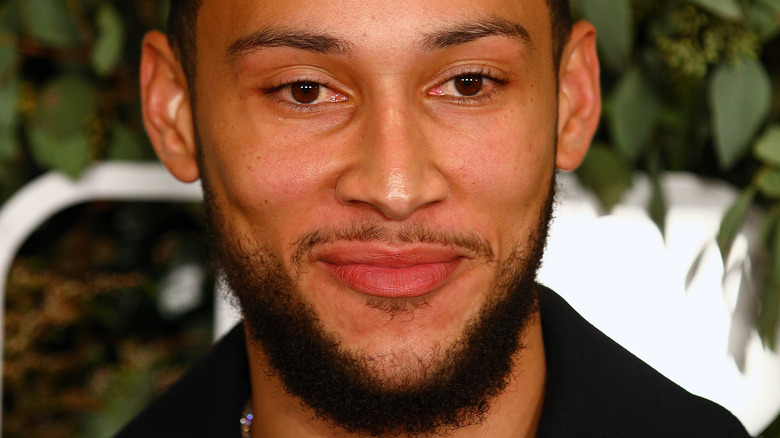 Graham Denholm/Getty Images
Australian NBA player Ben Simmons makes a lot of headlines off of the basketball court. Fans want to know what's up with the basketball player and his ex, Maya Jama. The two actually ended their engagement in August 2022, according to the New York Post, because of demanding work schedules and travel. Prior to that relationship, Simmons was dating Kendall Jenner. The couple kicked things off in 2018 but their on-again, off-again relationship didn't last.
While Simmons has started and ended many romantic relationships with A-list women, he's also fostered several relationships on the court. Simmons is super tight with LeBron James. In 2020, Simmons told "Reel Talk" that he and James had great camaraderie. "We're definitely brothers," Simmons said. "I got a lot of respect for him, just coming through college, high school. Looking up to him and then being able to compete against somebody like that." Simmons admitted that he measures his basketball progress to that of James'. "Me progressing my game to play on the same level and compete [with] the best is an amazing feeling," Simmons added.
But Simmons doesn't have the same easy affability with Sixers star Joel Embiid. The two played together for the Philadelphia 76ers before Simmons joined the Brooklyn Nets and while they were teammates, they didn't always have a sense of connection.
Ben Simmons says he didn't get the support that he needed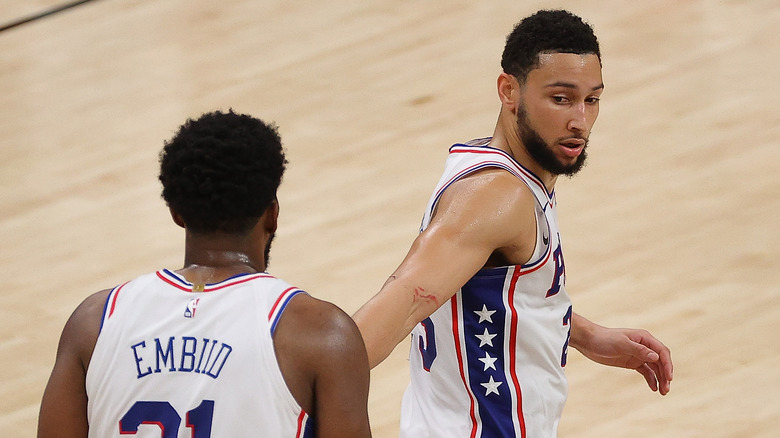 Kevin C. Cox/Getty Images
Things got rocky during Ben Simmons' time with the Philadelphia 76ers during the 2021 postseason. In game seven with the Atlanta Hawks, Simmons didn't take an open shot, which ended in a loss for the Sixers. This on-court freeze-up created tension with his then-teammate Joel Embiid. Simmons requested to be traded and returned to Los Angeles, according to NBC Sports, to focus on his back pain and mental health.
On JJ Redick's podcast "The Old Man and the Tree," Simmons claimed that he didn't get support from Embiid and Coach Rivers. "I'm already dealing with a lot mentally in life, as a lot of people do, but it got to a point where after that [Hawks] series I'm getting — it's from the people you're supposed to have the support from, that comfort from, and I wasn't getting that either," Simmons said. "So it was a toll on me."
Redick prompted the strife and said, "No, let's call it like it is. Let's call it like it is. You know that I love Joel [Embiid] and you know that I love Doc [Rivers], but they essentially threw you under the bus after Game 7." Simmons agreed. When speaking with ESPN, Simmons said of Embiid: "I don't talk to Jo. We never really spoke," adding that there wasn't a friendship there. "He's a great player, we just didn't get it done," he added.
Joel Embiid says the media took his statement out of context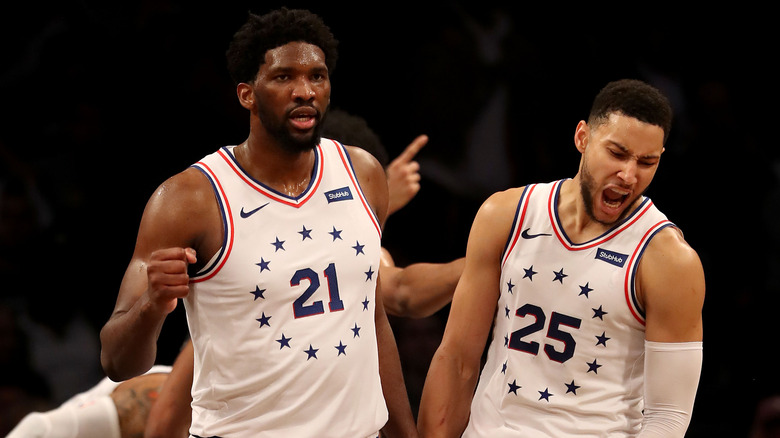 Elsa/Getty Images
Joel Embiid spoke to the press at that time about the 2021 loss to the Hawks. "I mean, I'll be honest. I thought the turning point was when we — I don't know how to say it — but I thought the turning point was just we had an open shot and we made one free throw and we missed the other and then they came down and scored," Embiid said, per Sportscasting.
Embiid came to regret how that quote was taken by the media and felt that outlets used it to spur on the conflict between him and Simmons. "This is what [the media] does," he told Sports Illustrated. "I listed a bunch of stuff that happened. And that one little piece of it was everywhere. We couldn't get anything going. It's unfortunate, but if, as a player, if you want to read into that, I can't help you." But he also defended himself, saying that he has no issue calling out his teammates, which Simmons was at the time, and encouraging them to work harder.
Despite this friction, Embiid is open to a friendship with Simmons. As The Score reported in March 2022, Embiid said, "I wouldn't mind being friends. That's just me." So perhaps there's a chance of rekindling some of that old Philadelphia 76ers camaraderie, even though Simmons is now with the Brooklyn Nets.