The Bizarre Thing Kanye West Once Said About Kim Kardashian's Dad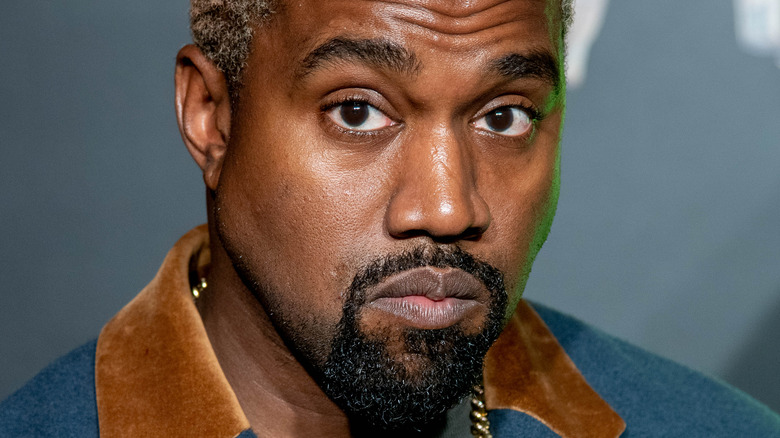 Roy Rochlin/Getty Images
Kim Kardashian and Kanye "Ye" West ended their marriage in February 2021 when Kardashian officially filed for divorce six years after their union began, per Us Weekly. The news came after a supposed rift emerged in December 2020 that seemed to create an irreparable divide between the famous duo. The divorce proceedings hit several snags along the way, though, including reports that several of Ye's lawyers quit for reasons that were not made clear to the public. Since Kardashian and Ye share four children — North, Saint, Psalm, and Chicago — they've had to carefully iron out a co-parenting arrangement that works for their family amid the divorce proceedings.
Ye even bought a house across the street from Kardashian's home during this time, and he explained on "Hollywood Unlocked" why he made this decision. "My solace comes from seeing my kids and getting a solid schedule," the rapper explained. "I'm gonna be so close, the kids are literally going to be in walking distance. I don't play when it comes to my children." While their co-parenting arrangement seems to be working so far, Ye has made headlines since their separation for things unrelated to his family. He made several controversial comments about members of the Jewish community and has since faced serious personal and professional repercussions for what he said. Ye's outrageous comments also extended to Kardashian's late father, lawyer Robert Kardashian, and his statement is truly puzzling.
Ye says he's 'the living Robert Kardashian'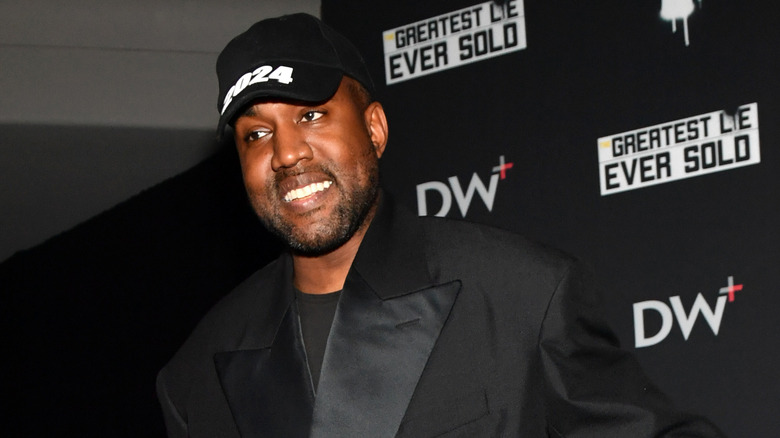 Jason Davis/Getty Images
In an uncensored interview with Piers Morgan on October 21, 2022, Kanye "Ye" West described his relationship with his ex-wife, Kim Kardashian. "Kim has Zionist media handlers surrounding her all in and out [of] her Hulu TV show, all in and out her family, all in and out the house that I created for my family," Ye began. He added, "But God is alive, the devil is a defeated foe and Kim is a Christian woman."
Ye referenced Kardashian's cover of Interview magazine in September 2022, where she posed in front of an American flag with jeans partially up her body, displaying her bottom. Ye claimed that his ex-wife had a previous cover with Interview magazine and he said that the difference is evident from when he was in her life and when he was not.
Ye said that he didn't feel he could speak to Kardashian about the more recent magazine cover. "I didn't feel the platform to voice my opinion because I want to — it's always like, hey this is your kids' mother — but it's time with the leaders." Then Ye said, "I"m still the priest of that home. They want to make it this matriarchal society and all that ... but I am the priest of this home and God is alive. I am the living Robert Kardashian and I'm going to stand up for what God would want." Weird, right? Ye also added that Kardashian has been "influenced" and is distancing herself from him following their divorce.
Ye's hologram of Robert Kardashian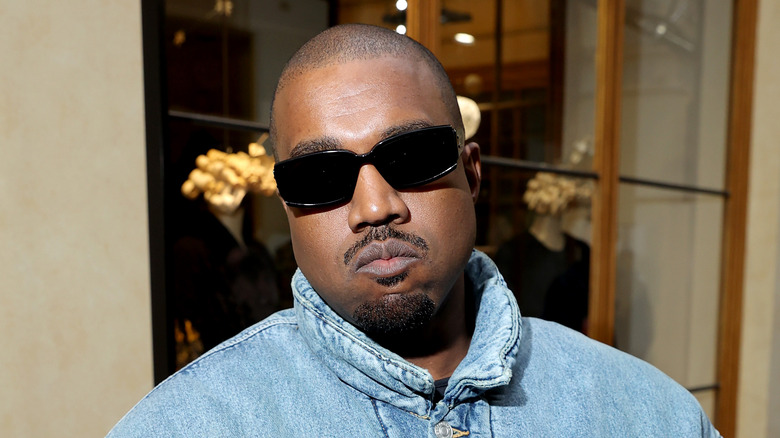 Victor Boyko/Getty Images
This isn't the first time that Kanye West has brought up Kim Kardashian's late father, Robert Kardashian, who died in 2003, per CNN. For her 40th birthday in October 2020, Ye made a seriously bizarre move and gifted his then-wife a hologram of her late father. However, on October 29, Kim tweeted about the gift and wrote about it thoughtfully, saying, "I can't even describe what this meant to me and my sisters, my brother, my mom and closest friends to experience together." She added, "Thank you so much Kanye for this memory that will last a lifetime." She attached a video clip of her father's hologram to the tweet so fans could catch a glimpse of the unique present.
While Kim and the rest of her family seemed touched by Ye's gesture at the time, many fans and followers found it slightly strange. "Sorry but this is [very] creepy," someone responded on Twitter. "It scares me for reals," someone else added. Others, according to the BBC, found it odd that Ye had the hologram tell Kim that she married "the most, most, most, most, most genius man in the whole world." Whatever Kim thought, it was certainly a memorable present and an indication that her dad was important to Ye.
As further evidence of how Ye apparently feels about his late father-in-law, the rapper once wore a t-shirt bearing an artistic rendering of Robert on one side and his late mother, Donda West, on the other (via Twitter).