What We Know About Jason Momoa's Relationship With Ben Affleck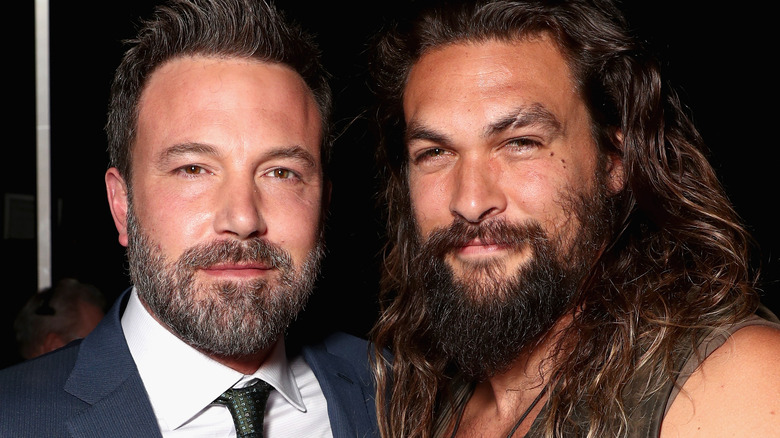 Todd Williamson/Getty Images
It's not uncommon for actors to form close bonds outside the set of their movies or television series, but there are a lucky few who manage to maintain lifelong friendships even after the cameras stop rolling. One of these lucky pairs happens to be Jason Momoa and Ben Affleck.
While Affleck's most notable friendship in the industry is with Matt Damon, it's clear that he also gets along with his co-stars pretty well, especially with fellow "Justice League" actor Momoa. In July 2022, when there were speculations about Affleck returning to the DC Extended Universe (DCEU) as Batman, Momoa had the unique privilege of spilling the news to the world. "Reunited Bruce and Arthur. Love you and miss you, Ben," the "Aquaman" star shared on Instagram, along with a picture of him cuddling the "Gone Girl" star.
The Hawaii native couldn't hide his excitement at the prospect of working with Affleck again, who once dished that he would no longer don the Batsuit. Apparently, their continued camaraderie is because they have a good working relationship and get on "really well," according to the stars themselves.
Jason Momoa says he and Ben Affleck 'get along too well'
In addition to the excitement from DC Extended Universe fans, Jason Momoa is also thrilled about getting together on screen with Ben Affleck again. When asked how he felt about his friend suiting up to reprise his role as Batman, Momoa sang nothing but praises. "It's just hugs and kisses. I love that guy," he shared with Variety in August 2022. "We get along too well. It's very good to see him again."
Other than his friendship with Affleck, Momoa respects the Massachusetts native's work as a director. The former "Game of Thrones" actor told HuffPost that he relishes exchanging ideas with the "Good Will Hunting" star. "Ben is just a phenomenal director. I just love picking his brain because he's what I want to be as a director. I love filmmaking and that process, and I enjoyed Ben's company, because when I see him in pain, putting that cowl on, he's in pain," he shared. Momoa went on to add that he has seen Affleck through the ups and downs of the DCEU. "That makes me happy, and a joy to get through. We all have to put these suits on and get through grueling times. When he's in pain, and I can see it happening, it just tickles my heart."
Ben Affleck is not Jason Momoa's favorite Batman, though
While Jason Momoa is ecstatic about Ben Affleck's return to the DCEU as Batman, his favorite Caped Crusader is surprisingly not his longtime pal. During the "Aquaman" presentation at the 2018 CinemaCon, Momoa dished that his favorite Batman is actually Will Arnett, who played the superhero in the "LEGO Batman Movie." 
All joking aside, Affleck himself wasn't happy with his portrayal of the Defender of Gotham. He previously revealed that filming "Justice League" was the "worst" experience due to myriad factors, including: "my own life, my divorce, being away too much, the competing agendas and then Zack [Snyder]'s personal tragedy, and the reshooting," he told The Los Angeles Times in January 2022. "I looked at it and thought, 'I'm not going to be happy doing this. The person who does this should love it." His unfavorable experienced made him step away from the role, but his return may turn it around.
In his performance of Batman in "The Flash," Affleck revealed that he finally discovered the right approach to playing the part. "I have never said this — this is hot off the presses — but maybe my favorite scenes in terms of Batman and the interpretation of Batman that I have done were in the Flash movie," he told the Herald Sun. "It was really fun and really, really satisfying ... and I thought, 'Wow — I think I have finally figured it out.'" We're sure he'll also kill it in "Aquaman 2" alongside his pal, Momoa!