Kevin Hart Talks About Navigating Cancel Culture In The Wake Of Oscars Controversy
David Livingston/Getty Images
Change of Hart? Kevin Hart appears to be learning from his past mistakes, but he insists that "we can't lose the idea of laughing at ourselves."
The comedian is no stranger to controversy, having experienced his fair share of internet backlash. In 2018, Hart faced scrutiny after his past homophobic tweets resurfaced following the announcement that he would host the 91st Academy Awards. It didn't take long for Hart to step down from his hosting responsibilities, and the award show proceeded without a host for the first time in decades. 
Hart is hardly the first comedian to take a joke too far, but he held his head high and refused to apologize for his past behavior. "I've been canceled, what, three or four times? Never bothered," he told The Sunday Times (via People). "If you allow it to have an effect on you, it will. Personally? That's not how I operate. I understand people are human. Everyone can change." Now, the comedian appears to be walking back his previous statements — and insisting that people have the opportunity to learn from mistakes.
Kevin Hart says he's actively trying to be more 'aware'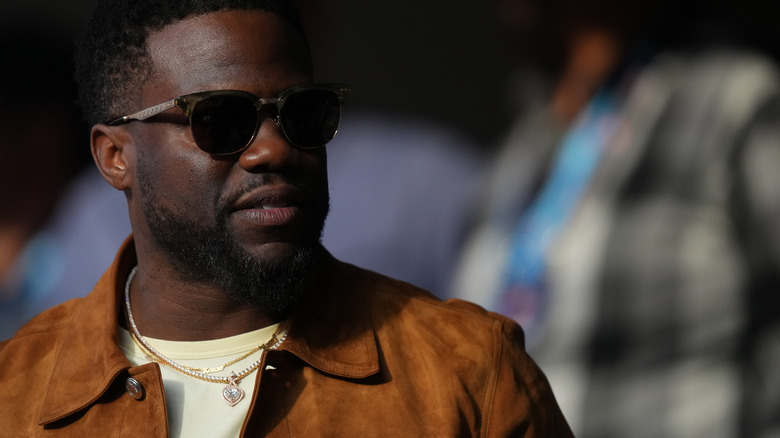 Cooper Neill/Getty Images
In a recent interview, Kevin Hart agreed that he needs to be "more careful" in the era of "cancel culture," but also highlighted the importance of giving people a second chance.
Appearing on "The Verywell Mind Podcast," the comedian-turned-actor explained that he's learned to be more cautious with his jokes and is actively making an effort to be more self-aware. "Let's be honest, I think there was a lot of changes that were needed and necessary, right? And I think being aware is something we should all prioritize. Just being aware," he expressed to host and licensed therapist Amy Morin. "We're learning to better understand each other, and in doing so, respect should be attached to that." Hart acknowledged that nowadays there's a "heightened level of security" brought about by social media, but argued that making mistakes provides people with "real-life examples of what you're supposed to grow from." After all, if everyone is getting "canceled" left and right, "what the f***? Where do we go?" he asked. Still a comedian at heart, he explained that "we can't lose the idea of laughing at ourselves."
While his stance on cancel culture has certainly changed over the years, and he's no longer slamming haters in fiery online rants, it took conversations with his close friends for the comedian to better understand the moment. "It wasn't until close friends like Wanda Sykes, Lee Daniels, and Ellen [DeGeneres] talked to me and explained what they didn't hear me say that I understood," he told Men's Health in 2020. "Then I was like, 'Oh, s**t—I did f*** up.' "