The Famous Singer Who Was Rumored To Have Had A Fling With Prince Harry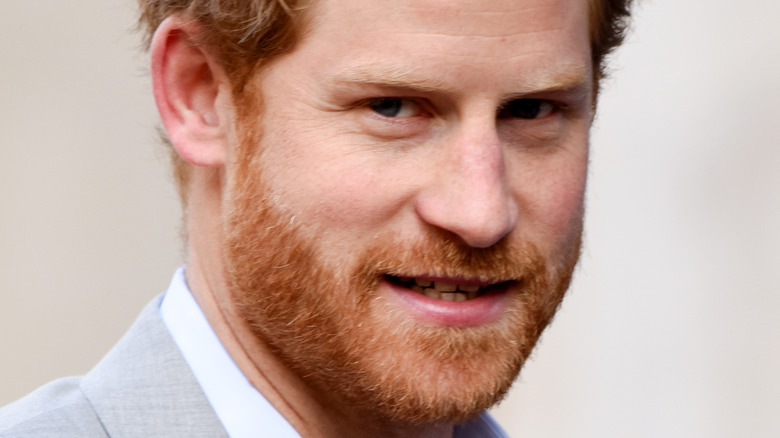 LINGTREN.COM/Shutterstock
There are a ton of rumors about Prince Harry. There's the longstanding story that he and his elder brother, Prince William, can't stand each other. That one appears true — as do the rumors about Harry's relationship with Camilla Parker-Bowles, his father's second wife. There are less sympathetic rumors too. As often as the prince is considered relatable (not getting along with his brother, resenting his stepmother), he is also perceived as a spoiled brat. Since marrying Meghan Markle, Harry has been criticized for being too demanding. He wanted better titles for his children and more money from the crown even though he didn't want to work for the royal family anymore. You get the idea.
Then, there are the rumors about his love life. Critics have claimed that Meghan manipulated him and dragged him away from his family. Fans have said that he and Meghan have the most loving relationship in the world and couldn't be better for each other. There is really no way to know.
Before Meghan, royal fanatics had plenty to say about Harry's love life. He has a couple of well known ex-girlfriends, but he is rumored to have had flings with plenty of famous women, including Ellie Goulding, a close friend of the royal family. So, what's the truth? Here's what we know.
Prince Harry and Ellie Goulding were close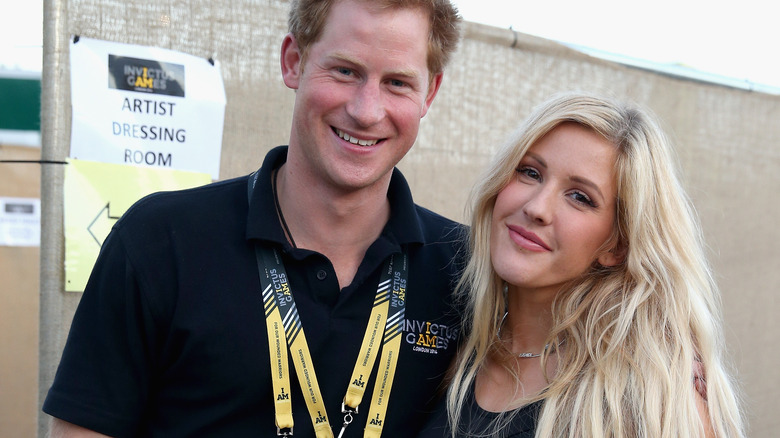 Chris Jackson/Getty Images
Ellie Goulding is more than just a pop star; she's also very close with the royals. She performed at Prince William and Kate Middleton's wedding in 2011. The couple opted to dance to "Your Song" by Elton John, which Goulding covered for the big event, per People. Goulding reportedly got close with William, Kate, and Harry through old friend Princess Eugenie.
According to some insiders, Harry and Goulding were close too — very close. "[Harry and Ellie] were part of a wider group including Tom Hardy, but Harry and Ellie only had eyes for each other all night — they spent a lot of time sitting together under blankets," a source told Vanity Fair in 2016, after allegedly seeing them getting cozy at a post–polo event. The pair reportedly shared a few kisses before they left (separately) as well. Though Harry and Goulding never went public with their alleged relationship, a body language expert told Grazia that it appeared as if something was going on based on photos of them hugging at an event.
"Harry has Ellie in a full, intimate clench," Allan Pease told the outlet. "Their bodies are tightly connected, and they are displaying 'as one.' This is the vertical expression of horizontal desire in both cases." Spicy. Of course, these days, Harry is happily married to Meghan Markle, and any rumors of a romance with Ellie Goulding have long since died down.
Ellie Goulding moved on too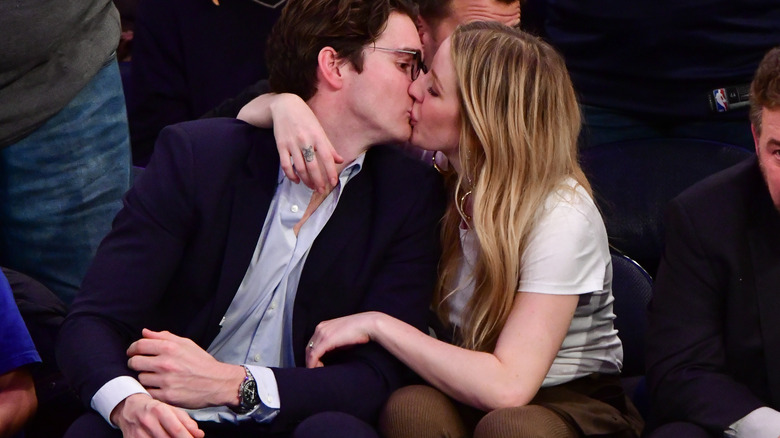 James Devaney/Getty Images
While she didn't end up with a real-life prince, Ellie Goulding reportedly met her prince charming (her husband) through another royal family member. As mentioned above, Goulding is super tight with Princess Eugenie. The two have vacationed together, and Goulding attended her 2018 wedding.
Rumor has it Princess Eugenie set Goulding up with Caspar Jopling back in 2016. Eugenie threw a party in Goulding's honor after a big holiday performance and conveniently happened to seat Goulding next to Jopling. Although, per her own admission, there weren't any fireworks between them at first. "It's not a particularly exciting story, sadly. It wasn't love at first sight thing at all," Goulding said during an episode of "Table Manners." She explained, "I was sat next to Caspar, and he was from a big farming family, and I talked about how I was vegan. And he talked about how much he loved meat: beef and chicken and lamb and whatever else." Eugenie must have known they'd get past those differences eventually because, after a few dates, Goulding was totally "wooed" by Jopling.
Goulding and Jopling were married a few years later, and Prince Harry was notably not in attendance at the wedding, per The Mirror. While Goulding has never confirmed or denied her reported relationship with Harry, she did tell "Table Manners" that she had to "kiss quite a few frogs" before finding her real prince.