Sister Wives: The Only Wife That's Actually Married To Kody Brown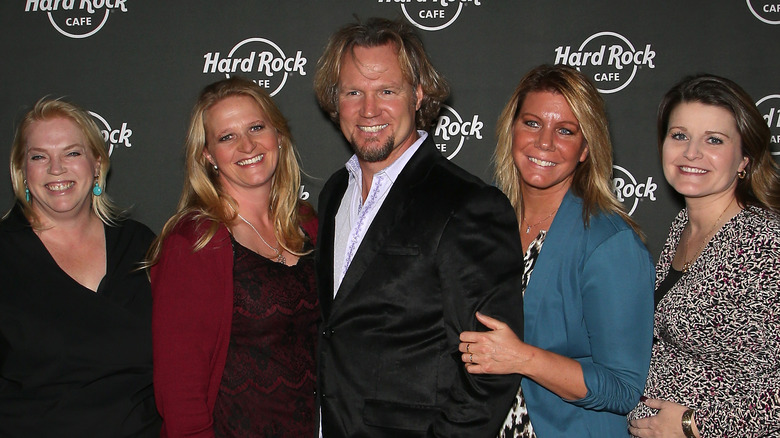 Gabe Ginsberg/Getty Images
Let's just say ever since Christine Brown left the "Sister Wives" family, the rest of Kody Brown's relationships have undergone serious struggles. 
The TLC series, which came to prominence in 2010, follows patriarch Kody Brown and his wives, Meri Brown, Janelle Brown, Robyn Brown, and Christine Brown (although Christine has left the polygamist family, per E! News). The show follows the Browns as they navigate their intertwining lives, and the wives work through issues of trust, insecurity, and hesitancy in their marriages to Kody. And those feelings for the wives were only compounded after Kody decided to legally divorce one of his wives to legally marry another.
Since Kody can only legally marry one person, he is "spiritually married" to the others, per Today. The wives claim there is no bad blood regarding the legality of one marriage compared to the others. But actions speak louder than words. For example, as Christine decided to leave her marriage with Kody in 2021, and Janelle has hinted that she could be leaving Kody — fans are wondering, which sister wife is Kody legally married to, and are they on the verge of divorce?
Kody Brown is only legally married to Robyn Brown
While Kody Brown is only legally married to one of his wives, let's just say it's a bit more complicated than that. In 1990, Kody legally married his first wife, Meri Brown, per Today. When Janelle and Christine Brown entered the picture in 1993 and 1994, respectively, the two spiritually married Kody, while he remained legally married to Meri. From there, Kody and the wives' relationships stayed this way for more than a decade. But that all changed in 2010 when Robyn Brown entered the picture. 
After meeting through mutual friends, Kody wanted to add Robyn as his fourth wife. With all the sister wives' approval, Robyn became the fourth wife. But there was one problem; before meeting Kody, Robyn was married to David Jessop, and the two had three children. Kody knew that if they were only spiritually married, Robyn's three kids would not legally be a part of their family, per TMZ, so he asked Meri for a divorce so that he could legally marry Robyn instead — and Meri agreed. But while the new marriage between Kody and Robyn seemed fine between all the sister wives, it would only go downhill from there. 
The sister wives claim Kody's marriage to Robyn was out of favoritism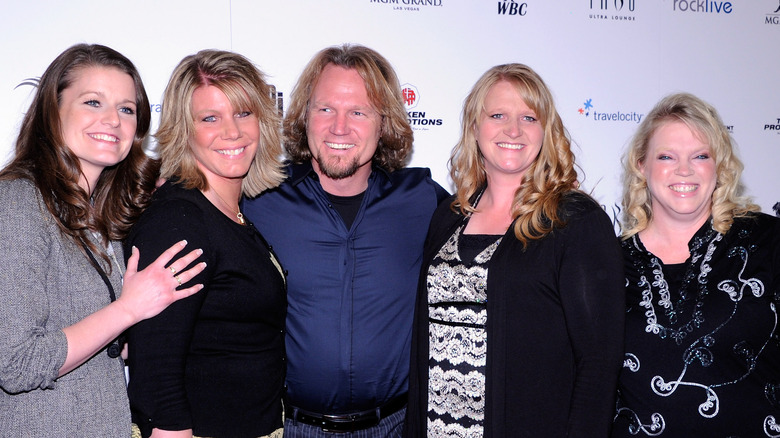 Ethan Miller/Getty Images
Despite Kody Brown's claims that his legal marriage to Robyn Brown was for the adoption of her children, the other "Sister Wives" claim that the marriage was more than that — and that Robyn is Kody's favorite wife.
In a recent "Sister Wives" episode, Christine Brown talks about her decision to leave her marriage with Kody and claims part of the reason was Kody's favoritism of Robyn. "I think he has a favorite wife and that's why all of this is like it is," she said. Christine then explained that the dissolution of their marriage went back further than recent years — in fact, it went back to 2010 when she gave birth to her daughter Truely. While Christine was in labor, Kody left the hospital room to go kiss Robyn instead, per OK! magazine. Once Truely was born, Christine claims that Kody never helped her — saying he had other wives to help, per Today.
While Kody has denied having a favorite wife, that hasn't stopped the other sister wives from noticing the changes in their relationships with Kody. "I've been a third wheel for years now. And I know it and everybody knows it. It's sad and it sucks, but my relationship with Kody isn't as important," Christine said, per People. "I feel like, to Kody, Robyn's more important."