Barbara Walters And Jenny McCarthy Had A Rocky Relationship On The View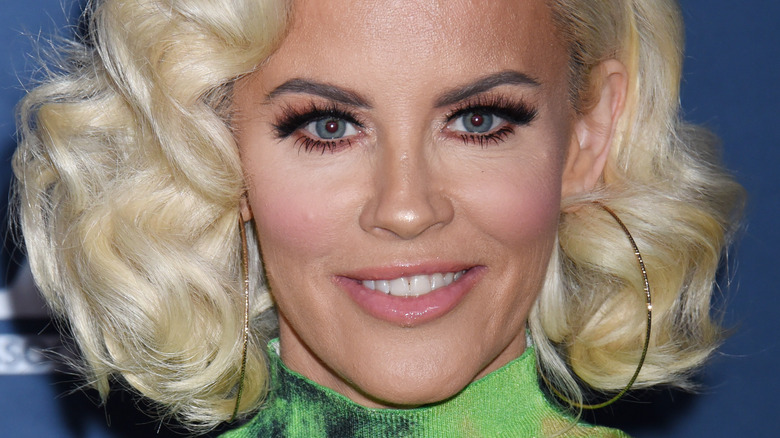 Ga Fullner/Shutterstock
ABC's "The View" has seen many hosts come and go throughout the years. In an effort to keep things balanced and prevent the show from becoming an ideological echo chamber, the talk show typically has both liberal and conservative co-hosts, something which they have found difficult at times to fully effectuate — and also something which has been met with harsh criticism in the past. 
From 2013 to 2014, during the show's 17th season, Jenny McCarthy was brought on as the panel's most conservative — or, at least most controversial — co-host, a decision which was almost immediately met with an onslaught of criticism from many in the public for the actor and model's fallacious take on vaccines. (McCarthy's son has autism, and she has said she believes vaccines may have triggered it.) 
As it turns out, lead host Barbara Walters initially defended McCarthy upon her introduction to the show. But, things soon deteriorated between the two, eventually leading to McCarthy being absolutely "miserable" on-set. 
Jenny McCarthy developed a fear of Barbara Walters
As any viewer of "The View" knows, there's no shortage of controversy and fighting it out on-screen. And as it turns out, that pugnacious attitude and awkwardness often spreads behind then scenes, and Barbara Walters and Jenny McCarthy were no exception. 
As McCarthy wrote in her book, "Ladies Who Punch: The Explosive Inside Story of 'The View'" (via Vulture), she actually began to fear Walters. "You know the movie Mommie Dearest?" McCarthy asked, referring to the 1981 psychological drama which depicts actor Joan Crawford as manipulative and extremely violent. "I remember as a child watching that movie and going, 'Holy cow!' I've never seen a woman yell like that before until I worked with Barbara Walters." Evidently, the two did not get along on-set, and this even began years before McCarthy was an official co-host. She first appeared on "The View" in 2007, where Walters reamed her backstage before the episode even began, on account of her vaccine skepticism. 
"I walked into her dressing room and she blew up at me," McCarthy recalled. "She was screaming, 'How dare you say this! That autism can be cured?' My knees were shaking. I remember my whole body was shaking." McCarthy said that she never used the word "cured," but it didn't matter. Walters continued to castigate her for 7 minutes, until finally it was time to go onstage. McCarthy said she was "terrified." 
Jenny McCarthy became miserable on-set
Unsurprisingly, Jenny McCarthy was not exactly eager to return to "The View" after her initial appearance. However, things changed by 2013, when she wanted to do "something that has a little more class to it. And spread my wings a little bit." 
By the time McCarthy was welcomed to the show as a permanent co-host in 2013, the animosity seemed to have simmered. On-camera, Barbara Walters welcomed her with open arms. "Jenny brings us intelligence as well as warmth and humor," she said at the time, per ABC. "She can be serious and outrageous. She has connected with our audience and offers a fresh point of view." 
However, their relationship soon reverted back to its tumultuous roots. Walters, who had begun developing signs of senility, soon became combative toward McCarthy by forcing her not to wear certain outfits, for instance. Experiences like this soon led McCarthy to avoid Walters entirely, even developing a Pavlovian-esque response to the sound of Walters approaching (via Vulture). "When I'd hear the shuffle of her feet, I knew that Barbara was after me. It would get faster. Oh my God — she's coming! Based on the speed of the shuffle, I would hide or get on the phone." In the end, McCarthy just couldn't go on anymore. "Every day I went home and I was miserable," she said. "It really was the most miserable I've been on a job in my 25 years of show business."