What Languages Are Prince George And Princess Charlotte Learning To Speak?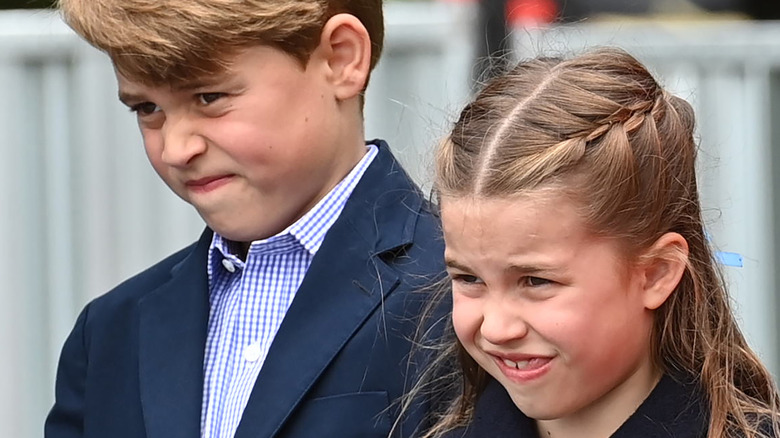 Wpa Pool/Getty Images
Seeing as the British royal family spends so much time abroad while on their international state trips, it shouldn't surprise anyone that there are quite a few of them who are royal polyglots, too. Queen Elizabeth II was a Francophile who once delivered a speech in French during her trip to Quebec. Little did anyone know that she also spoke a rate Scots dialect, according to Euro News, while other members of the monarchy have also flexed their foreign language powers in public, too. Thanks to "The Crown," many royal fans will recall a young Prince Charles trying to learn and speak some Welsh. He also spoke French in a video to promote his green project One Planet Summit, back in 2021, per People. Similarly, Meghan Markle also spoke some French to young school girls during a trip to Morocco in 2019, as detailed by The Sun. As far as her husband Prince Harry's linguistic skills are concerned, he did speak a little German while in Dusseldorf earlier this year, but no one knows just how well he would fare in ordering a schnitzel in Vienna. But it's the effort that counts, right?
That said, it looks like the younger generation of royals are also learning how to speak different languages, too. And apparently they're picking it up so well that some of the more senior members of the royal family can't help but feel mightily impressed over Prince George, Princess Charlotte and even Prince Louis' new skill set.
Prince George and Princess Charlotte are learning French and Spanish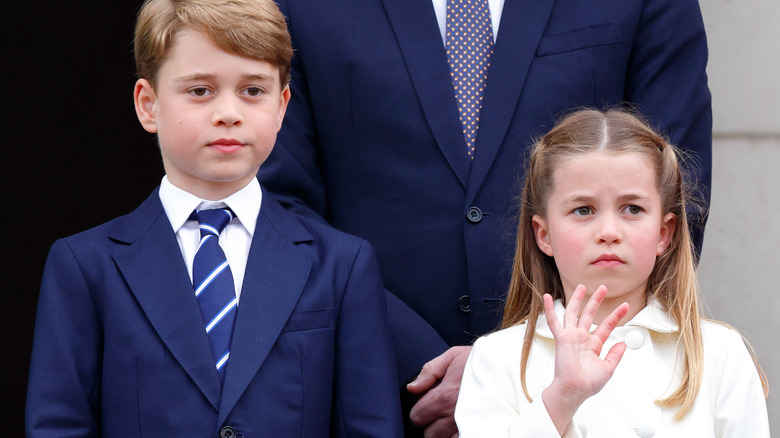 Max Mumby/indigo/Getty Images
As the future king of England, there's no doubt that Prince George is going to be clocking in more air miles than most others, as he will more than likely crisscross the globe to meet with state and government leaders and people from all walks of life, and especially from the Commonwealth nations. In addition to learning how to do the kind of math, science, and English homework that even Prince William said he can't do these days, per Page Six, Prince George was learning how to speak both French and Spanish while still at Thomas's Battersea School in London. This was before William and Kate Middleton decided to move their family to Windsor and had the kids transferred to Lambrook School, according to CNN. There's a very good chance that George is continuing his French studies at Lambrook, although the school does also offer classes in Latin, Greek, and Italian, as detailed by their curriculum. 
That said, Princess Charlotte has also shown some talent for picking up foreign languages early on, as she's been speaking Spanish since the age of 2, thanks to her nanny Maria Turrion Borrallo, according to People. And, while both George and Charlotte (and perhaps even little Prince Louis) can watch their favorite cartoons in several different languages, they aren't the only royals who are bilingual. In fact, there is one royal from the British monarchy who stands out for speaking six different languages. 
Prince William is the royal master of foreign languages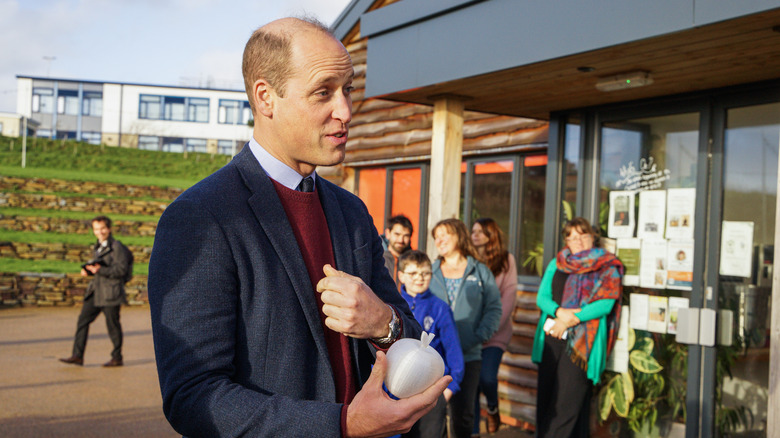 Hugh Hastings/Getty Images
Say what you will about Prince William, but it looks like he can charm the pants off of anyone — and in several different languages, too. According to My London, the Prince of Wales can speak an impressive five (or maybe even six) different languages. There's a very good chance that William can order you your favorite Starbucks drink in French, German, Welsh, Gaelic, and Spanish. During an Instagram Q&A, the future king of England impressed fans by responding to some questions in Spanish, yet that shouldn't be a surprise to anyone as he did spend one year in Chile during his gap year. He's also been practicing Welsh all his life in preparation for his role as the Prince of Wales, per the BBC. If that weren't enough, William also spoke a little Swahili during his trip to Tanzania back in 2018.
Seeing how William feels so comfortable speaking to people in numerous foreign languages, we would say that he will have no problem connecting with Commonwealth countries and communities he visits once he becomes king. Pob lwc!