Was Riley Keough Close With Her Stepdad Michael Jackson?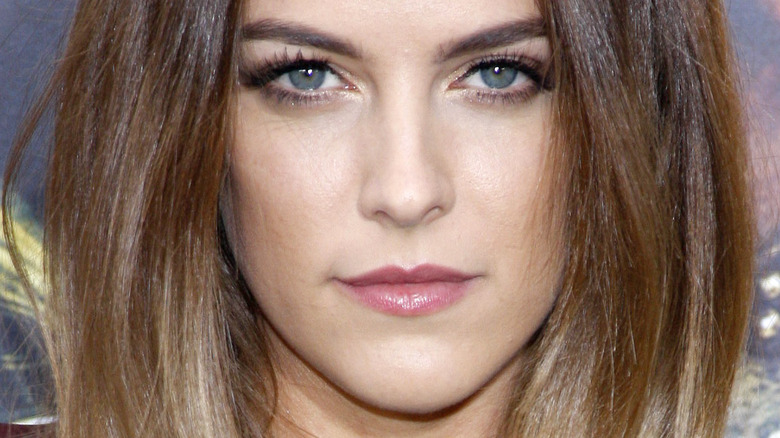 Tinseltown/Shutterstock
Riley Keough isn't just an indie film actor. She comes from legendary superstar genes, being the granddaughter of none other than the King of Rock n' Roll, Elvis Presley and Priscilla Presley. Her mother is the "Hound Dog" singer's daughter, Lisa Marie Presley, reports People. Of course, growing up amongst such an A-list family means that her childhood was spent around a who's-who of Hollywood. When her mother divorced her father Danny Keough in 1994 after six years of marriage, per The US Sun, Keough went on to have two interesting men as her step-father when her mother re-married.
One was none other than the "Leaving Las Vegas" Oscar winner and the man that launched a thousand memes, Nicolas Cage. Cage and Lisa Marie were married very briefly. Their August 2002 marriage only lasted 107 days before Cage filed for divorce, per InStyle. It was no secret that Cage had a secret fascination with all things Elvis, per The Express, and he fell for the King's only daughter. We can only imagine what the "History of Swear Words" star was like as a stepfather!
The other famous step-father was none other than The King of Pop, Michael Jackson. Lisa Marie married the "Thriller" superstar in 1994, only 20 days after her divorce from her first husband was granted, per The US Sun. While the marriage only lasted 18 months, per The Express, one has to wonder if Keough and the "Beat It" hitmaker hit it off.
Riley Keough became fast friends with step-father Michael Jackson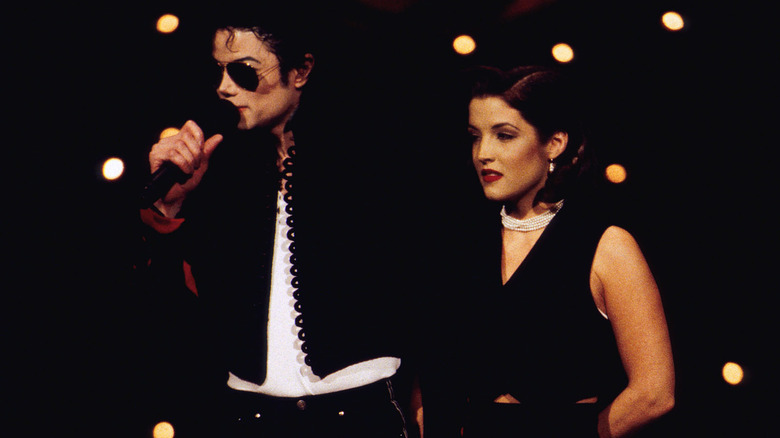 Frank Micelotta Archive/Getty Images
Golden Globe nominee Riley Keough, who descends from rock and roll royalty Elvis Presley, isn't shy to admit that her one-time stepfather Michael Jackson was rather generous with the gifts. During her 2017 appearance on "The Late Late Show with James Corden," she told the host that when it comes to the King of Rock n' Roll and the King of Pop, she definitely got a feel for one.  "I didn't know Elvis, but I did know Michael,"' she admitted, referencing her grandfather's death long before she was born. 
"[Jackson would] get me lots of toys and things I wanted," she added noting that one time during a trip to Disneyland, he bought her a "Beauty and the Beast" watch. But perhaps the greatest gift was time spent with the singer's beloved pet chimp, Bubbles, whom she brought to school one day. "[He] was great. There were like a few different chimps that I remember ... I remember one pulling on my curtains in my house and then one went to school with me one time, which was pretty cool."
Of course, they didn't always have to go to Disneyland, because they had access to Jackson's famous Neverland ranch in the Santa Ynez valley, per The LA Times. Speaking with The New York Times' T Magazine, Keough recounted in 2017, "There were toys everywhere, animals everywhere, kids everywhere. It was like being at Disneyland all day."
Priscilla Presley had reservations about Lisa Marie Presley's marriage to Michael Jackson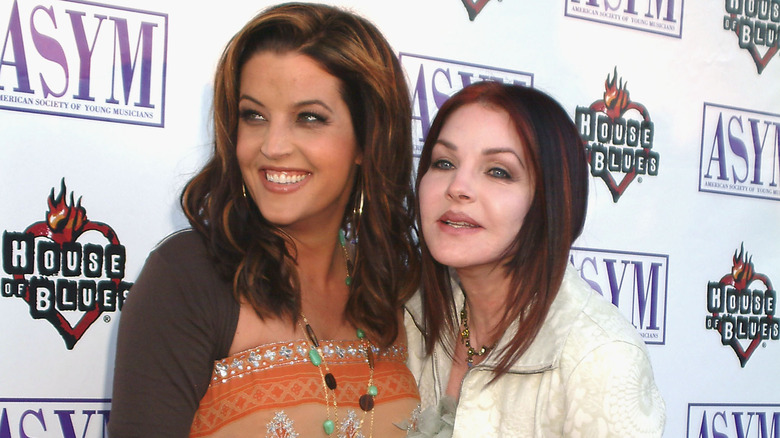 Michael Tullberg/Getty Images
While Riley Keough may have had a blast hanging with "Bad" chart-topper Michael Jackson at Disneyland and Neverland, her mother, Lisa Marie Presley, who was married to Jackson from 1994 to 1996, has revealed since the pop star's death that their relationship was more fraught and more dramatic. Speaking with Oprah Winfrey in 2010, one year after Jackson passed, Presley revealed that the "Man In The Mirror" singer was actually quite threatened by Presley's ex-husband and Keough's father, Danny Keough, still being in the picture. "We'd take a vacation and Danny would go, and Michael would get upset," she told Winfrey, who herself famously interviewed Jackson at Neverland in 1993. "And then he'd disappear for a couple of weeks, and I couldn't find him."
Another Presley who took issue with Jackson was Keough's grandmother and Elvis Presley's wife, Priscilla Presley. "Lisa knew I wasn't happy about her marrying Michael Jackson. We had issues over it because of my experience of marrying somebody with that same iconic status and in a strange way maybe history was repeating itself," Priscilla told The Guardian in 2012.