Sister Wives: Why Christine Brown Was Never Really A Fan Of Robyn
The Brown family of the long-running reality show "Sister Wives" has never claimed to be perfect, but as viewers would know, their relationship had always been tumultuous, especially the ones between the sister wives themselves, Meri, Janelle, Christine, and Robyn.
In 2021, Christine Brown felt so much discontent over her living situation that she decided to leave the plural family for good. "After more than 25 years together, Kody and I have grown apart and I have made the difficult decision to leave," the TLC star said in a statement. "We will continue to be a strong presence in each other's lives as we parent our beautiful children and support our wonderful family."
While Christine didn't go into much detail about her decision to leave at the time, she later revealed that it's rooted in Kody's blatant favoritism toward Robyn, his only legal wife among the four of them. "I know without a doubt I have tried for years to make this work. I have a clear conscience knowing that I gave it my best," she said on the show, via People. "Being a mom is my most important thing, but I couldn't with a clear conscience stay married to someone who had favorites and made it very known and someone who is breaking my kids' hearts."
It's no secret that Kody had been favoring Robyn for years, but apparently, he has been doing it for so long that it affected Christine and Robyn's relationship from the get-go.
Christine said Kody kept abandoning her for Robyn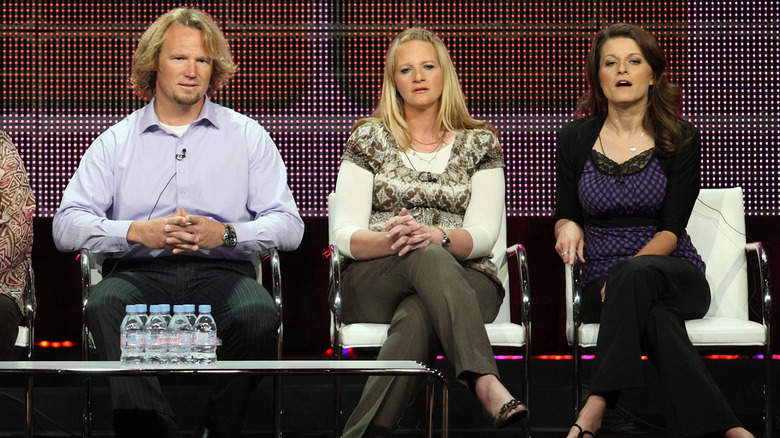 Frederick M. Brown/Getty Images
Christine Brown was fully aware of what she was signing up for when she entered a relationship with Kody Brown, but what she didn't anticipate was how neglected she would feel once Kody found another woman to woo. In her case, she felt their marriage shift when Kody began courting Robyn.
"[Robyn] lives, like, five hours away," Christine said on "Sister Wives" Season 1, via Us Weekly. "There [were] a couple times where I'm like, 'You really can't go. You can't leave me, and you can't leave your family. You are replacing your family with Robyn and her kids.' It was hard, and at the same point I realized that it needed to happen, but it didn't necessarily make it easier."
In another episode, Christine also confessed that she felt like the "basement" wife when Robyn entered the picture, and that likely what caused a big strain in their relationship as sister wives. "The one house was so hard — I never felt like I was queen wife or queen mom. Never," Christine admitted, via People. "I put myself in the basement and became a basement wife. I just feel like I stopped having a choice and I didn't really matter as much."
Kody claims Christine treated Robyn like dirt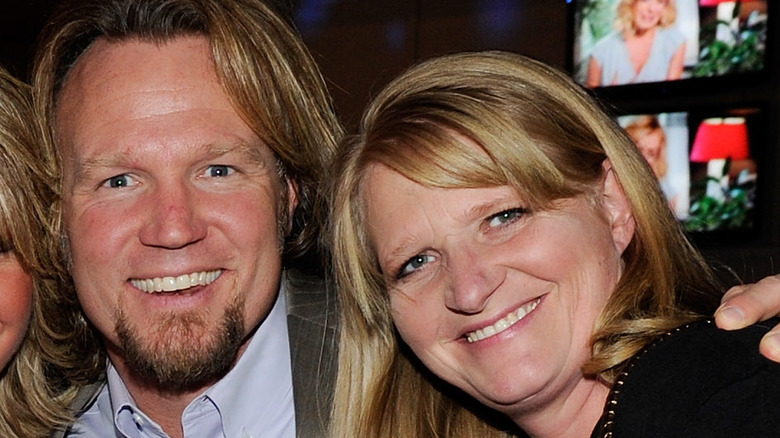 Ethan Miller/Getty Images
Christine Brown's decision to leave the plural family had shaken up the household, to say the least. Not able to contain his anger, Kody Brown told her that Christine had been unfair with how she viewed Robyn. "[Christine] treated you like dirt from the very beginning," Kody told Robyn in front of the rest of the sister wives, as seen in a November 2022 episode of the show, via People. "That's the relationship you have with her. That's the reason I'm angry." He also claimed that Christine "never tried to have a really good relationship" with her fellow wives.
But Christine had been receptive then, saying, "I never tried to treat anybody like crap. I never did. I'm sorry. I didn't mean to." Not everyone agreed with Kody, though, as Janelle said she thought Kody had been unfair with his reaction. "I'm not trying to take sides, but I feel like Kody was really harsh," she said, according to Insider, agreeing with Christine's stance that Kody was biased toward Robyn. "Even though he tried to dilute it a little bit, it seemed very pointed to one relationship." Christine isn't budging either, and insists that Kody indeed plays favorites "I feel like to Kody, Robyn's more important, certainly than I am," she opined. "And I've been a third wheel for years now. And I know it and everybody knows it. It's sad and it sucks, but my relationship with Kody isn't as important. It's not. No matter what he says it isn't."