The Marvel Star Who Set Up Jennifer Aniston With Justin Theroux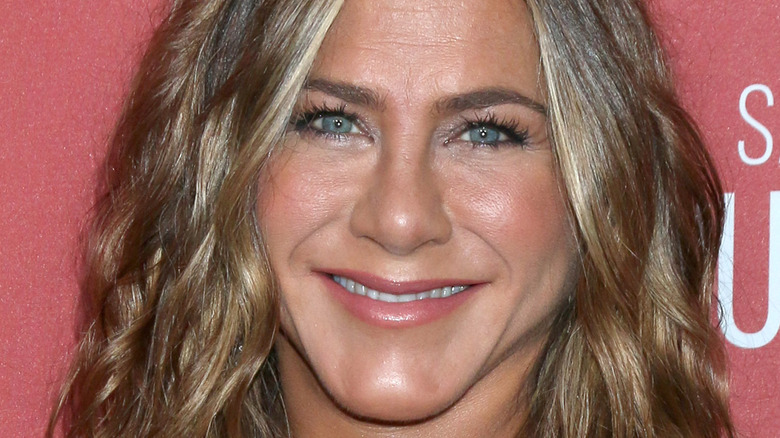 Kathy Hutchins/Shutterstock
Though Jennifer Aniston was not the only "Friends" star who never married, she still hasn't found the love of her life. She did get close twice, though: first with her infamous, paparazzi-chased relationship with Brad Pitt in 2000 — before they split in 2005 when he got involved with Angelina Jolie, per Insider — and then in 2015 when she married Justin Theroux.
Aniston and Theroux began dating in 2011, according to Cosmopolitan, and married in a small, private ceremony on August 5, 2015. The wedding was the total opposite affair from her July 29, 2000, wedding to Pitt, per Brides. While Aniston's first wedding was a huge event with 200 guests, a massive fireworks display, and a Zen garden with some 50,000 flowers, the second event was a surprise event with only 70 guests and a reportedly off-the-rack wedding dress, hidden under the guise of Theroux's 44th birthday. "We had the beautiful luxury of having a beautiful private moment," Aniston told ET about the wedding. "And I'm going to be selfish and keep it that way!"
Alas, the relationship didn't last as long as many hoped, and Aniston and Theroux separated in 2017, making their divorce final in 2018, per E! News. Fortunately, they've been able to stay true to their plans to remain friends, and it's due to a different celebrity friendship that the pair met in the first place. In fact, it's credit to a certain Marvel superstar that the two became connected.
Robert Downey Jr. introduced Jennifer Aniston and Justin Theroux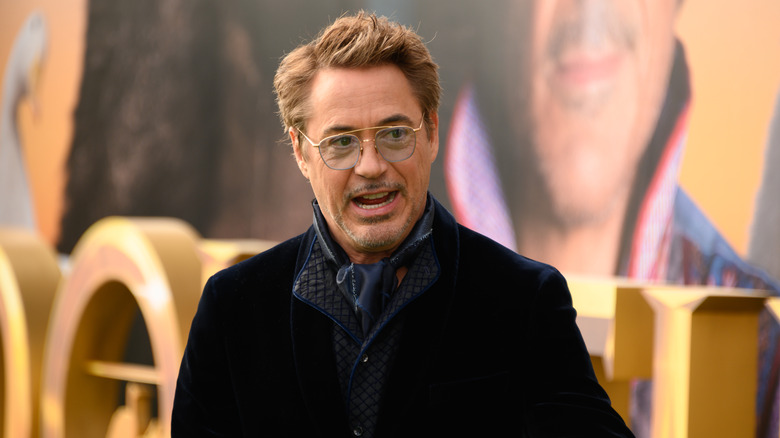 Silvia Elizabeth Pangaro/Shutterstock
Though Jennifer Aniston and Justin Theroux didn't start dating until 2011, the pair actually met long before then — and they were introduced by a Marvel superstar. According to Details (via Insider), the pair were introduced by Iron Man himself, Robert Downey Jr.
Theroux, who is a screenwriter in addition to a sought-after actor, co-wrote the script to 2008's "Tropic Thunder" with Ben Stiller (also good friends with Aniston) and Etan Cohen — a role that landed Downey an Oscar nomination for best actor in a supporting role. Aniston was vacationing in Hawaii while they were filming there, and Downey invited her to a dinner party he hosted. According to Theroux, the pair bonded over "memories of gnomes and beeswax sculptures and other accouterments of the Waldorf grade-schooling they both received."
But Aniston and Theroux didn't start dating until they became reacquainted in 2010 on the set of "Wanderlust." Though Theroux had been dating Heidi Bivens for 14 years, per Cosmopolitan, the two broke up shortly after and Aniston and Theroux were seen around town in spring of 2011. "He and Jen fell in a real, legit fashion," Downey told Details, via Us Weekly, "and he was willing from the jump to make sacrifices." Downey was reportedly one of many celebrity friends who made a toast to the happy couple at Aniston and Theroux's wedding, per The Indian Express.
Jennifer Aniston and Justin Theroux are still good friends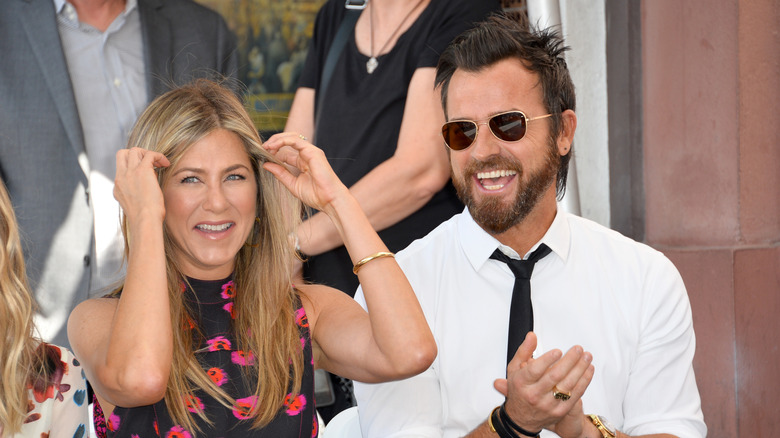 Jaguar PS/Shutterstock
Though it's always sad when a loving couple separates, Jennifer Aniston and Justin Theroux split amicably, and the two remain close. "We are two best friends who have decided to part ways as a couple, but look forward to continuing our cherished friendship," they announced in their official February 2018 statement, per AP. In September that same year, Theroux told the New York Times, "it was kind of the most gentle separation, in that there was no animosity." He added, "It was heartbreaking only in the sense that the friendship would not be the same, as far as just the day to day. But the friendship is shifting and changing, you know, so that part is something that we're both very proud of."
They seem to have been able to maintain that friendship, as Theroux told Esquire in 2021 that they text and FaceTime each other. "I'm sincere when I say that I cherish our friendship. We can not be together and still bring each other joy and friendship," he said, adding, "it would be a loss if we weren't in contact, for me personally. And I'd like to think the same for her."
The pair seems to be in regular contact on social media, per E! News, as he annually wishes her happy birthday on Instagram and likes many of her posts. Most notably, he left a heart emoji on Aniston's November 14 post announcing the death of her father.