Nicki Swift Unveils Who Fans Think Is The Best NFL Couple - Exclusive Survey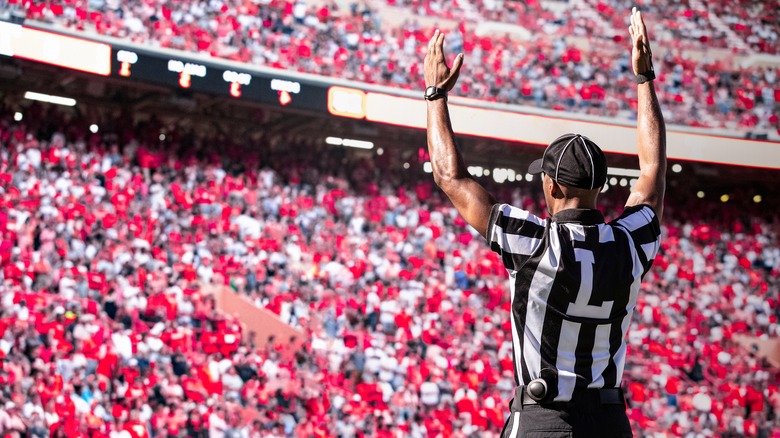 Brocreative/Shutterstock
NFL couples can become pretty high-profile, especially if both the player and his significant other are well-known, like Shailene Woodley and Aaron Rodgers. According to Us Weekly, former Olympic gymnast Shawn Johnson was introduced to her husband, Andrew East, through the former long-snapper's brother. The gold medalist was thinking of attending Vanderbilt University, and East was playing there at the time. They got married in 2016 and have both ended their professional sports careers to work in social media full-time.
Simone Biles met her fiancé Jonathan Owens on the dating app Raya in 2020, per People. They used the pandemic to get to know each other and spend quality time together. Since their careers resumed, they have been supportive of each other. The Houston Texans safety popped the question in February and the two are in the midst of wedding planning.
The fans have even begun shipping Cincinnati Bengals quarterback Joe Burrow and his girlfriend Olivia Holzmacher, too, especially after the young quarterback led his team to the Super Bowl in February. According to Page Six, Burrow and Holzmacher met at Ohio State University. She has been supportive throughout his college career, despite him transferring to Louisiana State University shortly after they began dating. She has celebrated her boyfriend's accomplishments throughout his professional football career thus far. But which NFL couple do Nicki Swift readers ship the most?
Nicki Swift readers love Tom Brady and Gisele Bündchen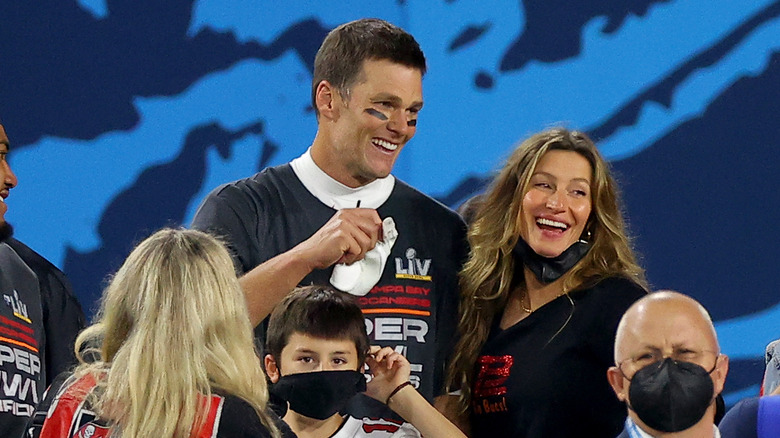 Kevin C. Cox/Getty Images
Of the 589 Nicki Swift readers who took our survey, 34.97% declared that Tom Brady and Gisele Bündchen were the best NFL couple. However, in October, the two announced their divorce after 13 years of marriage. "The decision to end a marriage is never easy but we have grown apart," the model wrote in her Instagram Story (via NPR). Both Brady and Bündchen stated that the split was amicable and they are focused on co-parenting their shared children.
Russell Wilson and Ciara came in second place, receiving 19.02% of the votes. "Next thing I knew, it was 12:00 [a.m.], 12:30 [a.m.], and I was sold on you," the singer said in an Instagram Live about their first date in 2015 (via People). In July 2016, they married and now the couple shares two children. In addition, Ciara showed support for the Denver Broncos quarterback, as she wore her husband's Super Bowl ring at the 2021 Met Gala.
Nicki Swift readers also love Matthew and Kelly Stafford's relationship, as they earned 15.96% of the votes in our survey. "He is the softest, most patient man," Kelly told E! News about her husband of seven years. She also added that the Los Angeles Rams quarterback doesn't like being in the spotlight when he's not on the field, which helps him balance his personal and professional life.