Gisele Bündchen's Recent Instagram Comment Suggests She And Tom Brady Are Friendly Exes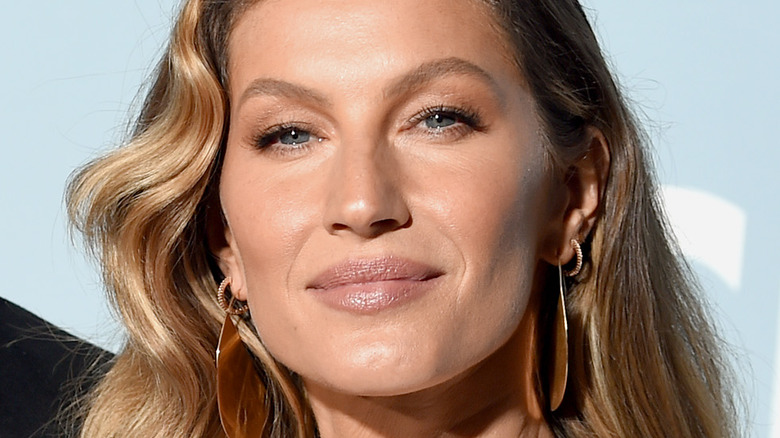 Kevin Winter/Getty Images
It seems like there's no bad blood between Gisele Bündchen and Tom Brady, after all.
It was just in October when the NFL superstar and supermodel announced that they were going their separate ways after over a decade of marriage. Following weeks of rumors about the impending doom of their relationship, mostly stemming from Brady's "unretirement," the two took to their social media accounts to confirm the split. "In recent days, my wife and I finalized our divorce from one another after 13 years of marriage," the quarterback wrote on Instagram (via The New York Times). "We arrived at this decision amicably and with gratitude for the time we spent together." Bündchen also expressed regret at the time, saying that "the decision to end a marriage is never easy," but they had to as they have "grown apart." Still, she feels "blessed for the time we had together and only wish the best for Tom always."
In their messaging, they made it clear that there was no animosity between them given how they're still planning to co-parent their children, and now it looks like they really were being truthful based on their social media activity — especially Bündchen's.
Gisele Bündchen left a comment on Tom Brady's latest Instagram post
Following his split with Gisele Bündchen, Tom Brady made it clear that his children are his top priority despite returning to NFL. He's been spotted taking them out to the movies and restaurants and even plays with them on the field. In fact, on November 24, Brady posted a photo of his eldest child, Jack, the son he shares with ex Bridget Moynahan, playing football with the Tampa Bay Buccaneers.
Surprisingly, Bündchen left a comment on the post, a single heart emoji, likely indicating that she's supportive of Jack's passion for football. Brady once opened up about his delight that his kid has found an interest in the sport, and it looks like Jack's following in his footsteps. "I think one of the great highlights of my life is watching him play and him grow and develop, and my kids in general, too. So I love watching him kind of dig deep and especially [play] team sports," the athlete said in an episode of the "Let's Go with Tom Brady, Larry Fitzgerald and Jim Gray" podcast (via People).
While Bündchen is not Jack's biological mother, she has long expressed her love for the boy. "I couldn't imagine my life without [Jack]. I call him my bonus child," she wrote in her memoir "Lessons" (via E! News), noting that he "has been a huge gift and blessing." She penned, "I credit Jack with accelerating Tom's and my growing up in so many ways... With Jack in our lives, our priorities definitely started to shift."