What Really Happened Between Brandi Glanville And Gerard Butler?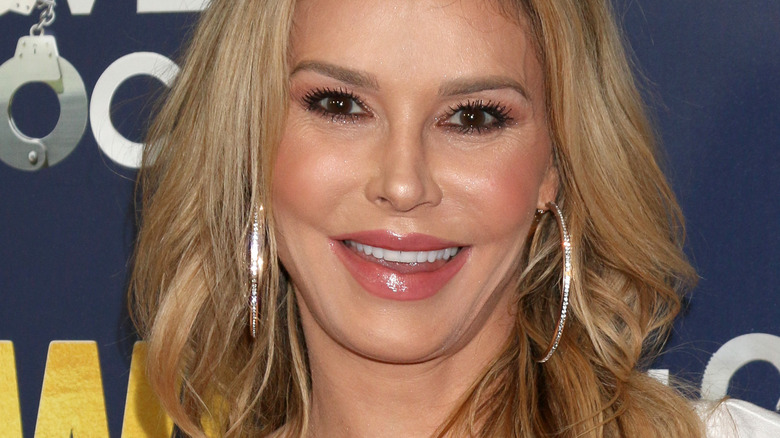 Kathy Hutchins/Shutterstock
It's a strange day when the world of "300" collides with "The Real Housewives of Beverly Hills," but it happened thanks to an unexpected connection between Gerard Butler and Brandi Glanville. Who did the kiss and tell? They both did. But Glanville isn't the only notable woman that Butler has kissed and told on. He's actually given the vote between Angelina Jolie and Jennifer Aniston of who's the better kisser. The winner? Aniston, according to Butler. But it's not like Butler is kissing either woman because he's in a relationship. The "P.S. I Love You" star was in an on-again, off-again relationship with Morgan Brown.
For her part, Glanville's past relationships have been challenging. Her divorce from husband Eddie Cibrian became messy after he had an affair with LeAnn Rimes while filming "Northern Lights." So it was a challenging situation. But before this marriage, Glanville had a fling with Butler and they both had a lot to say about it.
Gerard Butler asks, 'Who's Brandi Glanville?'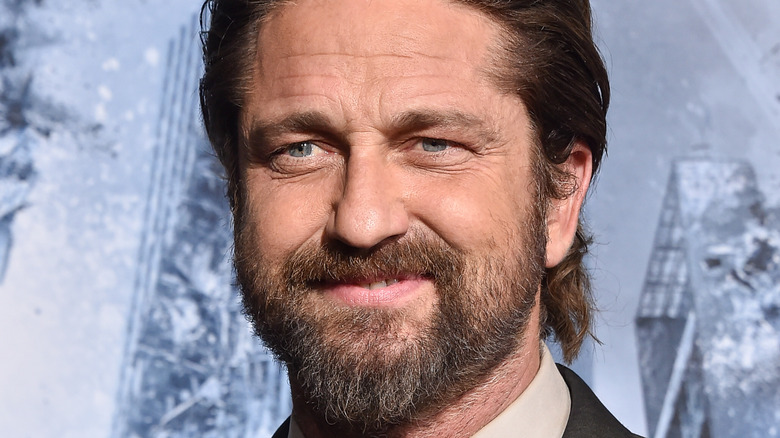 DFree/Shutterstock
When Gerard Butler was on "Watch What Happens Live with Andy Cohen" along with guest star 50 Cent, a caller asked what the most bizarre rumor was that Butler had ever heard about himself. While Butler was struggling to think of something, Cohen offered up the time that Brandi Glanville said that they had a fling on a previous episode of the show.
"I had no idea who she was," Butler said of Glanville. He said that when he asked Glanville what she did, she didn't really explain and Butler had no idea that she was on TV. He added that it was "a crazy time" in his life. "We hung out, we had fun, and then I never saw her again," Butler said. He then said that later, TMZ caught up with him and asked about their relationship and Butler said, "Who's Brandi Glanville?" He admitted that he didn't know her last name. TMZ did indeed ask Butler about this in 2012 and added that their fling lasted for about a week. But true to his word, Butler had no idea who she was and told the outlet so. Well, Glanville, needless to say, wasn't impressed by any of this.
Brandi Glanville said that Butler hit on her first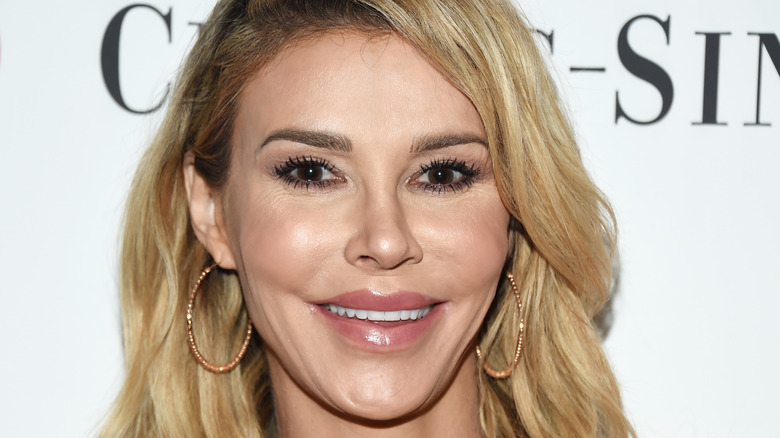 Amanda Edwards/Getty Images
Apparently, Brandi Glanville and Gerard Butler's fling happened years before and Glanville brought it up in 2012 on "Watch What Happens Live with Andy Cohen," per Bravo. After she watched Butler's retelling of events, she felt that his shame and cringe were (fair enough!) offensive to her.
"The Real Housewives of Beverly Hills" star jumped on Twitter, tagging TMZ. "Let's set the record straight Gerard Butler hit on me at a party Asked for my phone number called me up the next day and asked me out so if he wants to cringe now he can f*** off." In another tweet, she confirmed that Butler didn't know her last name but stressed that he was the one who hit on her first. We believe you, gal!
In a blog post from January 2018, Glanville wrote: "I would like to make something crystal f***ing clear to you, your behavior the other night, publicly acting as if you were embarrassed to have ever met me or had relations with me as if I were some horrid decrepit troll is not only disgusting but unacceptable," per Bravo.
However, one fan jumped on Twitter and offered an alternative, saying that Butler wasn't cringing at her but rather how awkward it was that he didn't know her name and that he was embarrassed about his own behavior.