Inside Jim Belushi's Friendship With Dan Aykroyd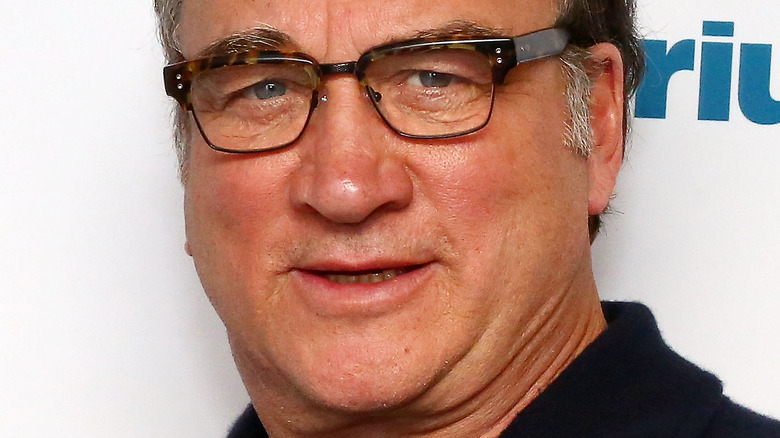 Astrid Stawiarz/Getty Images
The following article includes mentions of drug use. 
Dan Aykroyd and Jim Belushi have collaborated countless times, but what do we know about their friendship in real life?
As fans of cult movie "The Blues Brothers" will know, once upon a time, Aykroyd was close with another Belushi: Jim's older brother, John Belushi. Per History, John and Aykroyd were two of the OG "Saturday Night Live" comedians when the show premiered in 1975. As noted by Primetimer, three years later, the duo debuted the characters that would propel them to superstar status: Jake and Elwood Blues. In 1980, "The Blues Brothers" feature film premiered — since then, it's gone on to become a classic (via IMDb). In fact as recently as summer 2022, the correctional facility featured in the film, Old Joliet Prison, hosted the very first Blues Brothers Con. 
Sadly, just two years after the film premiered, John passed away due to a drug overdose, devastating Aykroyd. In a 2020 episode of "What We're Drinking with Dan Dunn," Aykroyd revealed, "I think of him every day." However, John's passing hasn't stopped him from putting together a number of "Blues Brothers" concerts over the years. Featuring a new character, Zee Blues, portrayed by John's real-life brother, Jim, "The Blues Brothers" have gone on to perform at a number of events, including Blues Brothers Con (via Chicago Tribune). That said, Jim and Aykroyd's relationship is way more than just a professional partnership... 
Dan Aykroyd became Jim's brother figure after John Belushi died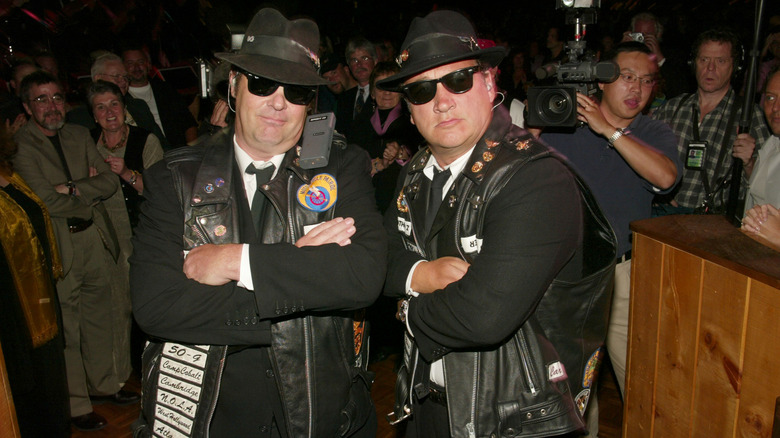 Evan Agostini/Getty Images
Dan Aykroyd's inclusion of Jim Belushi in "The Blues Brothers" tributes over the years comes down to more than a likeness to his brother. In fact, according to Jim himself, in the wake of John Belushi's death, Aykroyd did everything he could to be there for him. As he said during an episode of Radio Andy's "Bevelations" show, "Since my brother passed, you know, he, he just put his arm around me and included me in his world, his family, and I needed it back then." An emotional Jim added, "We've developed, over the last 30 years, such a beautiful friendship — I love him." 
Recently, the two partnered for Jim's Discovery Channel show based on his journey as a cannabis farmer, "Growing Belushi." As noted by IMDb, one of the episodes featuring Aykroyd is named after the famous "Blues Brothers" line: "A Mission from God." However, where the film's reference came from the characters' quest to raise money for their old orphanage through a blues concert, this time, their mission was to find the best medicinal marijuana available. 
Aykroyd wasn't merely a guest star on Jim's show, though. In fact, Jim told ET that he's played an active role in his surprising new career outside of acting. "He's the one that financed 'Growing Belushi,' because he saw the quality of this brand and what we're trying to do for people," he revealed. Talk about a supportive older brother figure!
Dan Aykroyd and Jim Belushi continue to honor John any way they can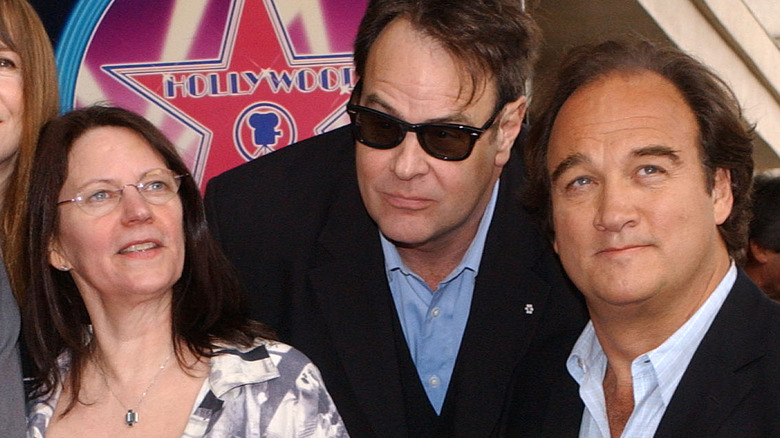 Vince Bucci/Getty Images
There's no denying that Dan Aykroyd has long been supportive of Jim Belushi, but when it comes to his choice to finance "Growing Belushi," there may be more to it. 
Back in 2012, Aykroyd spoke to CNN of his late friend and co-star, and mused that things might have gone differently, had John not turned to cocaine. "If he'd been a pothead he'd be alive today," he theorized. That's a stance Jim agreed with, in an interview with Fox News. Issuing his friend a shout-out, he shared, "I believe what Dan Aykroyd says." Prior to the Fox interview, Jim had also explained via Jeff Ragovin's "Alchemy" podcast that he believed John turned to drugs to cope with the fallout of multiple head injuries playing high school football. He also believed the shame attached to marijuana at the time made him more susceptible to trying other, more dangerous drugs, especially as all were lumped into one general category. "I think ... he combed it all to find that relief," he considered. It's no surprise, then, that Jim added that transforming the way viewers understood cannabis in "Growing Belushi" had allowed him to come "full circle."
Given that Jim and Aykroyd's friendship began while both were grieving the death of John Belushi, their latest collaboration only makes sense. We're happy they have each other!
If you or anyone you know needs help with addiction issues, help is available. Visit the Substance Abuse and Mental Health Services Administration website or contact SAMHSA's National Helpline at 1-800-662-HELP (4357).