Hailey Bieber Bares All About Her Latest Health Struggle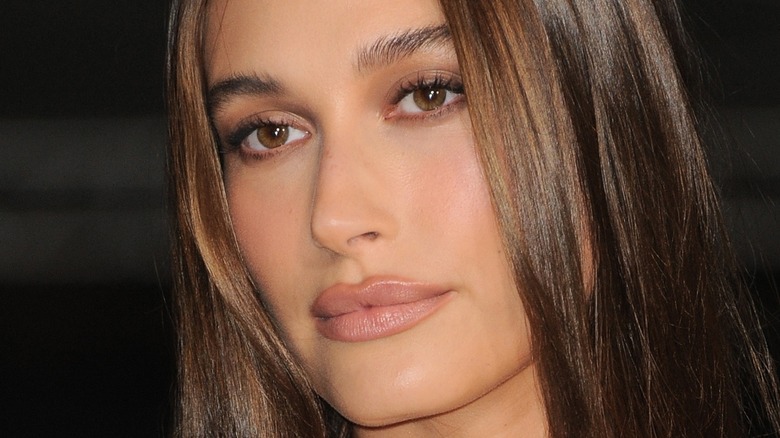 Tinseltown/Shutterstock
Hailey Bieber (née Baldwin) has been pretty open and honest with her fans, particularly when it comes to her innermost thoughts and feelings. Hailey has repeatedly been an advocate for mental health issues, opening up about her own mental health and what helps her during difficult moments in a June YouTube video. She shared that she's learned to regularly check in with herself and finds talking to others very helpful. "I also love to just spend time outside in nature. I love taking baths and doing breathing exercises. You can do counted breathing... It has really helped me in times when I was feeling a lot of anxiety," she shared. "I started doing a lot of those things and that has affected my mental health by just helping me to feel calmer, more at peace, more at ease."
Hailey has also spoken out about another of her terrifying health scares, sharing more about a small blood cot she had on her brain via a YouTube video in April that caused her to stroke symptoms. "I couldn't speak, the right side of my face started drooping, I couldn't get a sentence out," she shared, noting, "[It was] definitely the scariest moment of my life." Hailey's husband, Justin Bieber, then spoke about the incident on stage in a video shared to Instagram, confirming she was now doing okay.
Now, Hailey is putting her platform to good use again by sharing another important health story.
Hailey Baldwin got very candid about her ovarian cyst
Hailey Baldwin shared a mirror selfie of herself lifting her sweater to show off her stomach on November 28, as she explained she'd not pregnant but has experienced large cysts on her ovary that can sometimes make it appear like she is. "I have a cyst on my ovary the size of an apple. I don't have endometriosis or PCOS but I have gotten an ovarian cyst a few times and it's never fun," she wrote on the image, which she posted to her Instagram Story. She also spoke about the symptoms, sharing, "It's painful and achy and makes me feel nauseous and bloated and crampy and emotional. Anyways... I'm sure a lot of you can overly related and understand. We got this."
Hailey and her husband, Justin Bieber, have faced their fair share of pregnancy rumors over the years and have been known to hit back at those speculating about if they're about to become parents. Hailey took the chance to shut down Radar Online in April after the outlet speculated on Instagram she was expecting, commenting, "I'm not pregnant leave me alone" (via Capital FM).
And it sounds like Hailey and Justin are stronger than ever amid their health issues, as Justin was diagnosed with Ramsay Hunt syndrome. "It really bonds you. I feel like we're closer than ever. It really brings us close," she said on "Live with Kelly and Ryan" in June.