Who Are Chloe Chrisley's Parents?
On November 21, "Chrisley Knows Best" stars Todd and Julie Chrisley were sentenced to a staggering 12 years and 7 years in prison, respectively, for tax evasion and fraud. "Yesterday was a difficult day for the Chrisley family. But Todd and Julie are people of faith, and that faith gives them strength as they appeal their convictions," the couple's attorney, Alex Little, said in a statement obtained by CNN.
While sources told Us Weekly that the family is "devastated" following the couple's sentencing hearing, many in the Twittersphere are even more concerned about what will happen to the Chrisley's 10-year-old granddaughter, Chloe Chrisley, whom they raise. "Did the judge think about who would get Chloe if they lock Todd and Julie Chrisley up? And there is no parole or probation in fed time," one Twitter user wrote. Meanwhile, another tweeted, "Chrisleys going to jail and I feel bad for Chloe the most." 
So what does this mean for little Chloe? And who are her biological parents, anyway? The answer just might surprise you... 
Kyle Chrisley and Angela Johnson are Chloe Chrisley's parents
While many are under the misconception that Todd and Julie Chrisley only have three children, diehard "Chrisley Knows Best" fans know that Todd has two older children from a previous marriage: Lindsie and Kyle Chrisley. His granddaughter, Chloe, is his son Kyle's daughter. 
The story goes that Todd and Julie were awarded custody of Chloe due to ongoing issues with her birth parents, Kyle and Angela Johnson. "I haven't been the best dad to Chloe, I've had a problem with drugs, I've acted completely ridiculous," Kyle confessed in a Facebook post in 2019, per Life & Style. Meanwhile, Chloe's mother has experienced her own problems. Per The Cinemaholic, Johnson was arrested in 2016 for allegedly committing Medicaid fraud. It does appear, however, that Chloe gets to visit with her biological parents. In November, Kyle wished Chloe a happy birthday on Instagram. "I can't believe how fast these 10 years have flown. You're turning into such an amazing little lady and you're so beautiful, " he penned in the post. "Gosh how I wish things were different. I would give you the world if I could.. I hope you've had a great day today and I love you so much, always!"
But now that Todd and Julie are looking at hard time in federal prison, where will little Chloe go? Here's what we know... 
Savannah Chrisley now has custody of Chloe Chrisley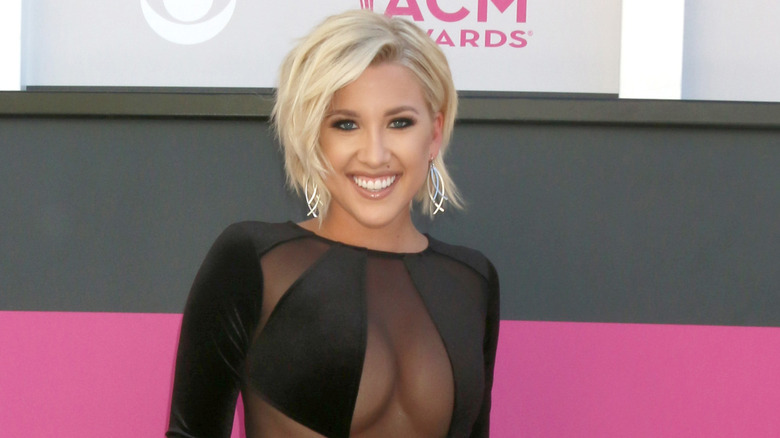 Kathy Hutchins/Shutterstock
Chloe Chrisley's aunt and fan favorite Savannah Chrisley is stepping up to the plate!
On the November 21 episode of her "Unlocked" podcast, Savannah shared that she now has custody of her youngest brother, 16-year-old Grayson Chrisley, and her niece, 10-year-old Chloe. "[I'm] trying to navigate how you teach two younger children who aren't fully developed yet and ... get them to understand the circumstances," she explained, per Us Weekly. "That's a really, really difficult thing," she added. Indeed no small feat. Still, she was adamant that she would give them "love and hugs" through it all.
Fortunately, shortly after Savannah revealed that she was serving as Grayson and Chloe's guardian, she was met with a flurry of support on social media. "I just have to say my heart goes out for this family. I'm sorry I mean the kids are gonna suffer it's nobody's gonna suffer more than the children. So I'm sending prayers to #SavannahChrisley. Honey you have to play the role of mom and dad. and it breaks my heart," one Twitter user wrote.