Are Pete Davidson And Emily Ratajkowski The Real Deal? Matchmaker Weighs In - Exclusive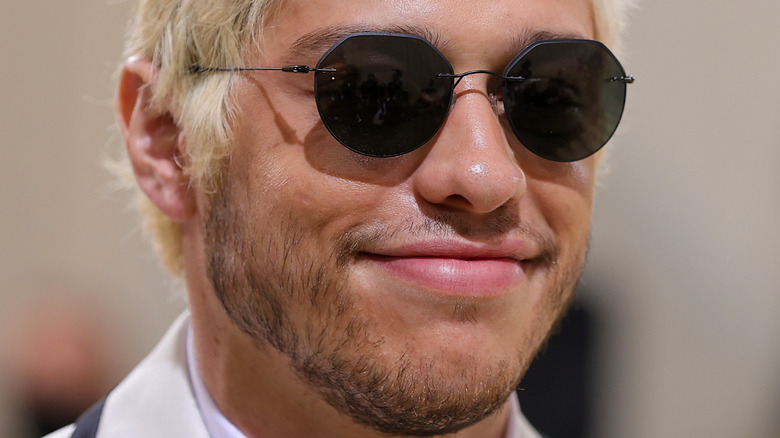 Theo Wargo/Getty Images
What's really going on with Pete Davidson and Emily Ratajkowski? As every celeb worshiper knows, the two have been getting pretty cozy in the wake of Davidson's big split from his now former girlfriend, Kim Kardashian, and Ratajkowski's breakup with her estranged husband, Sebastian Bear-McClard.
These two first properly sparked dating rumors in November when Deux Moi (via Cosmopolitan) shared a tip via Instagram Stories that claimed the two were spotted on a date in Brooklyn and they were (pause here for dramatic effect)... holding hands! E! News then claimed shortly after that the twosome had already been on a few dates and knew each other for a few years before things turned romantic. "Pete texted Emily wanting to get together to catch up," the source claimed. "Emily thinks Pete is a lot of fun to hang out with. Emily thinks Pete is charming and they have flirtatious chemistry right now."
Fast-forward a couple of weeks and it seemed the two were happy to make that chemistry public when they showed off their apparent romance by attending a basketball game together, with Daily Mail sharing snaps of them sitting together. "Pete and Emily just dig each other. [They] find the vibe they have very easy and free-flowing... [There's] just a lot of fun and a chance to cut loose and see where it leads," a source told Us Weekly after that public date. But are these two actually the real deal? We asked an expert matchmaker, and she gave Nicki Swift her exclusive take.
Is Pete Davidson and Emily Ratajkowski's relationship a PR stunt?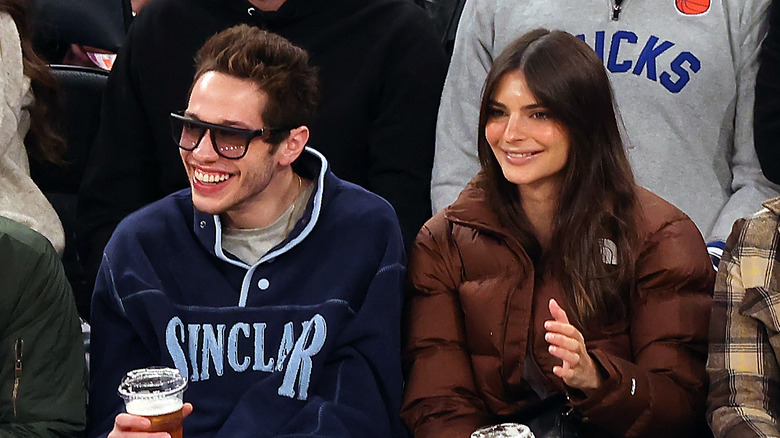 Jamie Squire/Getty Images
Of course, with pretty much every new celebrity romance, there are naysayers who question if the pair are really together (to borrow a line from "The Bachelor") for the right reasons. That's why we went to Susan Trombetti, matchmaker and CEO of Exclusive Matchmaking, to get a professional opinion on what's really going on between Emily Ratajkowski and Pete Davidson.
Trombetti seemed pretty convinced Ratajkowski and Davidson's romance isn't just another PR stunt, noting that Davidson has a history with some of Hollywood's most eligible bachelorettes (Kim Kardashian, Ariana Grande, and Kate Beckinsale to name a few, thank you very much). "It's possible Emily is up to something because she has been seen with other men including Brad Pitt, but she might just be taking her time and dating seeing what's out there... It's normal and natural. I just haven't noticed any truly over the top romantic photos yet, so that could be what's sparking the speculation," Trombetti explained.
But what if this is a rebound romance for both? Does that mean it won't last? Not so much, Trombetti shared. "The likelihood of both of them rebounding could work for them or against them. If they don't rush into a commitment too soon, it could last. If they jump too soon, as with any relationship, the chances of it working out aren't that good. They seem to be very chill and taking their time, so you never know," she said.
Pete Davidson and Emily Ratajkowski's compatibility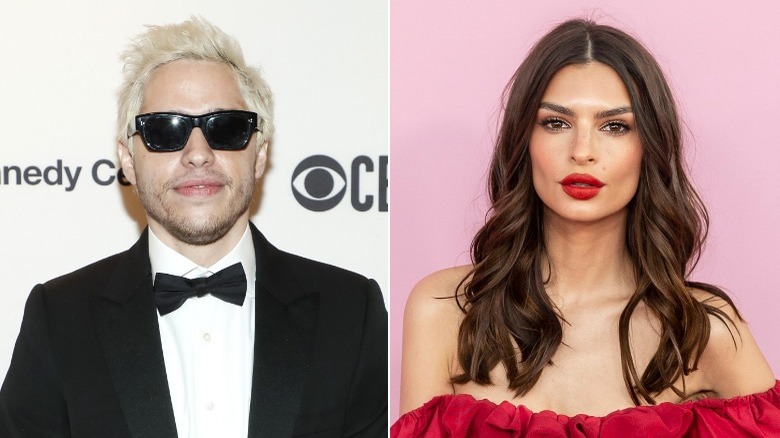 Ovidiu Hrubaru/Shutterstock & Paul Morigi/Getty
Matchmaker Susan Trombetti explained that Emily Ratajkowski and Pete Davidson could be more compatible than you might think, as they both know what's it like to be in the public eye and have plenty of eyes on their every move. But, of course, real compatibility comes down to more than just how famous someone is. "The true compatibility remains to be seen. I think they are both smart people that happen to be single and exploring right now," Trombetti said.
But how can we tell if these two are just playing the publicity game? Trombetti revealed a few signs we should look out for that may just tell us if the twosome are looking more for column inches than true love. "Tell-tale signs of a fake relationship would be lots of photos all over social media/in the media, many dates in the public eye, and lots of PDA in public to spark the public interest," she shared. "If one of them had a movie coming out, or a big project, and suddenly this came out of the blue, that could be a sign."
For now, we'll have to wait and see what happens between this couple, but it certainly sounds like they're having fun seeing where things go. "She finds him charming and funny. He is a passionate guy and plans great dates," a source told People of Ratajkowski in late November. "Emily is still taking it slowly. She is intrigued and flattered."