Wayne Gretzky's Wife Was Once Involved In A Huge Sports Scandal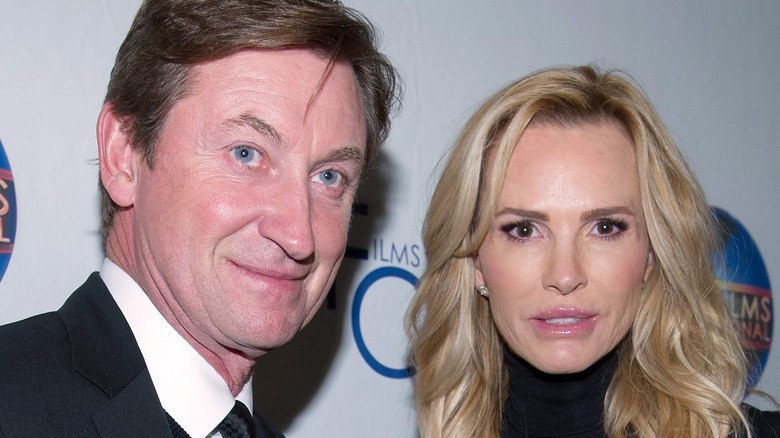 John Sciulli/Getty Images
When hockey fans think of the sport's unforgettable legends, an array of athletes come to mind, including Sid Abel, Ray Bourque and Martin Brodeur. However if you're creating a list of talented hockey players, Canadian superstar Wayne Gretzky must be included. Making his professional debut in the National Hockey League (NHL) in 1979, the beloved talent played in 20 seasons and garnered an impressive set of stats, including 894 goals and a total of 2,857 points, per Bleacher Report.
Due to his incredible athletic talent, Gretzky has been referred to as "The Great One" by sports enthusiasts and professionals. In an interview on "The Dan Patrick" show in 2014, the former Edmonton Oilers player revealed that nickname was given to him at the age of 10 years old by a "reporter friend." "It stuck forever. I never got a different one, and I've never had anything else but that," he explained (via Yahoo Sports). In addition to his influential professional life, Gretzky also made headlines for his high-profile marriage to actor Janet Jones. After meeting in the mid-1980s, the two went on to get married and have five children. However their fairytale marriage took a massive hit in the early 2000s after Jones landed herself in one of the sporting industry's biggest gambling controversies.
Janet Jones was accused of participating in an illegal gambling ring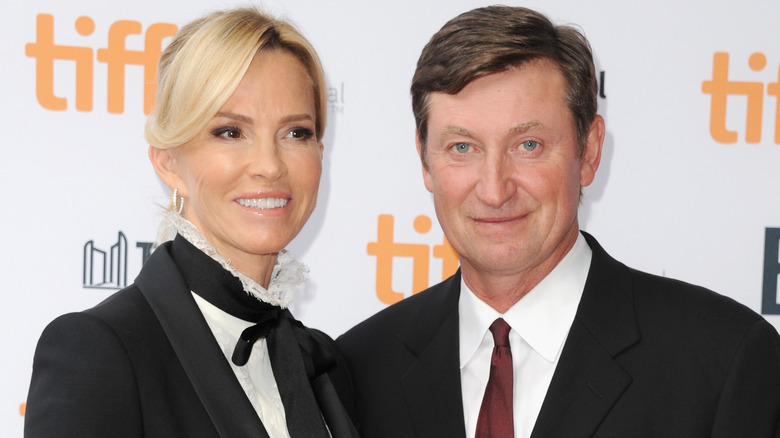 Angela Weiss/Getty Images
While Wayne Gretzky is known as "The Great One" of hockey, his wife, Janet Jones, earned a somewhat different title in the early 2000s. On February 6, 2006, the "Alpha Dog" star and a sleuth of NHL professionals were accused of being involved in a national sports gambling ring. According to a report from ESPN, authorities held an undercover investigation – dubbed Operation Slapshot – in which they discovered that over 1,000 illegal wagers were processed, resulting in $1.7 million in total. The aforementioned investigation also revealed that Rick Tocchet — who coached the Phoenix Coyotes alongside Gretzky at the time — was the financier behind the ring.
Shortly after the news made headlines, Gretzky addressed the scandal and his wife's involvement in a interview. "Listen, first of all, my wife is my best friend," he said (via CBS News). "My love for her is deeper than anything. The reality is, I'm not involved, I wasn't involved, and I'm not going to be involved." While Jones was never charged for her involvement, the constant media coverage did have a negative effect on their marriage. "It's unfair that Wayne and I have had a great marriage for 20 years and a nice family, and the people in the media could care less if they are trying to cause friction," she said in an in-depth interview with Chatelaine (via The Globe and Mail).
Despite the scandal, Janet and Wayne kept going strong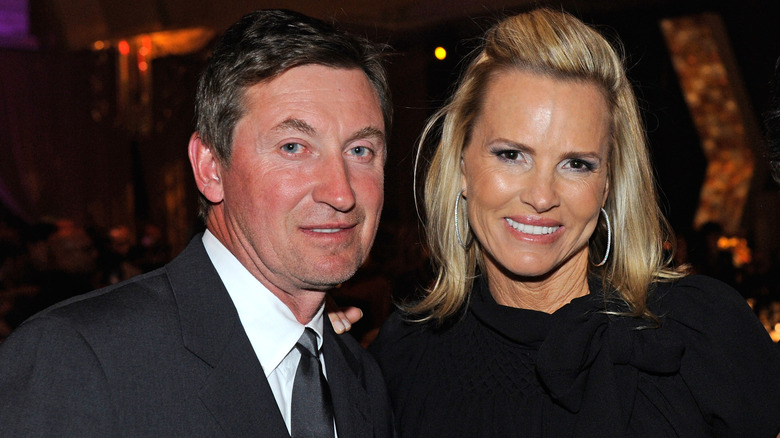 Ethan Miller/Getty Images
While the gambling scandal negatively impacted Janet Jones and Wayne Gretzky's marriage at the time, the two lovebirds have since moved on and are seemingly stronger than ever. In a 2018 interview with Us Weekly, the couple opened up about the longevity of their relationship and being a team when raising their five children. "When you play sports, and I say this in a nice way, to be successful, you have to be extremely selfish. Your commitment is to that sport," Gretzky explained. "Janet ran the house and was a hundred percent with the kids. When people say our son or daughter is 'so polite, so friendly – that's the greatest compliment ... Janet deserves all that credit."
Jones echoed similar sentiments a few years later during an interview with CBS News. When opening up about the early pushback they received from fans, the "American Siege" actor praised Gretzky for keeping her "beside him" versus "behind him." "They ... said our marriage wouldn't work, and here we are, 33 years later," she explained. "He made me feel like I was beside him, not behind him. And so, he brought me right along with his career. So I loved it." With the gambling scandal in the past and all of their children out in the real world, Jones and Gretzky have entered an "Empty Nester" era of their expansive marriage.