Houston Police Announce Major Development In The Investigation Of Takeoff's Tragic Death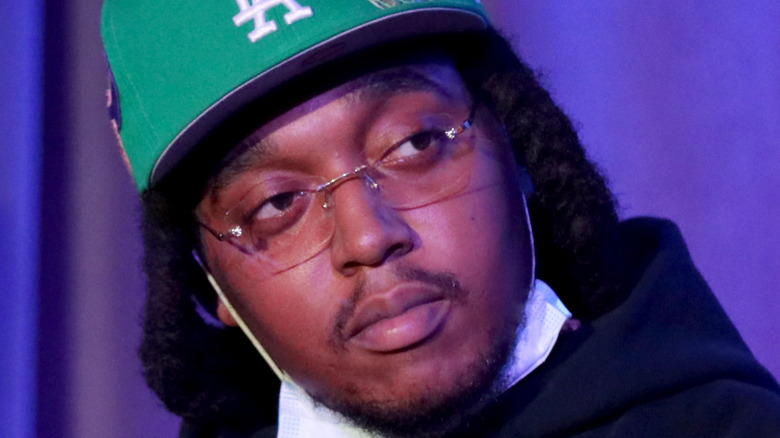 Rebecca Sapp/Getty Images
A man has officially been arrested for the murder of Migos rapper Takeoff. On November 1, music enthusiasts worldwide were left saddened when it was reported that the beloved talent tragically passed away. According to People, the Migos member — whose real name was Kirsnick Khari Ball — was a victim of gun violence after being shot at a Billards & Bowling Alley in Houston, Texas.
During a press conference, Troy Finner, Houston's Police Chief, revealed that the incident occurred at 2:38 am and stemmed from a heated argument. "A lot of people that were there fled the scene at the time of the shooting," he explained. Over the last few weeks, the music industry has mourned the talented artist with various tributes and a high-profile funeral that featured heartfelt statements from Offset, Quavo, and Drake, per CNN. However, alongside the outpouring of tributes, law enforcement has been actively looking for the individual responsible for the terrible incident that left Takeoff dead and two others injured. Fortunately, authorities recently revealed that a prime suspect in the crime has finally been identified. 
Authorities have arrested a suspect in Takeoff's murder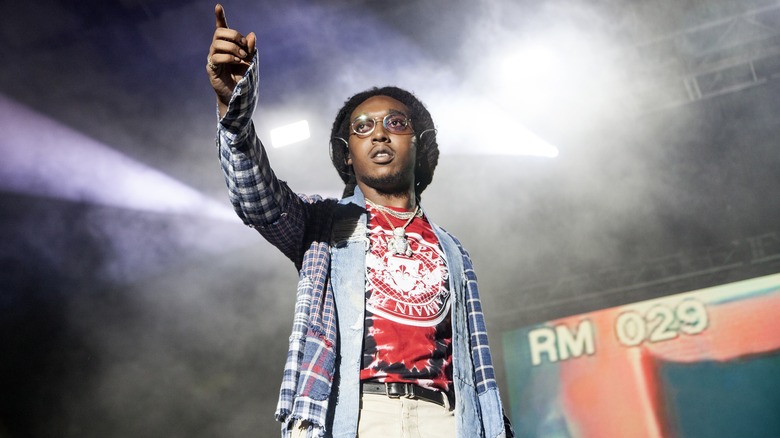 Jeff Hahne/Getty Images
After a month of investigating, Houston authorities have finally made an arrest in the tragic shooting of Migos rapper Takeoff. According to a report from NBC News, Patrick Clark was taken into custody on at least one charge of murder. Shortly after the arrest was made, Stg. Michael Burrow of the Houston Police Department confirmed the news in a press conference. "We were able to deduce that Patrick Clark is the lethal shooter in the case, and that's why he's being charged with murder," he explained. In addition to Clark's arrest, court documents revealed that his bond was set at $1 million due to Clark being considered a "flight risk," per CNN. The hefty amount and classification stemmed from the suspect applying for an expedited passport and carrying a "large amount of cash money" before being taken in.
The news of Clark's arrest came a few days after police charged Cameron Joshua with being connected to Takeoff's death. "We believe Cameron Joshua has been appropriately charged in this case. We are continuing our investigation into the death of Takeoff," said prosecutor Matt Gilliam in a statement to reporters (via The Associated Press). While Joshua's lawyer denied his involvement in the shocking incident, Houston Police Chief Troy Finner doubled down on his arrest in a statement to the media. "He was there on the scene, and he was in possession of a weapon. He's a felon," he said, per UPI.