How Chip And Joanna Gaines Ended Up In Waco, Texas
Cindy Ord/Getty Images
We may receive a commission on purchases made from links.
At this point, Chip and Joanna Gaines are synonymous with their Magnolia empire. The design duo became household names in 2013 thanks to HGTV's "Fixer Upper," which tracked them as they remodeled homes across the Waco, TX area. The series ended in 2018, but Chip and Joanna have only kicked things into higher gear since — expanding the Magnolia brand from the original "Little House on Bosque" to encompass shops, restaurants, and hotels. In partnership with Discovery+, the couple launched a multiplatform media company, The Magnolia Network, in 2019. Magnolia Network houses lifestyle-centric series, including a cooking show, "Magnolia Table with Joanna Gaines." Fans can also tune in to "Fixer Upper: The Castle," which focuses on the Gaines' renovation of a historic property.
The growth of the Gaines' Magnolia businesses has significantly increased tourism in Waco, per KCEN-TV. Waco's Convention and Visitor's Bureau estimated that the area welcomed 2.7 million tourists in 2018, 1.6 million of whom visited Magnolia Market. The pandemic temporarily slowed down the stream of visitors, but the expansion of the Silo District in 2020 reinvigorated things, KXXV-TV reported. Plus, "their new program ... as well as their network are all just good signs that Chip and Joanna are alive and well and Waco will be really enjoying the benefits of their future," a city spokesperson told the outlet. All this points to the myriad of ways Chip and Joanna are indispensable to the city of Waco, particularly its tourism arm. But why did the couple pick Waco?
Chip and Joanna Gaines both came to Waco for college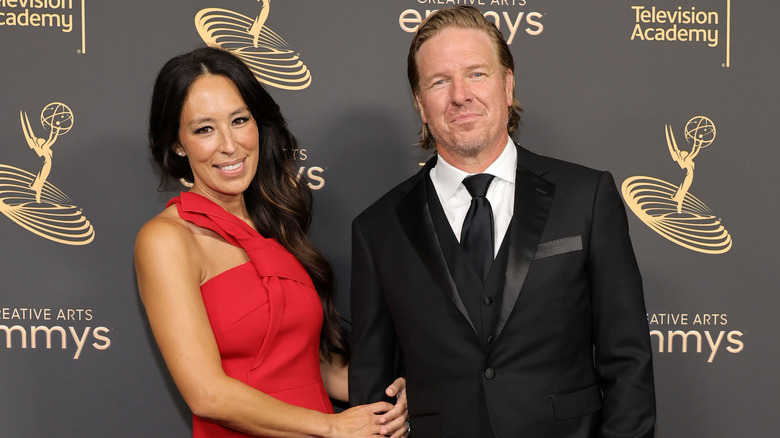 Amy Sussman/Getty Images
Chip and Joanna Gaines didn't start out in Waco. According to Parade, Chip was living in Dallas when he relocated to Waco to attend Baylor University. He ended up staying in town after graduation to remain close to his then-girlfriend. As Chip later told Baylor University in an interview, it was meant to be. "I look back on it from what might have been God's perspective, and He knew He had to handcuff me [to Waco] at least short-term. God knew when I was ready to move on. What would have happened had I not had a serious relationship that kept me in Waco?" Chip mused. For one thing, he might not have met Joanna, and they might never have gone on to transform their chosen city.
As for Joanna, she is also a Waco transplant. According to the Magnolia website, she was born in Kansas — and like Chip, moved to Waco for college. She was born in the US, Joanna revealed in "The Magnolia Story" (via Country Living) that her parents have a more global story. Her parents, Jerry and Nan Stevens, fell in love in Seoul, Korea, and the pair eventually married and moved to Wichita, KS, where Joanna was born. The HGTV star shared more about her ethnicity in a Q&A, telling fans, "My father is half Lebanese/half German and my mother is full Korean."
Have Chip and Joanna Gaines been good for the city of Waco?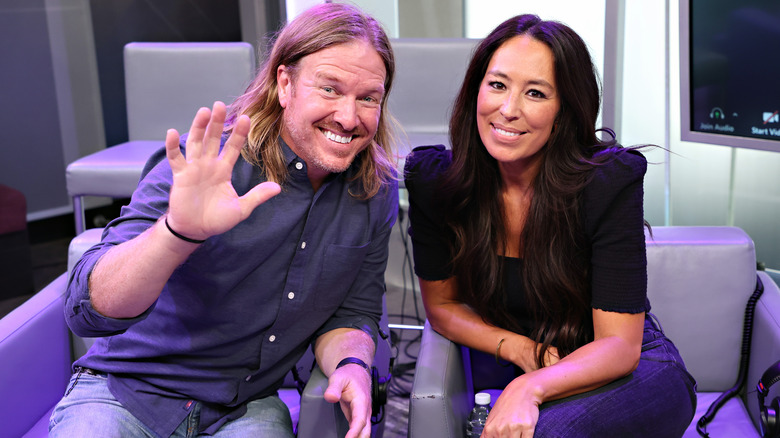 Cindy Ord/Getty Images
Once Chip and Joanna Gaines began expanding their empire in Waco, some locals grew unhappy. The couple's goal has always been to empower their city, but could they be doing the opposite? For starters, sleek, uniform businesses like Magnolia Market and Silos Baking Co. detract from the city's historic charm, as Insider points out. For another thing, a 2021 U.S. Census reports that over 25% of Waco's population lives in poverty, and the Gaines' HGTV show has only caused home values and property taxes to skyrocket in recent years, per KWTX-TV. Locals and long-time residents are being priced out of their homes as a result. "That destruction of community just tears at my soul," Waco's CrossTies Ecumenical Church tells Chron, describing the forced separation of friends and families. "That is absolutely the worst outcome."
The Magnolia brand has helped transform Waco from a city of tragedy into a tourist destination. According to USA Today, Magnolia is one of Waco's top employers. Local craftspeople featured on "Fixer Upper" have grown into national sensations, thanks to their exposure on the show. "Our colleagues in the convention and visitors industry are very jealous," marketing director Carla Pendergraft at the Convention and Visitors Bureau told the outlet. "They ask us what it's like and I say, 'lightning in a bottle.' ... We just kind of got lucky. But maybe we were due for a little good luck."