Jordin Sparks' Father Has His Own Claim To Fame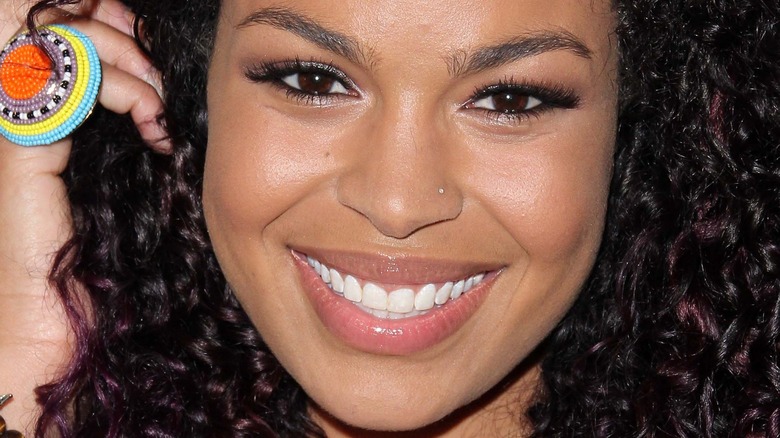 s_bukley/Shutterstock
We all know Jordin Sparks. The super talented singer rose to fame as a teenager on "American Idol" during its heyday on Fox, beating out runner-up Blake Lewis to be crowned winner of Season 6 way back in 2007 (can you believe it's been that long!?) Since then, she's gone on to do huge things in the world of music and beyond, including starring alongside the late Whitney Houston in the 2012 movie "Sparkle," appearing on stage in the musical "In The Heights," and competing on Season 31 of "Dancing with the Stars." "I'm forever grateful for the precious memories & friendships I've made because of @americanidol. And EVERYTHING that I've been able to accomplish because of the fans that voted for me week after week!" Sparks gushed on Instagram in 2016 after returning to the show that made her a household name for the Season 15 finale.
But while you probably knew all that about the talented star, one thing you may not have known is that Jordin isn't the only famous person in her family. Oh no. It turns out that, if you're a sports fan, you may just have heard of her dad, who had his own career in the spotlight years before his daughter's "American Idol" triumph. But just who is Jordin's famous father and what does he do?
Jordin Sparks' dad is a famous football player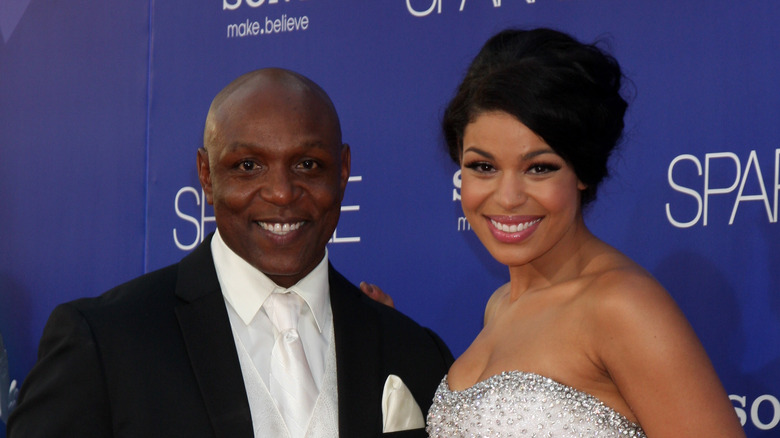 Kathy Hutchins/Shutterstock
Did you know that Jordin Sparks' dad is Phillippi Sparks? Yep, it turns out the football player is the singer's father, who you may remember for his career in the NFL. Per ESPN, Phillippi played in the league for almost a decade from 1992 until 2001 (six years before Jordin made her debut on "American Idol," if you're keeping count!) Much of that time was spent playing for the New York Giants (he signed in 1992 and stayed until 2000), with Phillippi opening up to New York Times in 1995 about how he changed his attitude off the pitch to be a better family man for Jordin, her brother, P.J. Sparks, and his now ex-wife, Jodi Sparks. "I just want to take care of business, do what I have to do, and my happiness comes from my wife and kids," he said.
Because of her dad's ties football ties to New York, Jordin (who was born in Arizona) grew up in New Jersey, which, in turn, impacted her own future career. "We lived in New Jersey, so I went to Broadway a lot and saw plays and I just loved seeing people being able to play a different character and be able to be themselves at the end of the night. So, I've always wanted to do it," she told BlackFilm.com in 2012 ahead of "Sparkle." Phillippi then went on to spend his final season in the NFL at the Dallas Cowboys.
Inside Jordin Sparks and Phillippi Sparks' relationship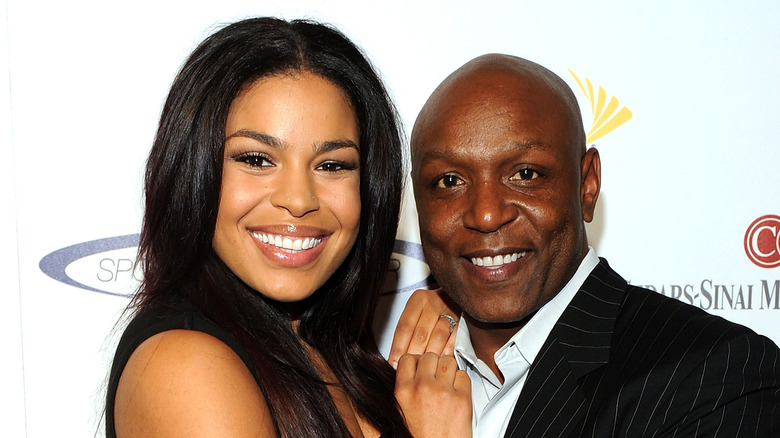 Michael Kovac/Getty Images
Jordin Sparks' close relationship with Phillippi Sparks is pretty evident, and the two have spoken out about their sweet father/daughter bond a few times before. The former athlete told E! News in 2020 that he would set up former daddy daughter dates for himself and Jordin when she was younger, gushingly recalling of the first time they stepped out together that he got all dressed up in a formal suit. "Sitting down and talking to her, listening to her and just talking about how special she is and how you're supposed to be treated," he recalled of those special times, sweetly adding of his daughter today, "I'm just very grateful and thankful for her having grown up as a beautiful woman, she's a mother to DJ and a wonderful mom."
But while they no doubt made sure to make up for lost time when Phillippi was home, Jordin has also been open about how her dad's busy career kept him away from them a lot when she was younger. The star admitted that she thinks a lot about her parent while singing, telling Blues & Soul, "When I sing about missing people I think back to when my dad was on the road a lot when I was younger and I really missed him or I miss being away from my family so much now."