The Hilarious Reason Barack Obama Said Will Smith Could Play Him In A Movie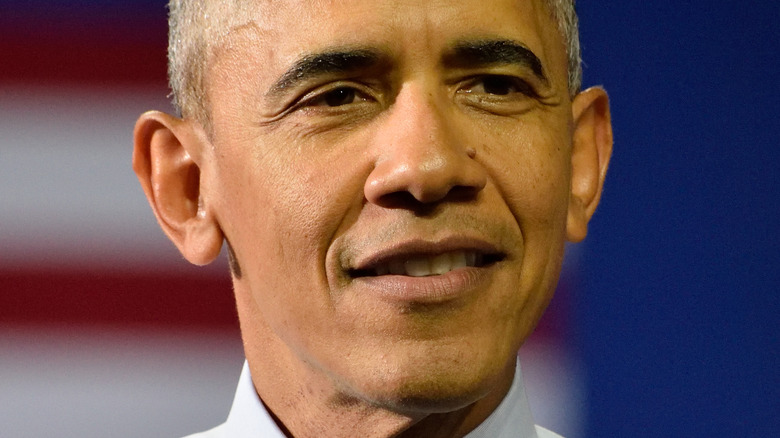 Evan El-Amin/Shutterstock
As the 44th president of the United States, Barack Obama has many biopics in his future — and a few in his past, too. In "Southside With You," Parker Sawyer stepped into Obama's shoes, portraying him during the early days of his relationship with wife Michelle. "Barry," which chronicles Obama's academic trajectory at Columbia University, saw Devon Terrol take on the role. And while both of these films garnered varying degrees of box office and critical success, it's likely something bigger will come around that will require a, well... bigger name.
Over the years, Obama's supporters have spouted off A-listers, such as Denzel Washington, Idris Elba, Jamie Foxx, and Will Smith, to possibly play him. Unfortunately, Washington didn't seem took keen to portray Obama in 2012. "Barack Obama is a story that hasn't finished yet," Washington told Variety. "It's not something I'm thinking about, and he's busy." He added, "I've played Biko, Malcolm X, I can't play everybody." Jamie Foxx, on the other hand, has imitated Obama on numerous of occasions, including Obama's inauguration. 
With that said, Obama has another big name in mind — the one and only Will Smith. And given his reasoning, Obama's stance makes perfect sense. 
Barack Obama thinks he and Will Smith share an important resemblance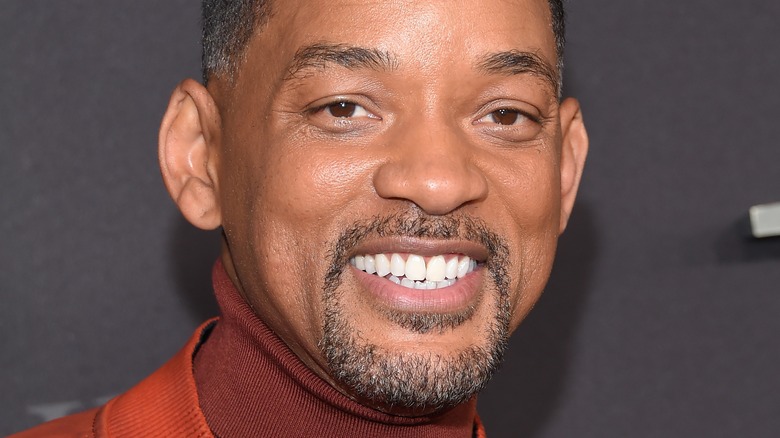 DFree/Shutterstock
During a 2017 episode of "Carpool Karaoke: The Series," Will Smith revealed to James Corden that he was in talks to possibly portray Barack Obama in a film, and that he'd received support from the man himself. The reason? Well, they're both widely known for sharing a super distinguishable physical feature: their ears. "I talked to Barack about it," Smith said. "He told me that he felt confident that I had the ears for the role," he continued, garnering laughs from Corden. 
Of course, this is only Smith's version of events. However, it's not hard to believe, given that Obama has made plenty of self-deprecating jokes about his ears. In 2018, during the reveal of his White House portrait, Obama joked about the artist's perception of him. "I tried to negotiate less gray hair but Kehinde's artistic integrity would not allow it," Obama teased, according to NBC New York. "I tried to negotiate smaller ears and struck out on that as well." A few years prior, Obama visited DreamWorks Animation studios and claimed that he inspired one of their biggest hits, per Politico. "I don't know if you know this — but my ears were one of the inspirations for Shrek," quipped Obama. "That's true, true story."
Michella and Barack Obama almost worked with Will Smith on a project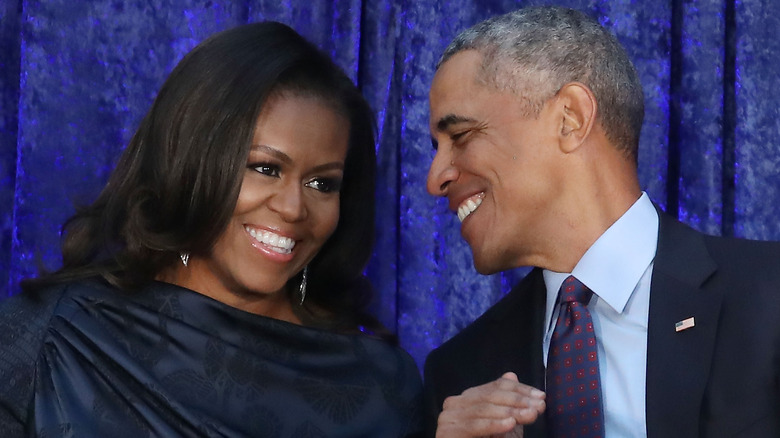 Mark Wilson/Getty Images
So far, there's no word on whether or not the Will Smith-led Obama biopic will ever come to be especially in light of Smith's 2022 Oscar controversy. However, Obama's post-presidential career as a producer for Netflix, alongside Michelle, almost saw them working together in a different creative capacity. 
In 2019, Obama attempted to gain the rights to produce "King Richard," the Smith-led biopic that centered on the father of tennis legends Venus and Serena Williams, for Netflix. Ultimately, Obama wasn't able to close the deal as Smith and the team behind the film decided that Warner Bros. would be a better fit, according to the Daily Mail. Prior to securing the rights to "King Richard," Warner Bros. was determined to come out victorious amid the bidding wars, which topped the $60 million mark, per Deadline. 
With the said, the future is unwritten, so it's highly possible that Obama and Smith will find their way back into each other's creative orbits. In the meantime, the Obamas have been quite busy with their new job of quietly building a media empire. Not only as Obama already won an Emmy, but he and Michelle's production company has already produced a slew of projects, including "Becoming," "The Fire Keeper's Daughter," and "Waffles + Mochi" (via Oprah Daily).