Braunwyn Windham-Burke's Girlfriend Was On A Different Bravo Show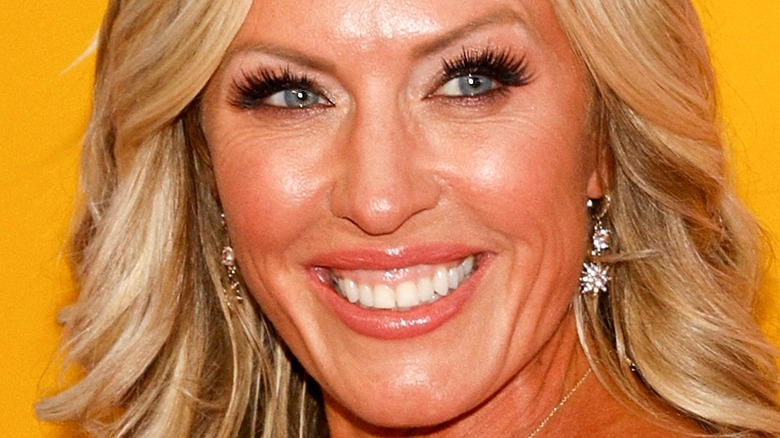 Ovidiu Hrubaru/Shutterstock
Reality TV fans may know Jennifer Spinner best as the girlfriend of "The Real Housewives of Orange County" star Braunwyn Windham-Burke, but did you know she actually appeared on another Bravo show before finding love with a Real Housewife?
Braunwyn made history in December 2020 when she became the first Real Housewife to openly come out as gay, but made it clear at the time that she had no plans to divorce her husband and "RHOC" co-star, Sean Burke. Then, in August, Braunwyn confirmed her new romance with her girlfriend by making things Instagram official. The Real Housewives star shared a video to Instagram Stories that showed her and Jennifer together, writing (via Page Six), "I like her, we laugh a lot, it's good." Jennifer then returned the favor on her own Instagram Story, sharing a photo of them together at the beach and writing, "Here's to new chapters and a lot more cheesy posts."
Much has happened since then, though. Braunwyn has since made it clear she plans to officially divorce Sean, while reality fans have realized her Instagram Story isn't the only place they've seen her new girlfriend before.
Jennifer Spinner appeared on Below Deck Mediterranean
Think you've seen Jennifer Spinner before? Well, if you're a fan of Bravo's many reality shows, then you probably have! It turns out Jennifer actually had a cameo on the "Below Deck" spinoff "Below Deck Mediterranean," making an appearance alongside her brother, Adam Spinner. The storyline played out over the Season 7 episodes "Wine Im-Pairing" and "Let Me Be Frank," which saw Jennifer, Adam, and a few of his friends join together to celebrate his 30th birthday on the boat. Adam was the main charter guest, so fans only got a few glimpses at Jennifer, though viewers may best remember the episodes as the ones where Kyle Vilijoen flirted with Adam's guest, Frank Fay.
Jennifer shared several snaps from the group's adventure on Instagram following the charter, praising Captain Sandy Yawn and the crew for the fun time they had out on the water. "I don't think many experiences will top the four days that we spent with @captainsandrayawn and her amazing crew. First, the food. Seriously, @dangerous_davewhite is superhuman," she captioned the upload, which was shared in August. "Second, watching @adamspinner blossom with the people who have enriched his life so much was more than an honor and privilege." She then followed up her lengthy message by telling her followers of the yacht experience, "I feel incredibly lucky to have spent this time surrounded by such amazing human beings."
Jennifer Spinner Instagram'd her Below Deck experience
Photos of Adam Spinner on his birthday weren't the only insights into the "Below Deck Mediterranean" charter that Jennifer Spinner posted online. She also uploaded a sizzling bikini shot and a video of the charter guests heading out on a banana boat. In the caption, Jennifer shared her appreciation for the cast and crew of the Bravo hit, writing, "Thank you @belowdeckbravo for providing me with various inappropriate places to sleep, multiple climate friendly cooling options, and for giving me the opportunity to display my impressive athleticism. #blessed to be a part of the season's most heterosexual charter." The uploads were posted around the same time Jennifer and Braunwyn Windham-Burke went public with their romance.
But while it sounds like Spinner has to be a fan of reality TV after literally appearing on a reality show, it turns out she was no fan of her girlfriend on one. Braunwyn, who departed "The Real Housewives of Orange County" in 2021, admitted to Page Six in November that Jennifer once pretty much despised her after seeing her on the series and at BravoCon. However, that all changed after she came out and began sharing her true self on social media more. "At the time, she was dating someone who was closeted, and she loved how out I was," Braunwyn explained, admitted Jennifer became attracted to her after realizing she wasn't the same person she saw on the show.