Nick Cannon Pens Heart-Wrenching Tribute To Late Son On First Anniversary Of His Death
DFree/Shutterstock
Nick Cannon has 10 living children, but he's actually a father to 11. Nick lost his 5-month old son Zen Cannon to brain cancer in December 2021. Cannon first shared the heart-wrenching news on his now-cancelled talk show. "Over the weekend I lost my youngest son to a condition called hydrocephalus that is pretty much a malignant, midline brain tumor. Brain cancer," NIck shared during the broadcast. Originally, Nick took Zen — whom he shared with model Alyssa Scott — to the doctor for a suspected sinus infection. "It sounded like he had fluid in his lungs, like a sinus infection or something," Nick shared with People. 
However, after Nick noted that Zen's head was "growing too quickly," he took him back in and received the devastating diagnosis. And as Nick revealed during his show, Zen's health worsened by Thanksgiving 2021. Following Zen's passing, Nick appeared on the "Today" show and spoke about his state of mind when making the announcement. "This was probably the most delicate and the most precious thing I've ever had to talk about, and I didn't know how to talk about it," he shared. "As much as there was such an outpouring of love, there was a lot of fear and obviously some hurt," he added. 
Now, one year after Zen's passing, Nick Cannon has penned a heartbreaking tribute to his son. 
Nick Cannon reflects on the 'painful anniversary'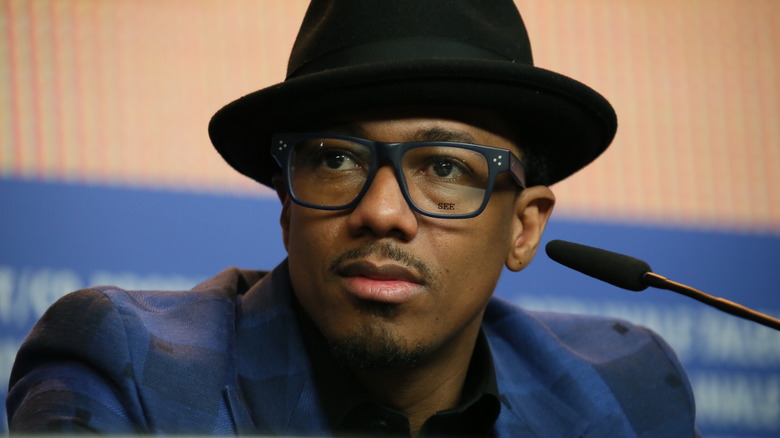 Denis Makarenko/Shutterstock
Just a few days after being hospitalized for pneumonia, Nick Cannon took to Instagram to mourn his late son, Zen Cannon. "Physically I'm definitely on the mend but Mentally and Spiritually I'm broken," Nick wrote. "Been tossing and turning all night, and as much as I know I need rest, last night I couldn't sleep at all. I can't believe it's been a year already since the toughest day of my life occurred." 
He added, "Such a painful anniversary. Losing a child has to be the heaviest, most dark and depressive experiences that I will never get over. A mixture of guilt, pain, and sorrow is what I suppress daily." Later in the post, Nick shared that he wishes his "Little Man" had been able to feel more of his love while he was alive. "Continue to Peacefully Rest My Son, Zen Scott Cannon. We Love you Eternally," Nick added to close out the tribute. 
This is not the first time that Nick has honored his late son. During an episode of "The Nick Cannon Show," Nick revealed a tattoo he'd gotten to memorialize Zen. "It was a lot of pain, but it was so well worth it," he shared during the show (via Page Six). "I enjoyed every moment of the experience to forever have my son right here on my rib, right here on my side as my angel."