Lena Dunham Once Named Her Least Favorite Ex Of Pal Taylor Swift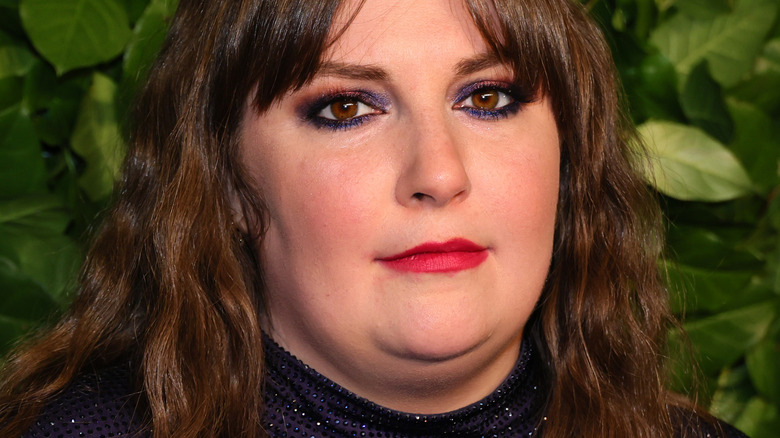 Theo Wargo/Getty Images
When Taylor Swift first burst onto the scene as a curly-haired country darling, the media was interested in her boyfriends as much as her hit tunes. After all, the two sort of went hand-in-hand, given Swift's tendency to pen songs about the ghosts of boyfriends past ... without naming names, of course. While Swift didn't kiss and tell, it's widely rumored that the tunes "Superman" and "Back to December" are about John Mayer and Taylor Lautner, respectively. Additionally, her repertoire of catchy tunes features lyrics that take aim at other exes, including Harry Styles, Joe Jonas, and Jake Gyllenhaal.
Since her early days in the spotlight, Swift has become savvier about sharing her personal life. "Having the world treat my love life like a spectator sport in which I lose every single game was not a great way to date in my teens and 20s, but it taught me to protect my private life fiercely," the songbird said at an NYU graduation speech in May (via Glamour). As of this writing, Swift has been dating Joe Alwyn since 2017, with whom she occasionally collaborates on musical projects. The couple that writes together, stays together... as does the couple that keep their relationship under wraps. And with Alwyn, Swift is all about dodging the tabloids.
But just because Swift is happy in a long-term relationship now doesn't mean her friends have forgotten her exes. For example, longtime Swiftie Lena Dunham once weighed in on which of her pal's former boyfriends is her least favorite.
This former boyfriend dissed Taylor Swift on Twitter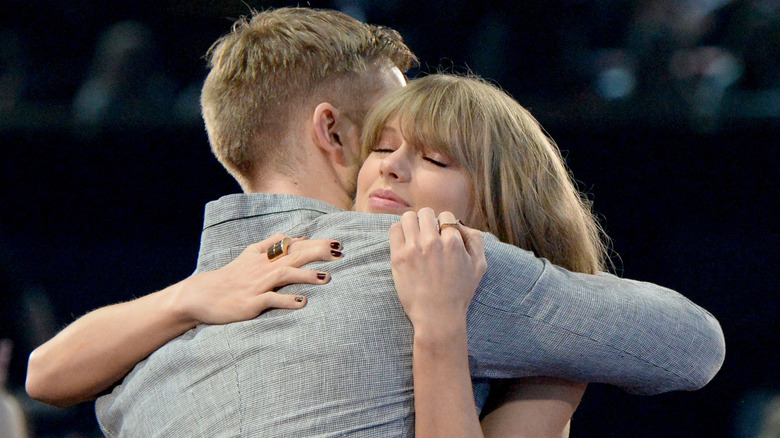 Kevin Mazur/Getty Images
Taylor Swift's list of exes reads like a who's who in Hollywood (Joe Jonas! Jake Gyllenhaal! The short-lived summer of Hiddleswift!). With all those famous former boyfriends, it can be hard to keep track of Swift's dating history, but actor Lena Dunham hasn't forgotten one ex in particular. "My least favorite was Calvin Harris because I felt that he was petty in the public, and who needs to do that?" the "Girls" alum revealed on a 2018 episode of "Watch What Happens Live." For what it's worth, Dunham dropped this bombshell during a game of "Plead the Fifth," in which a celebrity is asked three questions and they can only 'plead the fifth' on one of them. The game is designed to drum up drama, but still — Dunham's response is telling!
As a refresher, Swift dated Harris from 2015-2016, and things didn't end well. A source told People that "there was no drama" at the time of the breakup. That's because the drama came later, when TMZ revealed that Swift wrote Harris' hit "This Is What You Came For," under a pseudonym. After news broke that Harris had supposedly hurt his ex-girlfriend's feelings in a promotional interview with Ryan Seacrest, he went on a Twitter tirade accusing Swift of trying to make him look bad. "I know you're off tour and you need someone new to try and bury like Katy [Perry] ETC but I'm not that guy, sorry," he tweeted (via Us Weekly).
Calvin Harris regretted how things went down with Taylor Swift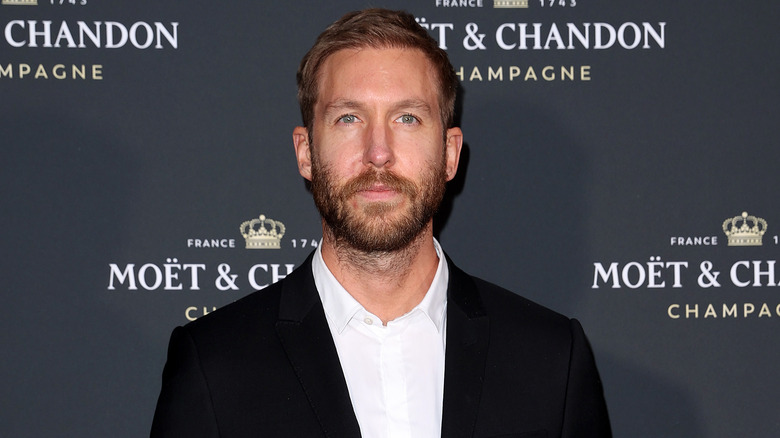 Brendon Thorne/Getty Images
Taylor Swift moved on with Tom Hiddleston shortly after her breakup with Calvin Harris became public, and the Scottish musician didn't take kindly to that romance, either. According to People, he dropped a breakup track, "Olé," which many suspected to be about his blonde ex. Indeed, lyrics like "I see online that you've begun to be a good girl / and take trips with your boyfriend, being attentive / Continue to pretend," showed that Harris wasn't above being a little petty. But a couple months after all the relationship drama, Harris appeared to regret his actions. Telling British GQ that his Twitter outburst was "completely the wrong instinct," he added, "I was protecting what I see as my one talent in the world being belittled. It felt like things were piling on top of me and that was when I snapped."
To recap, Lena Dunham had good reason for branding Harris "petty," but he's not Swift's only problematic ex. They might be on good terms now, but who could forget Joe Jonas' infamous breakup call that, according to Swift, lasted less than 30 seconds? Or her short-lived romance with John Mayer that culminated in accusations of toxicity and a dark breakup track? "Don't you think nineteen's too young / To be played by your dark, twisted games when I loved you so?" Swift sings in the lyrics of "Dear John." Yikes.