Here's How Renovation Island's Bryan And Sarah Baeumler Got Together
In the world of HGTV, a lot of couples are married to their business partners, like Erin and Ben Napier and Chip and Joanna Gaines (when "Fixer Upper" aired on the network). The same is true of "Renovation Island" stars Sarah and Bryan Baeumler. Some famous couples have a knack for home improvement, and there's no doubt that Bryan and Sarah are one of them. According to IMDb, the Baeumlers have starred together in several hit projects, including "House of Bryan," "Renovation, Inc." and their most recent series on HGTV, "Island of Bryan." Although some people say that you should not mix business and pleasure, these two have been doing that for years. And while they disagree on some things — like what tile to put in a bathroom, or how to design certain spaces in homes, or about their Caerula Mar Club property — they make it work. 
In July 2020, Sarah spoke with Millionairess Magazine about working with her husband. She admitted that like most couples, she and Bryan have their challenges from time to time. "We've now been married 16 years, and you go through all different times during your marriage that you look not only at where you are in your marriage, but we would also look subsequently at where we are in our careers," she said, adding that at different times they may be focused on different things.
But at the end of the day? Sarah told the outlet that their relationship is like a "beautiful pendulum." So how did it all begin?
Sarah and Bryan Baeumler reconnected via email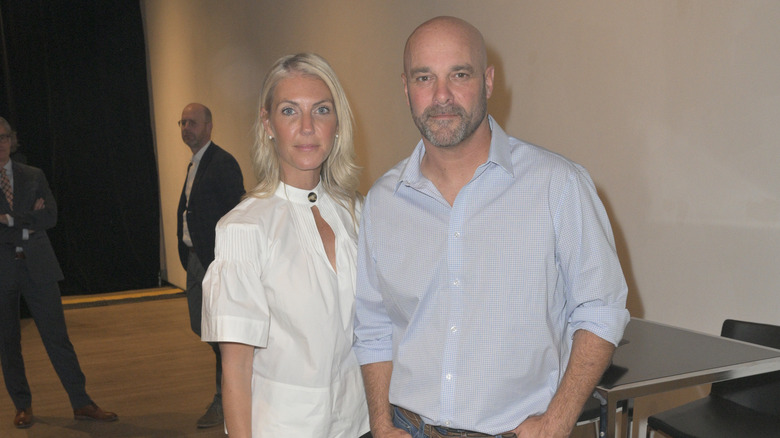 Robert Okine/Getty Images
It's always interesting to see how couples link up in the first place. In an interview with Streets of Toronto, Sarah and Bryan Baeumler talked about how they began dating. According to Sarah, she and Bryan first met in high school, and while they didn't date, they kept in touch afterward. "In 2001, we were both copied on an email from a mutual friend, which was the catalyst for us to begin talking again, and we decided to reunite over coffee after work," Sarah explained. Sometimes chain messages aren't THAT bad, right?
The duo ended up having an official first date in September 2021. Bryan was the mastermind behind the plans, and the two hit the town in Toronto. "First, we went and saw 'The Lion King' theater production, which was fantastic. Afterward, we went for a lovely sushi dinner," Sarah told Streets of Toronto. "He definitely pulled out all the stops, and it was a very exciting first date." Of course, things progressed, and Bryan popped the question in Nova Scotia. For the wedding, the pair stuck to their roots and wed in Toronto before jetting to Las Vegas for a honeymoon.
To celebrate a sweet milestone, Bryan has paid tribute to his wife on social media several times, including in 2015. "#tbt to 11 years ago when I married this beautiful lady! Happy Anniversary," he wrote via Instagram alongside a photo from their wedding day.
Sarah and Bryan Baeumler offered insight about working with a spouse
Bryan and Sarah Baeumler have spoken about their work-life balance several times, including in a 2017 interview with CBC, during which they shared how they keep it real. "There has to be one show out there that doesn't pretend that everything is perfect," Bryan said before Sarah chimed in, adding that the show is "open and honest, and that's the way Bryan and I have always been."
In the same interview, Bryan also admitted that some fights from their personal lives transpire over to the business side of things. "We've had lots of fights about paint or wallpaper that aren't about paint or wallpaper," he confessed. "They're about [how] I wanted chicken for dinner last night, and you were busy, and you didn't make dinner, and I'm upset about that, so now I'm going to pick on your wallpaper."
With the trying times come the good times — and Sarah showed that in an Instagram anniversary post in 2021, stating that she didn't know what "twists and turns" they would see when they began their lives together. "We have shared all of the ups and downs that life has thrown us, and we keep moving forward together," she wrote. "Forever falling deeper and deeper in love. What I know for sure is that I would choose life with you all over again, without pause, without doubt." We love this pair!