Nick Jonas And Priyanka Chopra's Matching Tattoos Have A Really Sweet Meaning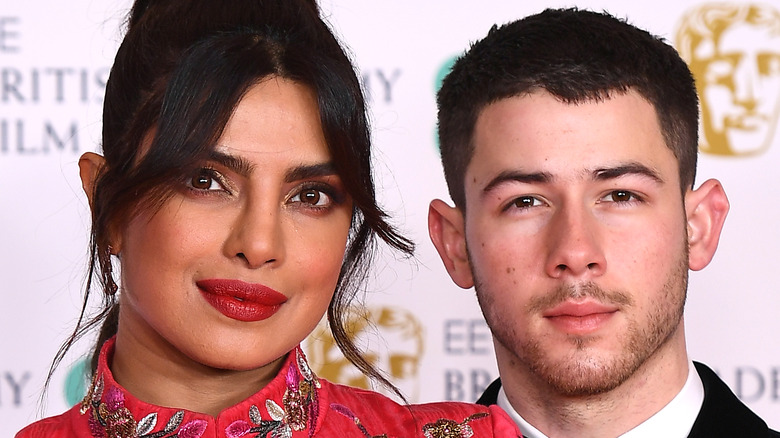 Jeff Spicer/Getty Images
When it comes to love, they say 'when you know, you know,' and that's apparent with Nick Jonas and Priyanka Chopra. The two have been an item for six years and it was apparently love at first sight for the pair. Their whirlwind romance began when Jonas slid into Chopra's DMs, according to People, and the rest was history. The "Baywatch" actor gave Jonas her number and the flirty banter continued offline. While the unlikely pair kept it casual at the beginning of their relationship, the sparks were undeniable.
The "Isn't It Romantic" actor revealed to People in January 2021 that it was the singer's bold nature and "audaciousness" that was the "most attractive." Chopra later gushed to Oprah Winfrey, "Nothing surprised me more than him. He is such a self-assured man. So sensible. So excited about my achievements, my dreams," (via ET Canada). She added, "It's such a true partnership that he offers me in everything that we do together." Chopra always knew that a proposal would be evident. "Our courtship was such a short time. I just rode the wave because I trusted him," she shared with People. "I'm someone who likes to have a sense of control, but he's the only one I don't feel like I need to do that with. I feel protected, calm."
The lovebirds are closer than ever and are linked together in more ways than one. They even share matching tattoos that have the cutest meaning behind them.
Nick Jonas and Priyanka Chopra have matching tattoos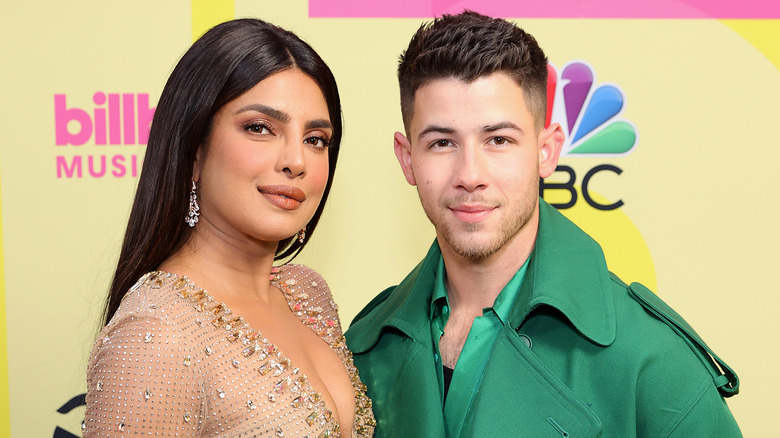 Rich Fury/Getty Images
Nick Jonas and Priyanka Chopra are a perfect match! From their perspective on life, blossoming romance, and now matching tattoos, their love for each other is truly admirable. In an interview with Elle U.K. in March 2021, the "Quantico" alum shared the sweet meaning behind her chic ink, which she shares with her hubby. The tattoo is based on something Jonas said early on in their relationship. "When we got engaged, Nick told me I checked all his boxes," she revealed. "[O]n the one-year anniversary of our engagement, we got matching tattoos to celebrate that: mine behind my ears, his on his arm — it's a check on one side and a box on the other." The sweet message behind the ink comes as no surprise seeing as Jonas knew early on that Chopra was "the one."
The stars aligned with these two love birds as Jonas and Chopra are also compatible based on the astrological charts. Astrologer Rachel Lang told Women's Health that the pair's entire birth charts indicate a long, loving relationship, and simply put, they understand each other. "Cancer and Virgo are both giving, caring signs," Lang shared. "Virgo is the sign of selfless service, and Cancer is the sign of family and home. They are compatible in how they care for one another." 
Nick Jonas and Priyanka Chopra have a loving and trusting relationship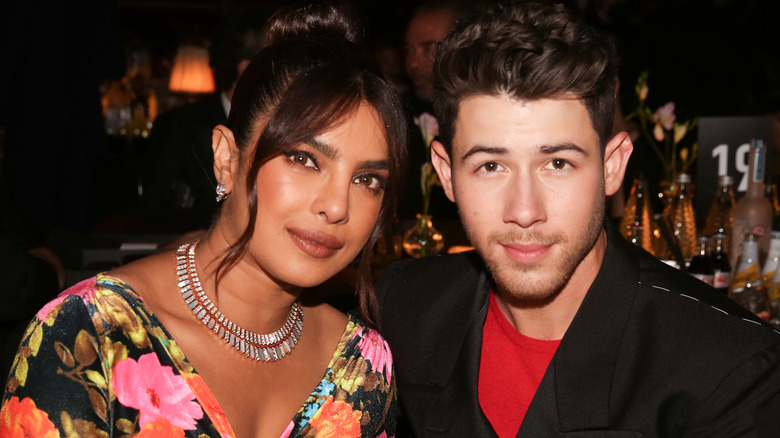 Lia Toby/bfc/Getty Images
Nick Jonas and Priyanka Chopra lead very busy lives. However, despite their crazed schedules, the two continue to make time for each other and shower one another with praise, love, and support. In July, Jonas took to Instagram to share a beautiful tribute to his wife. "Happiest birthday to my [red heart]," the "Jealous" singer captioned his touching tribute. "So honored to be on this crazy ride called life with you. I love you." She, of course, replied in the comments section, "Love of my life." Chopra further shared that she doesn't remember what life was like before she met her husband. 
The "Camp Rock" actor opened up about the key to their marriage's success to Entertainment Tonight back in January 2019. "It was kind of an instant thing," he revealed of their early beginnings. "I knew once we locked in together that I had a partner for life and a teammate, someone I could walk through the good times and the bad times with, and that was the key." The pair continues to nourish their relationship as they continue to grow as individuals. We can only imagine how important that is with the newest arrival to their household: Their daughter Malti Marie, who was welcomed via surrogate in January 2022.