Dwayne Johnson Nearly Breaks Down Watching Wife Sing National Anthem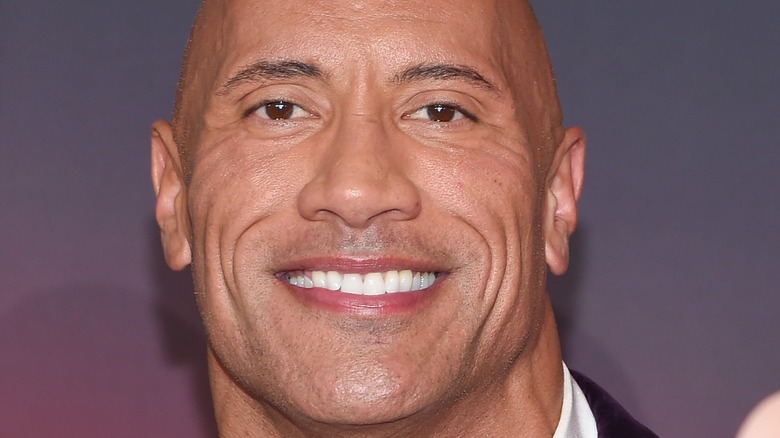 DFree/Shutterstock
It's no secret that Dwayne "The Rock" Johnson shares a sweet relationship with his wife, Lauren Hashian. According to People, the pair first laid eyes on each other in 2006 — at the time, Johnson was filming "The Game Plan." However, the couple didn't begin dating until the following year, and they have been going strong ever since. According to Us Weekly, Johnson and Hashian tied the knot at a super-secret wedding ceremony in Hawaii in 2019, following years of dating. The day they wed, Johnson posted a photo from the wedding, and the two looked as happy as could be.
Throughout their relationship, Johnson has never shied away from sharing his feelings about his now-wife, including in a 2016 interview with People, when he was dubbed "The Sexiest Man Alive." The star highlighted a sweet moment he and Hashian shared that really stuck out to him and there's no doubt it will give you heart-eyes. "I was in the kitchen one morning, and we were talking about Percy Sledge — [he sings] 'When a man loves a woman,'" he told the outlet. "And Lauren goes, 'Oh! I love that song!'" Johnson recalled. "And then before we went to bed, I called her into the bedroom, put my phone on, hit play, and it was that song. And we slow-danced. On the romantic chart, that might be up there." Um, adorbs! 
Another incredibly sweet moment in the pair's romance is centered around music — this time when Hashian was the one behind the microphone.
Dwayne Johnson gushes over wife
Dwayne Johnson is feeling all of the feels following his wife, Lauren Hashian's, incredible rendition of the national anthem. The actor took to social media to share a video of Hashian belting out the song ahead of a football game at Sofi stadium. The footage captured Johnson holding their two daughters in his arms as he looked toward his wife. In his caption, Johnson noted that there were over 70,000 fans in attendance at the game and he sweetly said that it was "one of the greatest and most moving moments of my life."
Johnson continued, "As a father, it rocked my soul to hold our little ones in this milestone moment, as I could literally feel their proud energy and vibration for their mama singing — they felt it." He also noted how special of a moment it was for him as an American to hear the lyrics. "It's my job to explain it and teach them one day, and as their father, I can't wait," he added. "Man you can FEEL THE MANA in the air as Lauren sings." The actor also stated that it's good he had glasses on, hinting that he may have shed a few tears during the song.
Many of the star's over 350 million fans commented on the post, including his wife. She wrote, "Oh my gosh it was everything I had not to cry seeing you holding the babiess like that! [...] No one finds the words like you do."