Body Language Expert Unveils Moment Harry's True Feelings About Meghan Slip Through - Exclusive
Prince Harry and Meghan Markle's Netflix docuseries is finally here, and viewers wasted no time analyzing every revelation the Duke and Duchess of Sussex had made. The couple detailed their love story in the first few episodes of "Harry & Meghan," including when Markle met the late Queen Elizabeth for the first time. They shared that it happened in 2016, shortly after they began dating. The former "Suits" star admitted that she was blindsided and had not been briefed at all, and even thought that Harry was joking when he asked her if she knew how to curtsy.
"My grandmother was the first senior member of the family that Meghan met," Harry recalled. "She had no idea what it all consisted of. So it was a bit of a shock to the system for her." He said he didn't know the first thing about indoctrinating Markle into the culture, considering their different upbringings. "How do you explain that to people? How do you explain that you bow to your grandmother and that you would need to curtsy? Especially to an American. That's weird," he said.
But Markle took it all in stride and did it anyway. "Now, I'm starting to realize this is a big deal. I mean, Americans will understand this," she mused. "We have Medieval Times, dinner, and tournament. It was like that. I curtsied," she said, along with a demonstration of the bow. While the couple was laughing when they relived the moment, a body expert noticed that Harry displayed slight discomfort.
Body expert breaks down Prince Harry's true feelings about Meghan Markle's first meeting with the queen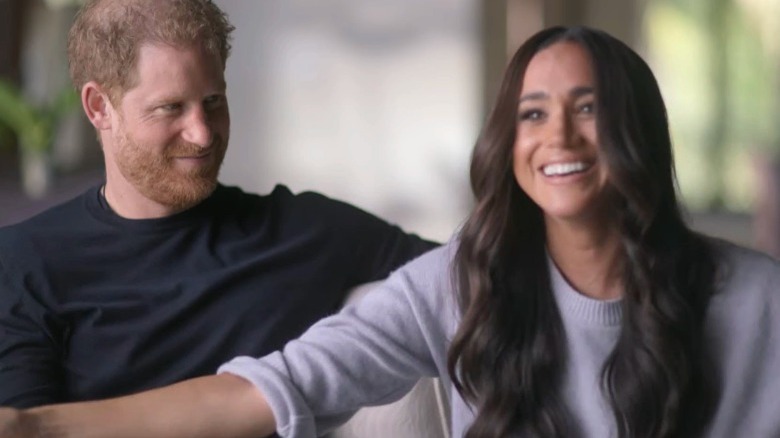 Netflix
From all the times the public has seen them together, Prince Harry looked at Meghan Markle with a sparkle in his eyes. But according to body language expert, life coach, and relationship expert Nicole Moore of the Love Works Method, the Duke of Sussex doesn't look back fondly on his wife's first meeting with Queen Elizabeth.
"Meghan's grand re-enactment of meeting the Queen offers a rare moment where we see Harry not fawning over Meghan," Moore observed. She said that when Meghan stays in a bowed position for a few seconds, "we see a glimpse of Harry's true feelings at that moment." He clues the viewers in on what he truly feels when he "darts his eyes upward and he smirks slightly but with tense lips," which signals "embarrassment," as if "he wants to cringe on the inside a little bit." When Markle returns to her sitting position, Harry smiles at her "more genuinely" and appears amused, but when he stifles a laugh, "he immediately looks downward and into himself," which may mean that he feels both "embarrassed" and "entertained."
Harry probably only feels this way because his then-girlfriend greeted his grandmother the wrong way. Per the royal family website, "there are no obligatory codes of behavior" when meeting Queen Elizabeth, but those who wish can "observe the traditional forms." For women this is a "small curtsy," the total opposite of what Markle had done.