The Young And The Restless Star Courtney Hope Opens Up About Her Struggle With Eating Disorders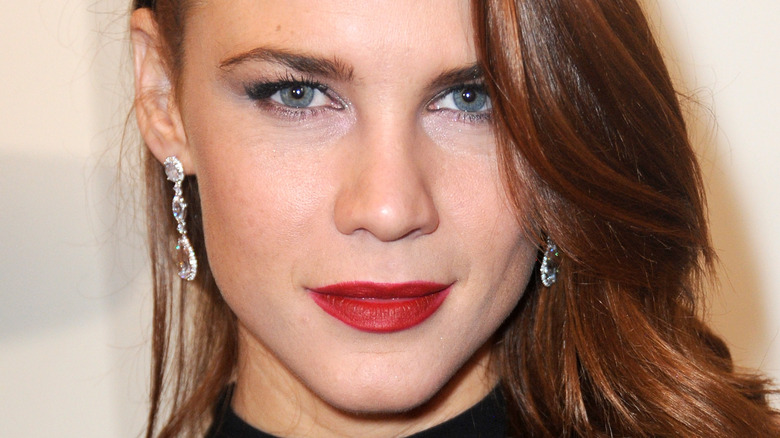 Albert L. Ortega/Getty Images
Courtney Hope has no shortage of soap opera credits, playing Sally Spectra on both "The Bold and the Beautiful" and "The Young and the Restless." She also began a romance with a fellow soap opera star Chad Duell, who plays Michael Corinthos on "General Hospital." It appeared to be a match made in heaven, at least in the world of soaps, but it wasn't meant to be. They dated for five years and got married in September 2021, according to People. However, two months after tying the knot, Hope and Duell split up. 
Soap Opera Digest broke the news of their quick split and Hope herself ended up commenting on their unexpected separation. On Instagram, she shared photos of her wedding — a "Till Death" theme — and added: "I'm not going into details because, honestly, it's nobody else's business but the parties involved. I've come to recognize everyone has their own version or assessment that best fits their narrative of a 'good story' and helps them rationalize and sleep at night, often involving scrutinizing, villainizing, and discrediting one of the greatest, albeit testing at times, half a decade of my life." Duell also chimed in about their divorce, and shockingly noted that they never technically got married, which was news to fans.
Hope has also shared another part of her past, one that has nothing to do with a marriage or relationship, as she got honest about the struggles she faced with an eating disorder.
Courtney Hope's eating disorder began with a parasite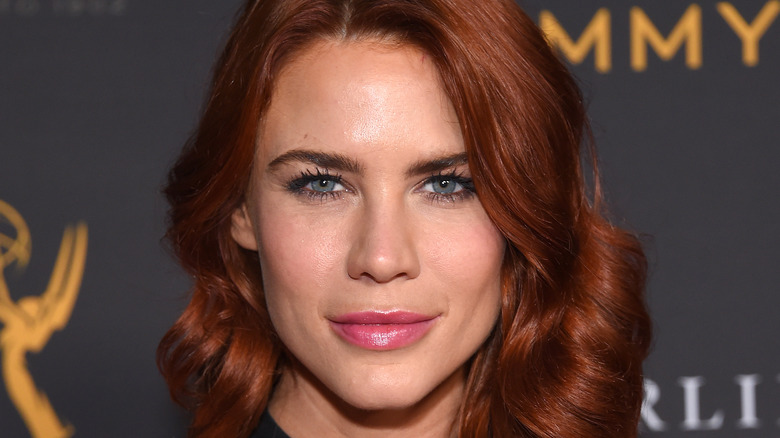 DFree/Shutterstock
Courtney Hope spoke with "General Hospital" star Maurice Benard on his YouTube show "State of Mind" and addressed her eating disorder. "I'm healed from it," Hope began, adding that she didn't fully understand what it was when it first began. Hope had filmed a movie in Bulgaria when she was 19 and contracted a parasite while she was there. "I got really sick on set," she said, noting that she thought it was food poisoning and wasn't aware of what was really going on. She said she continued to feel ill and couldn't eat because of how sick she was. She lost weight and said that people complimented her on how she looked.
Hope added that she was suffering from anxiety at this time and was taking anxiety medication as well. "There was a lot of stuff that I felt like I couldn't control and that was one thing I was like, 'Well at least I can look good,'" she added. She struggled with both anorexia and bulimia and later took to fitness, where she worked out to burn as many calories as she had eaten. Hope spoke about this experience with Soap Opera Digest, too, and said, "I wasn't really eating and for a short time, I had bulimia. Then one day I went, 'What am I doing? This is not who I am.' So I started eating but overexercised." Thankfully, she saw a doctor who helped rid her of the parasites, and then was able to work on her eating disorder.
Courtney Hope maintained her fitness routine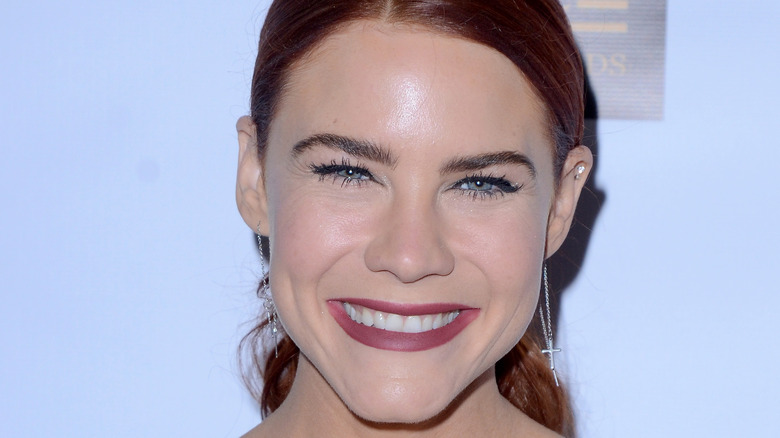 Kathy Hutchins/Shutterstock
Courtney Hope also shared details about how she recovered from an eating disorder, and what she's doing now. While speaking with Soap Opera Digest, she said, "Right now, it's about moderation in food and a healthy lifestyle. I'm in touch with my body, so when I eat something that makes me feel sluggish or tired or bloated, I know to avoid it." She also said she still loves working out. She told Soap Opera Digest that, when she can, she loves going to Cardio Barre classes, but had some interesting ideas for at-home workouts.
"You can use a gallon jug of water for lifting weights or put books in a backpack to wear on your back and front for weighted squats," Hope shared. "If you don't have the space for a treadmill or StairMaster, get outside and move around for cardio. Just keep moving."
While this is very important to her, Hope spoke about the dangers and triggers of social media and how hard that can be for people. On Maurice Benard's show "State of Mind," Hope said, "...now with social media, body image is so crucial to talk about because you see these people. You have apps that are making people skinnier, [or] people just in their bikinis." Hope said it can become unhealthy to be overly immersed in that world.
If you need help with an eating disorder, or know someone who is, help is available. Visit the National Eating Disorders Association website or contact NEDA's Live Helpline at 1-800-931-2237. You can also receive 24/7 Crisis Support via text (send NEDA to 741-741).