Donald Trump Has Harsh Words For Brittney Griner's Russian Prison Release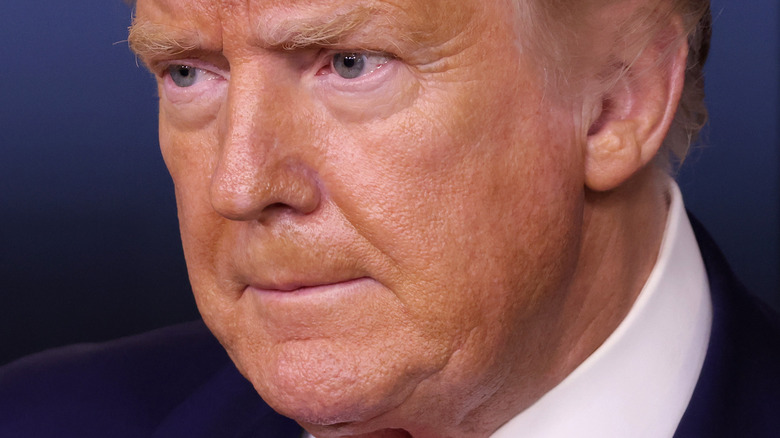 Alex Wong/Getty Images
Former president Donald Trump had to throw his two cents in about WNBA player Brittney Griner's release from a Russian prison. To recap, the Mercury Suns player was arrested at an airport in Moscow in February because workers found a cannabis vape cartridge in her luggage, which is illegal in Russia. She was then detained by the Russian prison system, and later pled guilty to the drug charges brought against her in court. In August, Griner was sentenced to nine years in prison.
After negotiations between the United States and Russian governments, Griner was released from a Russian penal colony on December 8, according to the Associated Press. The U.S. government swapped Viktor Bout, a Russian arms dealer, in return for the liberation of the two-time Olympic gold medalist. Griner landed back home in San Antonio, Texas, and was immediately sent for a medical evaluation on December 9.
"She has been reunited with her wife, Cherelle. U.S officials who met her on the ground said she was in very good spirits, [and] appears to be in good health," the White House's press secretary Karine Jean-Pierre told ABC News. Although this is a happy time for Griner's family, this prisoner swap has been controversial to some, including former president Trump.
Donald Trump calls Brittney Griner's prisoner exchange 'stupid and unpatriotic'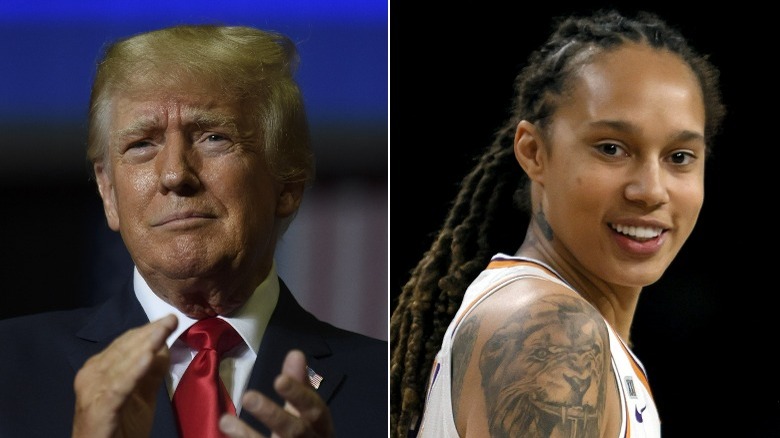 Ethan Miller & Jeff Swensen/Getty
After the news of basketball player Brittney Griner's prisoner swap, Donald Trump took to his social media platform, Truth Social, to rage against the United States government's decision. "What kind of a deal is it to swap Brittney Griner, a basketball player who openly hates our country, for the man known as 'The Merchant of Death,'" Trump wrote, referring to the nickname for Viktor Bout. Known for disregarding sanctions to supply weapons to civil wars around the world, the U.S. convicted Bout in 2011 on terrorist charges after being caught conspiring to sell weapons to harm Americans by an undercover agent, per CBS News.
"Why wasn't former Marine Paul Whelan included in this totally one-sided transaction?" Trump further ranted. "What a 'stupid' and unpatriotic embarrassment for the USA!!!" Whelan was arrested in Russia in 2018 under suspicions of espionage and was later sentenced to 16 years in prison.
David Whelan, brother to Paul, told the Associated Press that their family believed President Joe Biden's administration "made the right choice" by facilitating Griner's release, although they still wish for their loved one's safe return. "Former President Trump appears to have mentioned my brother #PaulWhelan's wrongful detention more in the last 24 hours than he did in the 2 years of his presidency in which Paul was held hostage by #Russia (zero)," David tweeted in response to Trump. "I don't suggest he cares now any more than he did then (zero)."