Wesley Snipes' Real-Life Martial Arts Skills Are Beyond Impressive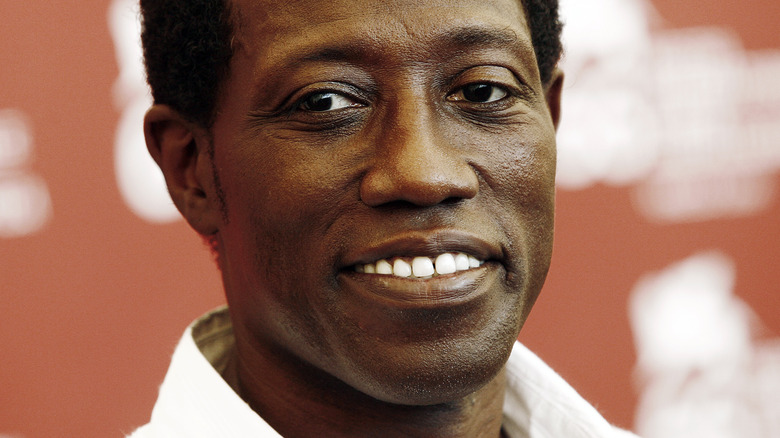 Andrea Raffin/Shutterstock
While many an action star has been known to call upon a stunt double to take on their more strenuous scenes, Wesley Snipes loves nothing more than to do them himself — and his martial arts skills have certainly played a role in that. 
Speaking to blacktreetv back in 2015, the "Blade" actor revealed that he found doing his own stunts, "A lot of fun — it's exhilarating." That's not to say doing his own stunts has always been easy, though. Far from it, actually. In an interview with AALBC ahead of the release of "The Expendables," Snipes shared that there had been a few scenes he struggled with. "Hanging onto the side of a truck ... That was pretty hard," he admitted. However, even with the challenge, Snipes took it in his stride — and we're not surprised. After all, as he shared with blacktreetv, there was, "No reason to do the role if I'm not going to do some ... action and martial arts." 
It's pretty clear, then, that Snipes is proud of his martial arts training — but what more do we know about his skills in the sport? 
He's trained in several martial arts disciplines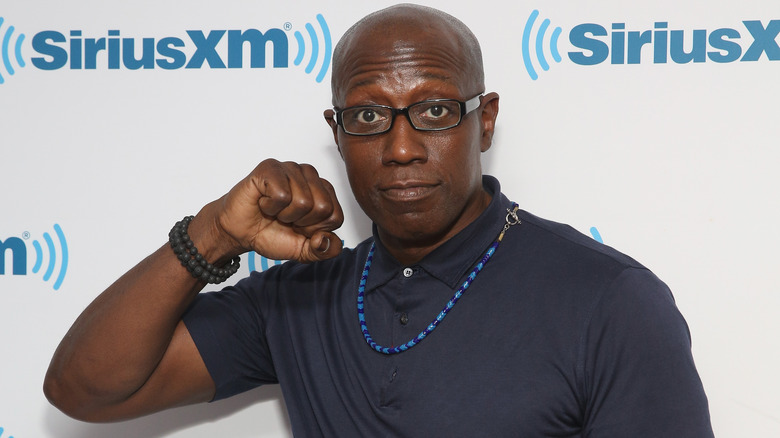 Robin Marchant/Getty Images
Speaking with AALBC, Wesley Snipes shared that he'd been practicing martial arts from an early age. "I started training in the Japanese system, when I was 12, in Goju and Shotokan [karate]," he explained. However, what he didn't mention is that he'd achieved a pretty high accolade in the discipline. Per the Hollywood Walk of Fame website, Snipes actually has a 5th Dan black belt in the latter style of karate (on top of trained in kung fu and Brazilian Jiu-Jitsu!). According to The Sporting Blog, that means Snipes qualifies as an "Exceptional martial artist." 
Goju and shotokan karate aren't the only martial arts disciplines Snipes has experience in, though. Far from it, as he told AALBC, that was just the beginning of his love for the sport. "From there, I was exposed to Grandmaster Moses Powell which is the Aiki-Jujutsu form. And after that, I got into capoeira, and I got ranking in three different systems: Indonesian, African and Japanese. And I've done Tae Kwon [Do]," he revealed. The actor added, "I've done pretty well." We'll call that an understatement!
That said, even with all those skills under his (black) belt, Snipes is pretty humble about his accolades — and don't expect him to inflate his accomplishments, any time soon. Far from it, he was quick to correct a Black Belt Television interviewer when they asked if he was a Grandmaster. "No! No, no ... I'm not a Grandmaster. Not at all," he laughed. 
... and he credits it with giving him discipline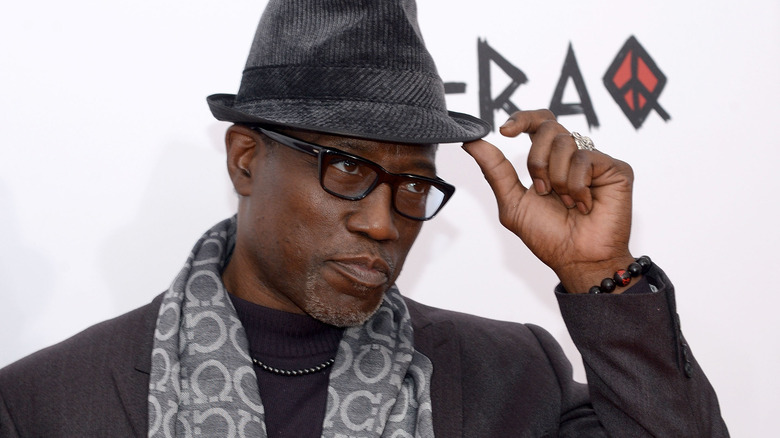 Ben Gabbe/Getty Images
In addition to simply enjoying training in the martial arts, Wesley Snipes has also been forthcoming on how the sport has shaped him as an individual. 
In an interview on Sway's Universe, the actor shared that the discipline he'd developed through martial arts training had played a big part in dealing with his three-year jail stint when he was found guilty of owing the government a staggering amount in taxes. "You can't get through to your higher levels of the martial arts without being disciplined," he explained. That, coupled with the discipline required to get through acting school, "Prepared me for that unfortunate experience, and it prepared me to come out." That wasn't the first time his training helped him out in an unfortunate experience, though. As he shared in an interview with Independent, he's been in a situation where he needed to put his martial arts skills to use. However, ever the disciplined practitioner, he shared that, "It ended very quickly." 
While the various forms of martial arts Snipes has tried his hand at have helped him through some of the tough times, they've also helped him in the good. He's had some serious success in the action genre because of his experience — and in 1998, he even hosted the one-off event, "Masters of the Martial Arts" (via TV Guide). One thing's for sure: Wesley Snipes' martial arts skills are beyond impressive.