What Meghan Markle's Relationship With Queen Camilla Is Really Like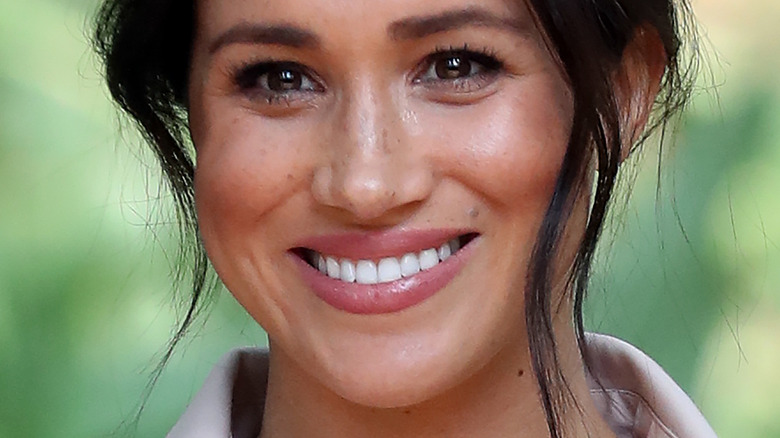 Chris Jackson/Getty Images
It can be a nerve-wracking experience to meet anyone's parents but imagine the pressure if you're marrying into one of the most powerful families on the planet. Meghan Markle's experience meeting her in-laws was truly a rarity. At the time, the "Suits" actor was meeting none other than the future king and queen consort of England, Charles and Camilla.
Meghan and Prince Harry first began their relationship on a blind date in July 2016, per Insider. Growing up in America, the actor had this idea of what the royal family was like, but now having a personal attachment she recognized how different it actually was, per The New Yorker. Meghan said, "I grew up in LA, you see celebrities all the time—this is not the same. But it's very easy, especially as an American, to go, 'Oh, these are famous people.' No. It's a completely different ballgame." So, when meeting Charles and Camila in November 2016, one can only imagine the anxiety Meghan must have felt.
There are certain rules people should follow when meeting any member of the British royal family, per Royal. These rules include curtsying and calling them by certain titles. Now, details of the meeting between the future king and queen and Meghan was kept pretty private. But, what was to follow showed how the royals, specifically Camilla, felt about Meghan.
Meghan and Camilla's bonded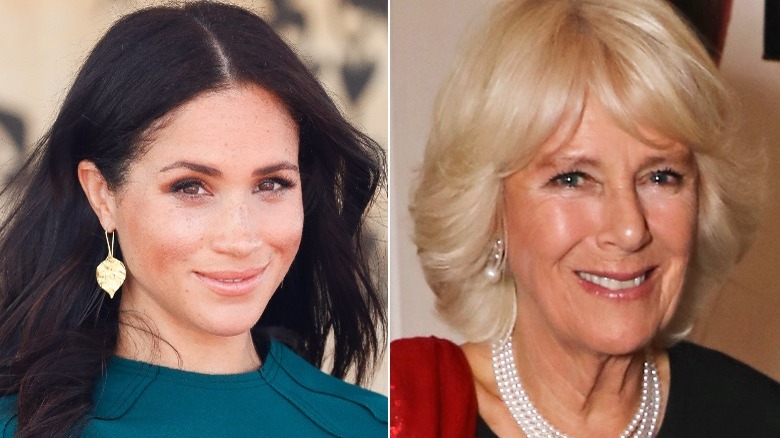 Chris Jackson & David M. Benett/Getty
There's no better feeling than getting along with your in-laws, especially if they are to be future kings and queens. When Meghan Markle first met Prince Harry's stepmom, it was kept under wraps. But, it looks like Meghan and Queen Consort Camilla truly bonded.
According to Mirror, the "Suits" actor and queen got along over shared interests in wine and yoga. When Harry and Meghan decided to take the next step in their relationship and get engaged, her future mother-in-law was thrilled. Camilla said, "America's loss is our gain. We are absolutely delighted. As you can see, they're so happy." The loving relationship between the two grew after the couple tied the knot in 2018. A family friend told Vanity Fair, "They clearly really like each other. There is real warmth and support. Camilla has been very helpful to Meghan."
Vanity Fair even claimed that the queen consort supported the newest family member in her darkest times. In 2019, Meghan shared that she was "not ok", because of all the British media, per Mirror. Camila, who has dealt with her share of scrutiny, was said to be a "pillar of support" to Meghan, per Vanity Fair. The source said, "She doesn't want to see anyone struggling and she is fond of Meghan and she could be a very good ally too." Getting along with your mother-in-law is truly a great feeling, and for a while, Meghan had that experience until things took a turn.
Meghan and Camilla's friendship comes to tumultuous end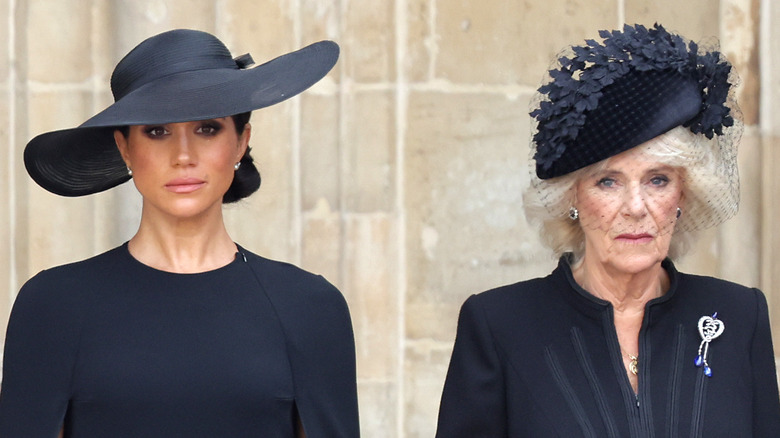 Chris Jackson/Getty Images
Meghan Markle and Queen Consort Camilla got along for quite some time. However, in early 2020, Prince Harry and Meghan revealed on their social media accounts they would "step back as 'senior' members of the Royal Family." It was a devastating blow for many including, King Charles, per Vanity Fair. The outlet reported the couple's departure caused tension between Harry and Charles, and it turns out, they weren't the only ones hurting. The Telegraph revealed that Camilla was allegedly upset with Meghan after the couple decided to leave. An insider shared, "I don't think the duchess will ever forgive Megan for what she's done to the Prince of Wales." If that wasn't enough for Queen Consort Camilla, one event that followed added the final nail to the coffin of their friendship.
In their announcement, Prince Harry and Meghan finish their scheduled appearances, then gradually leave behind their royal duties. This monumental announcement meant the press reported the couple's every move. Unfortunately, one of those events landed on the same day Camilla was set to speak at the Women of the World Festival, per Mirror. The Mirror claimed Meghan broke a promise by having photos of her released the same day attempting to divert the spotlight to her. Camilla was said to be "very upset" by the alleged sabotage. Meghan and Camilla's relationship has had a lot of ups and downs, but at the end of the day, they're still family.