Why Ivanka Trump Really Started Modeling As A Teenager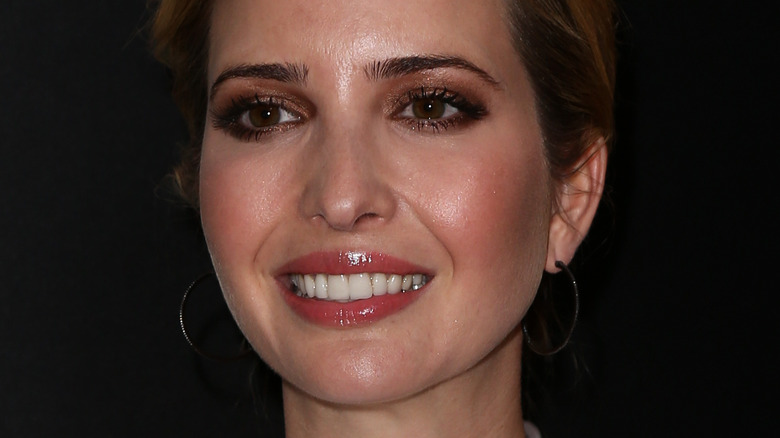 Debby Wong/Shutterstock
Ivanka Trump has no plans to return to the White House, even though Donald Trump has announced he's throwing his hat into the ring for the 2024 presidential election. Donald made the announcement from Mar-A-Lago in November and Ivanka wasn't there. Donald Trump Jr. was also missing in action, but curiously enough, both Jared Kushner and Kimberly Guilfoyle, fiancée to Don Jr., were, according to The New York Times. What do we make of this absence?
Ivanka later released a statement on Instagram declaring that she would not be involving herself in her father's campaign. "I love my father very much," she wrote, per CBS News. "This time around, I am choosing to prioritize my young children and the private life we are creating as a family." There was no mincing words for Ivanka: she's not jumping into the political arena again with her dad. While Ivanka's history is permanently altered by her time in the White House, she did have a whole life before politics, one that centered around the New York social scene, and while it predominantly included working for her dad at the Trump Organization, Ivanka was also a model for a brief stint. But it turns out, she didn't really like it.
Ivanka Trump was trying to get away from her boarding school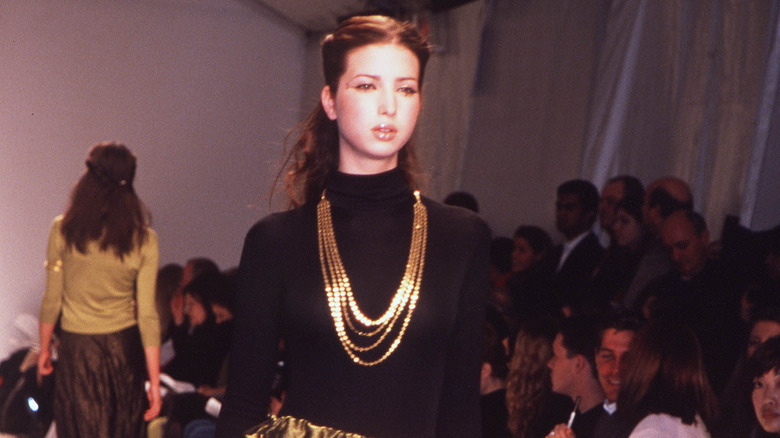 Arnaldo Magnani/Getty Images
Ivanka Trump had a legitimate modeling career for a time. She landed her first gig in a Tommy Hilfiger campaign. She walked in shows for Vivienne Westwood, Thierry Mugler, and Jill Stuart and was on the cover of Seventeen in 1997, as The Guardian notes, largely thanks to signing with Elite Model Management. All of this happened while she was just a teenager.
Ivanka attended Choate Rosemary Hall in Wallingford, Connecticut, a boarding and day school. As Refinery29 points out, the school educated the children of the ultra-wealthy, but Ivanka still stood out from the rest of her cohort. She had a car and a cell phone in an era when this was incredibly rare, even for children of the 1%. As the outlet points out, Ivanka arguably needed these luxuries precisely because of her modeling career. Despite these amenities, she didn't love her time at Choate and her time modeling was actually an escape from the environment. She told Town & Country, "I had no interest in being a model. I just wanted to get the hell out of Wallingford." Obviously, Ivanka didn't love that place.
Ivanka Trump didn't enjoy modeling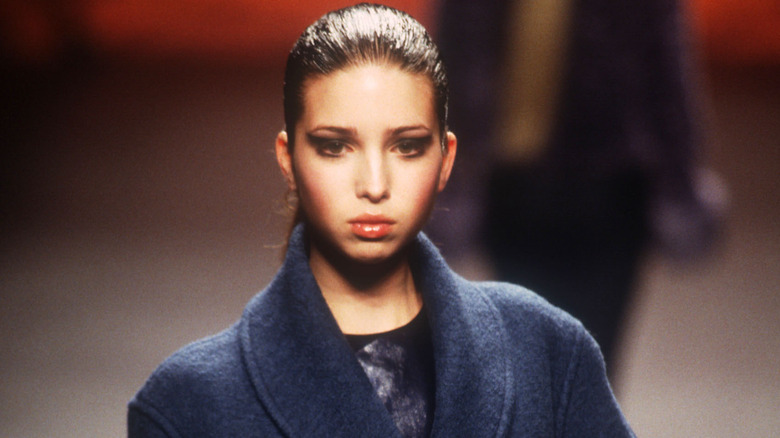 Evan Agostini/Getty Images
Despite having some success as a model, Ivanka Trump wasn't into it as a career and was happy to get out of it. "Modeling was not an endgame for me," Ivanka told Marie Claire. "I didn't particularly enjoy the act of it. It's as ruthless an industry as real estate — the people you meet in that business are just as fricking tough." Instead, Ivanka used modeling as a way to do other things. "I used it as an excuse to travel," she explained. "I used it as a way to break up the monotony. It was great, but it is an annoying source of confusion at this juncture in my life. People still constantly ask me, 'How's modeling going?' That's how they remember me, and I want to be a little bit more serious than that, ha ha!"
While she didn't enjoy modeling as a career, Ivanka has always been proud of her body and told GQ in 2007 that she's incredibly proud of her figure. "I like my form. I have a little waist, I have hips, I have a chest," Ivanka said. "I feel like I have a body that's more of a female figure, how the female form is supposed to look. And frankly? I've never had more interest from the opposite sex." So, this must've made modeling somewhat appealing, at least!