Is Tamar Braxton Still Estranged From Her Family?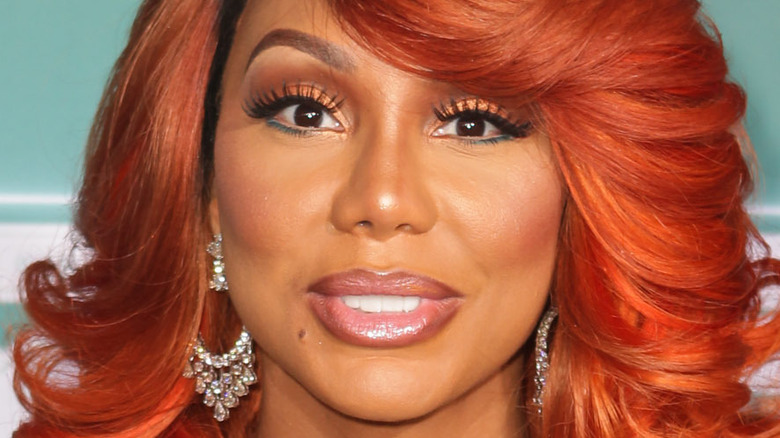 Jamie Lamor Thompson/Shutterstock
Tamar Braxton's loyal fanbase only grew after the TV show "Braxton Family Values" — the series that followed Grammy award-winning singer Toni Braxton and her musically-inclined family — premiered in 2011. Tamar's one-liners, boisterous personality, and bonafide singing talent, helped position her as the show's breakout star. 
Unfortunately, Tamar's rising star came at the price of her relationship with her sisters, which in addition to Toni, include Tawanda Braxton, Trina Braxton and the late Traci Braxton, whose tragic death came as a surprise to longtime fans of the famous family. While "Braxton Family Values" often featured the sisters' hilarious banter and homemade tunes, their plentiful on-camera feuds definitely drew viewers in and helped bolster their once impressive ratings. Tamar often found herself embroiled in tense fights with her older siblings over things such as their choice of romantic partners, contributing to their mom's well-being, and even failed business ventures, which led to them becoming estranged.
Now, we have some deeper insight into the status of Tamar's relationship with her family.
Tamar Braxton and her sisters have dealt with ups and downs in their relationship
Tamar Braxton has experienced a ton of ups and downs with her sisters. However, things became especially strained shortly before Tamar was hospitalized following a suicide attempt in July 2020, per ABC 7. In October, We TV had included Tamar's experience in the trailer for the upcoming "Braxton Family Values" season. Soon after, The "Love and War" singer took to Instagram, in a now-deleted post, and accused the network of exploiting her mental health  struggles for ratings, per Page Six. 
During an October 2020 interview with Tamron Hall, Tamar also spoke about her relationship with her family. "I wouldn't go as far as to say I'm estranged from all of my family," shared Tamar. "I have their love. I know that my family loves me," she added. However, Tamar changed her tune two months later during an episode of "Peace of Mind with Taraji," hosted by Taraji P. Henson. When recounting the events that led up to her suicide attempt, Tamar shared that, among other things, she was "estranged from my sisters," via Yahoo. 
Less than a year later, Tamar also spoke out against her family's decision to continue filming "Braxton Family Values" without her to Entertainment Tonight, calling it "disrespectful." Around that same time, Tamar admitted to blocking her sisters on social media.  
Things are getting better between the Braxton sisters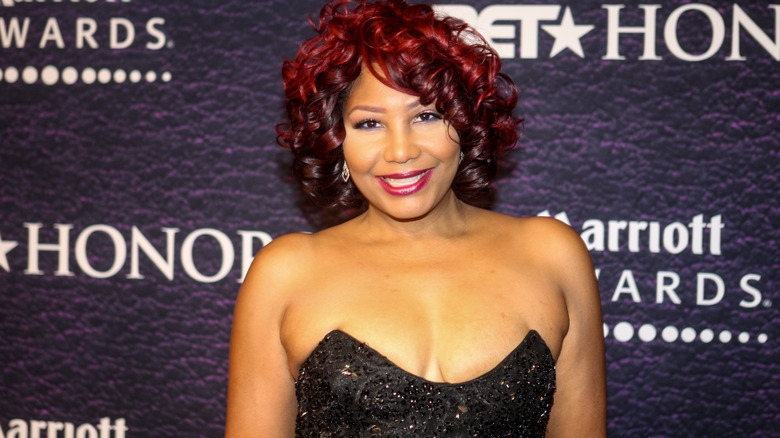 Jamie Lamor Thompson/Shutterstock
Even though Tamar Braxton voiced her displeasure about her family filming without her, the Braxton sisters defended their decision to speak on what was really going on with Tamar, who'd been let out of her contract with We TV, per TMZ. "I think that we would do our fans and the viewers a disservice if we didn't talk about it," shared Towanda Braxton with Entertainment Tonight. 
"So when the producers and the family collectively got together and said, this is what we're gonna do: We're not gonna tell Tamar's story, because it's her story to tell. However, we can talk about how it affected us as a family and individually when we found out about it." Despite their differences, Tamar has since shared that she and her sisters are in a better place. "I can tell that with all of the changes that we have been making in our relationships with each other, [we've] been making amazing strides," Tamar said during and interview with Hollywood Life in March 2021. "I'm so grateful for that. It was something very simple. [I'm] just so proud of the respect that we have for each other now," she said, adding, "Family is a work in progress!"
Unfortunately, Tamar's interview came around the time, though unbeknownst to the public, that Traci Braxton was diagnosed with esophageal cancer. The 50-year-old mother, wife and singer passed away about a year later, in March of 2022, per CNN.