What Todd Chrisley's Daughter Savannah Really Does For A Living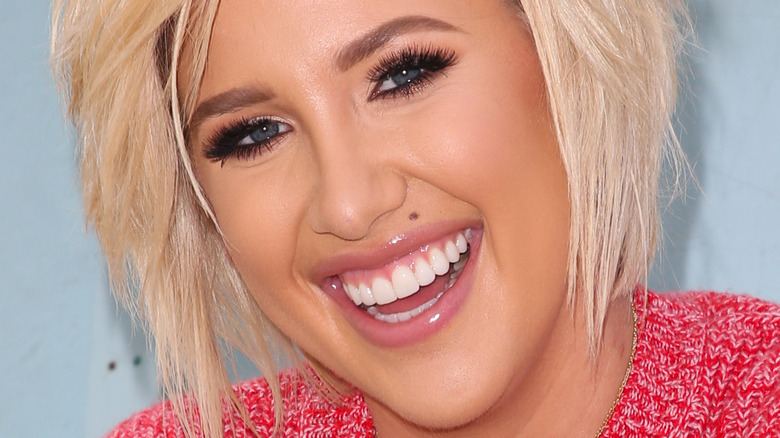 Paul Archuleta/Getty Images
Given Todd Chrisley and Julie Chrisley's looming prison sentence for tax fraud, it's hard not to wonder what will happen to their children. Together, the couple has three biological children — Chase Chrisley, Savannah Chrisley, and Grayson Chrisley — and Todd also has two children from a previous relationship, Lindsey Chrisley Campbell and Kyle Chrisley. All of his kids are adults in their 20s and 30s except for 16-year-old Grayson. Due to Grayson's minor status, his big sister Savannah has stepped up to take custody of him, as well as her 10-year-old niece, Chloe — who Todd and Julie were raising — per TMZ. 
On November 21, 2022 (just hours before her parents were sentenced), Savannah gave her fans a life update on her podcast, "Unlocked with Savannah Chrisley." She explained (via Yahoo!): "I may come home without both of my parents. That's what the chances are. I come home Tuesday, and I have custody of a 16-year-old and a 10-year-old, and we spend our first Thanksgiving not as a family." Savannah also urged the public to dial back the criticism of her parents. "I just ask that you show up and understand where I'm coming from, and have some grace for me, and my family, and to stop with the negative comments because it hurts." 
Given Savannah's new responsibilities — and the presumed lack of financial help from her parents, who have to pay restitution for their crimes, per The New York Times — one has to wonder: What does Savannah Chrisley do for a living? 
Savannah Chrisley is a reality star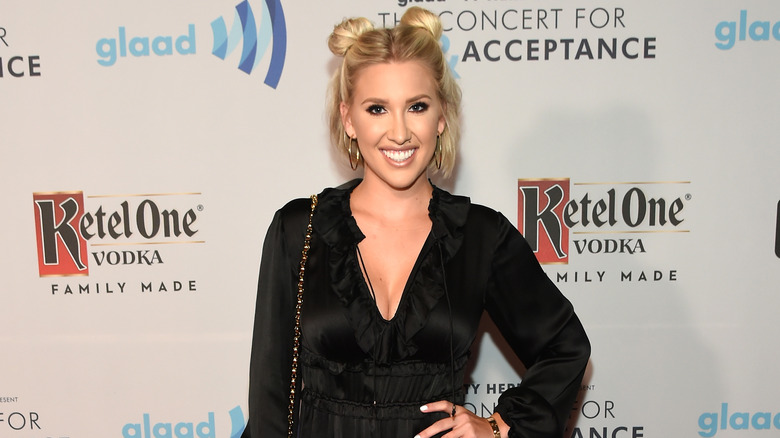 Rick Diamond/Getty Images
Or maybe, Savannah Chrisley was a reality star. Savannah's first taste of the public eye came from participating in her parents' reality show, "Chrisley Knows Best," which first premiered in 2014. Nearly three years ago, Savannah and her brother Chase scored their spinoff, "Growing Up Chrisley," which ran from 2019 to 2021. Unfortunately, USA Network has canceled both of the Chrisley family's existing shows. Todd Chrisley has also lost out on a potential new show with E! News (via Us Weekly).
As of writing, there's no word on whether Savannah or any of her siblings will pursue reality television in the future, although her brother Grayson Chrisley doesn't appear to be a fan. When appearing on Savannah's podcast, Grayson shared his candid thoughts on his experience filming "Chrisley Knows Best." He said, "I mean, I didn't really understand what was going on because I was like, 'I don't really have a choice" (via Entertainment Tonight). "I thought it was cool, but the cool wears off a little bit," Grayson added.
With that said, Savannah could always try her hand at scripted television again. In 2016, the 25-year-old made a cameo in "Sharknado" and "Royal Pains," per IMDb. And while that's, so far, the beginning and end of her acting resume, it could be a convenient time to pick things back up.
Savannah is an entrepreneur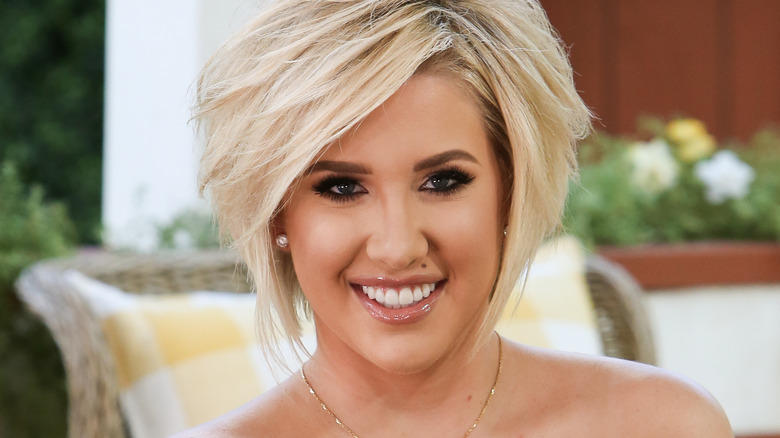 Paul Archuleta/Getty Images
Fortunately for Savannah Chrisley, reality television wasn't her only source of income. It appears that Chrisley has quite an entrepreneurial streak, which has contributed to her $500,000 net worth (via Celebrity Net Worth). In addition to her podcast, Chrisley has dabbled in various industries, including beauty and apparel. 
Savanna's first big foray into the business world occurred in 2019 when she launched her Faith over Fear clothing line. According to People, the line was a collaboration with HSN. At the time, Chrisley thanked her father, Todd Chrisley, who helped with the clothing line. "My dad has been the biggest supporter of me throughout," Savannah told the publication. "He's my best friend — and without him, I couldn't have made it happen. He loves all of the pieces I have in the line. I just love all the fabrics, and so does he. So he's extremely happy with it."
In 2020, Chrisley released a makeup line called Sassy by Savannah, which is considerably cheaper than other celebrity brands. "I look at other lines, and I see people say, 'Oh my gosh, I wish I could have this, but it's so expensive!" Chrisley told Page Six. "And I never wanted someone to look at it and say, 'Well, I wish that I could have it.' I wanted someone to look at it and say, 'You know what, I can go online and order it literally with the click of a button.'" Two years later, Sassy is still going strong, as Chrisley hosted a pop-up shop for the brand in August 2022 (via Instagram).