Who Is The Father Of Kyle Richards' Oldest Daughter Farrah?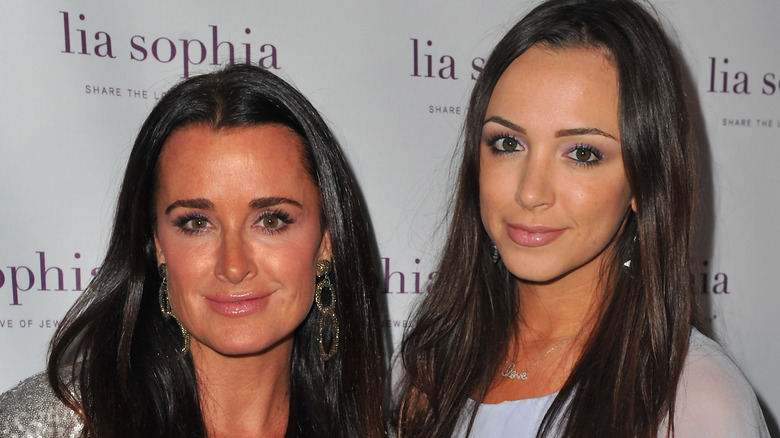 Alberto E. Rodriguez/Getty Images
Kyle Richards is known for her acting career as well as her starring role on the Bravo reality television series "The Real Housewives of Beverly Hills," but her oldest daughter, Farrah, is quickly entering the spotlight. Farrah has been featured on "The Real Housewives of Beverly Hills," and she now stars on the Netflix reality series "Buying Beverly Hills."
Interestingly, as a real estate agent, Farrah is listed on the website for The Agency under the name Farrah Brittany. Meanwhile, Richards' other daughter who works for The Agency is listed as Alexia Umansky, per its website. This detail might be because the fellow founder of the real estate firm The Agency Mauricio Umansky is actually Farrah's stepfather and not her biological father, and her mother Kyle Richards was married once prior to her marriage to Mauricio in 1996.
From all indications, however, Farrah doesn't appear to have tried to hide her birth father's identity and seems to use her first and middle names for professional purposes, as she also uses the name Farrah Brittany as the display name on her verified Instagram account.
Farrah Brittany's birth father is Guraish Aldjufrie
According to an article from Bravo's "The Daily Dish," Farrah Brittany's boi-dad is Guraish Aldjufrie, whom her mother Kyle Richards married when she was 18 years old. Farrah talked about her parents' marriage on "The Daily Dish" saying, "They were super, super young when they got married. They always stayed extremely close, extremely good friends." According to the same article, Guraish is a land developer and lives on the Indonesian island of Bali.
Meanwhile, Richards once said of Guraish, in a separate article by Bravo's "Daily Dish," "He speaks good English, but he didn't when we first met. He's Indonesian, so he's Indonesian, Arab, and Dutch. He had not lived here long when he had to get up the courage with his English to ask me out on the date."
A third article from Bravo gives Farrah Brittany's legal surname as Aldjufrie, the same as that of her birth father. That article reports that she is also Guraish's only child, as Farrah has stated herself.
Farrah Brittany considers both Guraish Aldjufrie and Mauricio Umansky her dads
Based on what Farrah Brittany has told "The Daily Dish," she has a close relationship with her birth father Guraish Aldjufrie, and her stepfather Mauricio Umansky, and both men have a good relationship with each other too. Said Farrah, "I always say I have two dads; they both raised me. They both get along amazingly. They've done [real estate] deals together. My dad refers clients to Mauricio all the time. We all get together, he comes to our house for Christmas, Thanksgiving, it's all good. ... There's no real separation or divide."
Farrah has also shared photographs of herself with Aldjufrie publicly, even describing him as her "twin" in one Instagram post. Aldjufrie appears to stay out of the spotlight overall and little additional information is available about him online. It appears he leaves reality TV fame and infamy to his ex-wife, Kyle Richards. Aldjufrie's father, Farrah's grandfather, was living as of June 2017, as shown in a separate Instagram post from Farrah's account in which she wished them both a happy Father's Day.