The Cristiano Ronaldo And Lil Wayne Collaboration That Never Happened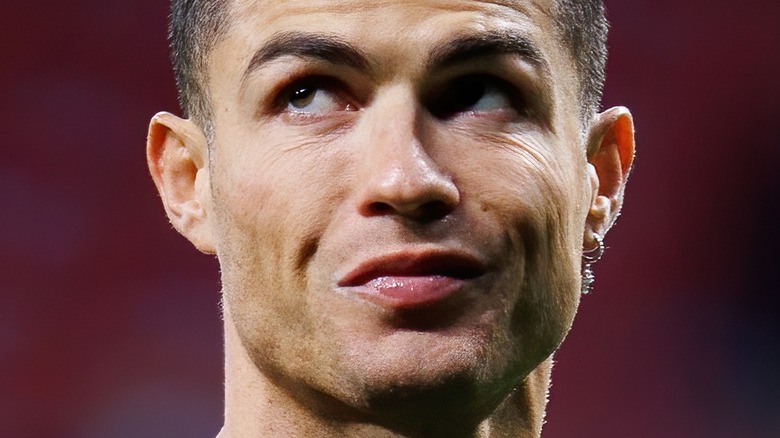 Christian Bertrand/Shutterstock
It's been a rocky year for Cristiano Ronaldo's career. In early November 2022, there was buzz that Ronaldo's future with Manchester United didn't look bright after the Portuguese team captain was suspended, per CBS, for walking off the pitch in the 89th minute when he wasn't subbed in to play. Jump to November 22 and he cut ties with the team for good. A statement issued by the club announced, per Guardian, that "Cristiano Ronaldo is to leave Manchester United by mutual agreement." The separation was solidified after Ronaldo slammed Man Utd in just three words and burned all possible bridges, proclaiming, per ESPN, "I don't have respect for [coach Erik ten Hag] because he doesn't show respect for me." He went on to tell Piers Morgan he felt betrayed by team leadership and added, "I felt that some people they don't want me here, not only this year but last season too."
Ronaldo then shifted his focus to the FIFA World Cup Qatar 2022, but that tournament brought even more controversy. Portugal's dreams of winning ended when they lost to Morocco in the quarterfinals, per CNN, and a visibly moved Ronaldo left the game in tears. As Los Angeles Times reported, he didn't exactly put his best foot forward when it came to impressing other clubs to sign him. "Cristiano Ronaldo continues to tarnish his legacy" their headline read as the article noted a series of petty antics. It's uncertain what Ronaldo's future holds but we have some ideas.
Could Cristiano Ronaldo team up with Lil Wayne?
Back in July 2014, TMZ reported that Lil Wayne was looking to start his own sports management company. Not only that, but the rapper reportedly planned to get his business off the ground with a bang by signing Cristiano Ronaldo as his very first client. Apparently, Wayne wanted to handle all of Ronaldo's business dealings in the States, including branding, marketing, and endorsements. Sadly, the soccer great soon shut down talk of such an unexpected collab as he took to Twitter to set the record straight. "There have been news about changes on my management team — it's all false, and I can assure the team is — and will be — the same," he wrote.
Perhaps now that Ronaldo is hunting for a new team, it's a good time to revisit Wayne's idea. As TMZ noted at the time, Ronaldo and Wayne appear to be friends. Indeed, the pro athlete hung out with Wayne and rappers Santi and Euro on an episode of "Weezy Wednesdays" that appeared on YouTube just a few days after his tweet. In the video, the foursome can be seen hanging out on a couch in a Los Angeles hotel room and while the result has been called "so bizarre" and "the weirdest crossover of all time," Ronaldo seems to have had a good time. While he didn't say much, he did laugh a lot before doing his best Weezy impersonation, saying "Young Money!"
Cristiano Ronaldo's business empire goes far beyond soccer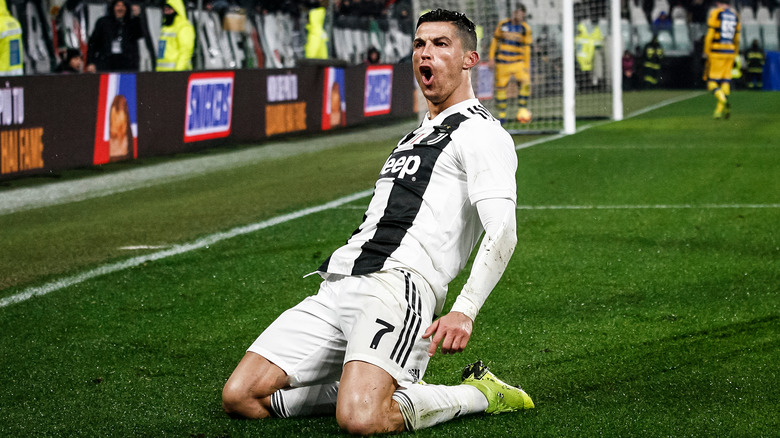 cristiano barni/Shutterstock
Even if Cristiano Ronaldo were to never play soccer professionally again, he wouldn't be strapped for cash. Nor would he be bored. As Marca notes, he has so many investments that he's built a veritable business empire. He's been so successful, in fact, that the outlet estimated in 2021 that "the Portuguese superstar has a turnover of one billion euros per year."
According to The Sun, Ronaldo has a lifetime contract with Nike and in June 2022, he teamed up with Binance to launch a series of NFTs. Then there's his own series of CR7 products, which include branded eyewear, footwear, underwear, blankets, and fragrances. He's also turned CR7 into a "lifestyle hotels brand" by joining forces with Pestana Group to create Pestana CR7. Currently, they own five hotels located in Morocco, Spain, New York, and Ronaldo's native Portugal.
However, his most unexpected venture may just be two hair transplant studios. Back in 2019, Ronaldo invested in a successful Portuguese chain called Insparya and opened its first Spanish outlet in Madrid, per The Sun. "We want to help people improve their self-esteem and not be ashamed to come to us," he explained, quipping, "Everyone likes to take care of their image and I am a very clear example of this." The business grew to be worth £85 million (or about $142.8 million) and he opened a second outpost in Marbella, Spain in 2022.