Why Royal Fans Think Sarah Ferguson Favors Meghan Markle Over Kate Middleton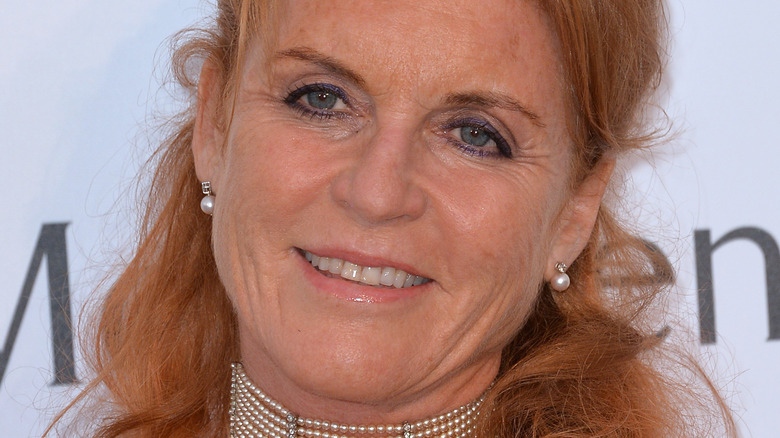 Featureflash Photo Agency/Shutterstock
While King Charles III and Princess Diana's divorce in 1996 was definitely the biggest breakup news coming from Buckingham Palace back then, it wasn't the only royal divorce taking place. Sarah Ferguson, Duchess of York, and her now ex-husband Prince Andrew, Duke of York, separated "after 10 years of marriage" in 1996 (E! News). However, unlike Lady Diana's departure from her marriage and traditional royal life, the Duchess of York and Prince Andrew were amicable and stayed close following their split.
Even though Prince Andrew has tarnished his name thanks to his deep connections to Jeffrey Epstein, Fergie — as she was nicknamed by the public — still remains close to the now disgraced royal. "There is no question that we remain steadfast to each other in loyalty, integrity, honor," she told Town & Country in 2021. And while she won't put her foot in her mouth by speaking too much about her controversial ex, she will spill the tea a little when it comes to her nephews, Prince Harry and Prince William, and their famous wives.
Sarah Ferguson attended Meghan Markle and Prince Harry's wedding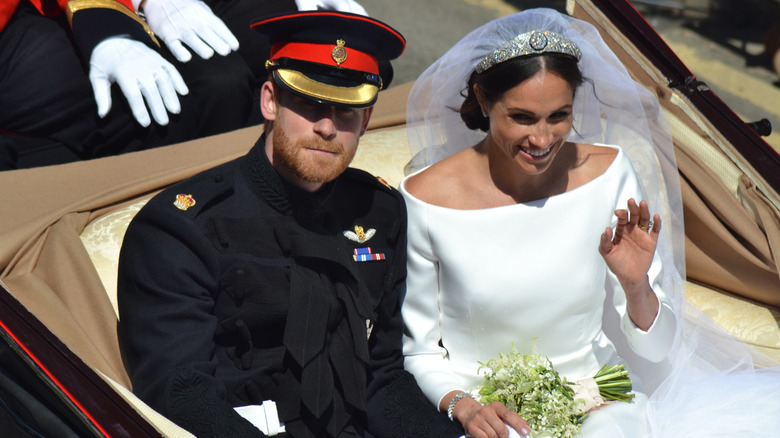 Blueskynet/Shutterstock
Sarah Ferguson, Duchess of York, was very close with the late Princess Diana. Town & Country reported that she and Diana were fourth cousins and childhood friends whose mothers attended school together. So, it's no surprise that Fergie was invited to Prince Harry's wedding to Meghan Markle.
"It was very kind of them ... I can't thank them enough for doing that because it was nerve-wracking," she said on "Good Morning Britain" in 2018 about Meghan and Harry inviting her to their nuptials (via Us Weekly). She then shared that she received a much bigger welcome from the crowd waiting outside the chapel than she thought she would. "I sort of looked around like, 'Are they doing that for me?' Then someone went 'Fergie,' and it was the old Fergie back."
While appearing on the Italian TV show "Porta a Porta" on December 14, 2021, Fergie reminded everyone that when it comes to Meghan, Duchess of Sussex, and Harry, Duke of Sussex, only Princess Diana's opinion would have mattered (via Us Weekly). "The most important thing — and I know [Princess] Diana, if she were here, would say that — is they are very happy," she said. "And [Meghan] makes him very happy. And I love to see that little boy that cried at the funeral to have happiness now."
However, Sarah Ferguson was not invited to Prince William and Kate Middleton's nuptials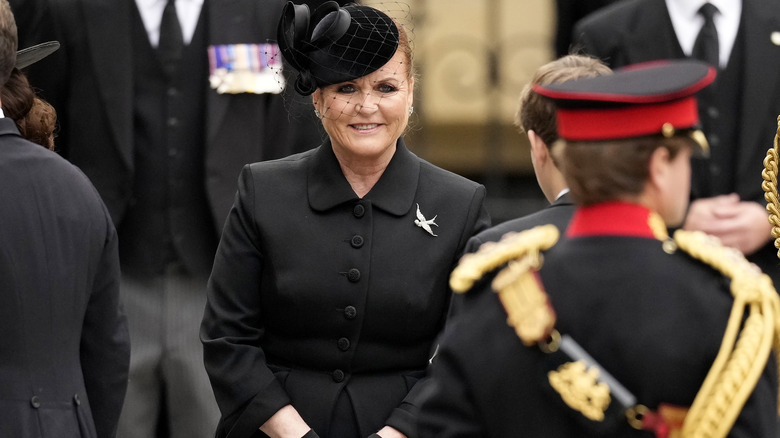 Christopher Furlong/Getty Images
It's clear that Sarah Ferguson, Duchess of York, has a lot of love for her nephews. According to Harper's Bazaar, Fergie said that she "[believed] that Diana would be so proud of her boys ... and she'd be so proud of her grandchildren." This was after much of the drama surrounding Meghan Markle, Duchess of Sussex, and Prince Harry, Duke of Sussex, stepping down from their senior royal duties. And, of course, after alleged tension with other members of the royal family.
Fergie has always been very forward about how she thinks Lady Diana would feel. She told People in 2021 how much Diana would have loved her son's choices in wives. However, it's not a secret that Fergie wasn't invited to the 2011 wedding between Prince William, Prince of Wales, and Kate Middleton, Princess of Wales. In an interview with Town & Country in July 2021, Fergie touched on that fact, but the magazine wrote that she neither "fought nor resented" it.
"I didn't think I was probably worthy to go to their wedding," she said. "I took myself to Thailand, actually, to be far away from it so that I could try and heal." While wedding invites don't mean anything in regard to Fergie's relationship with either Kate or Meghan, the 2018 nuptials seemed like they lifted her spirits. However, she's always been adamant that the two women are just what Diana would have wanted for her sons.