Tommy Lee's Sister Followed In Her Famous Brother's Footsteps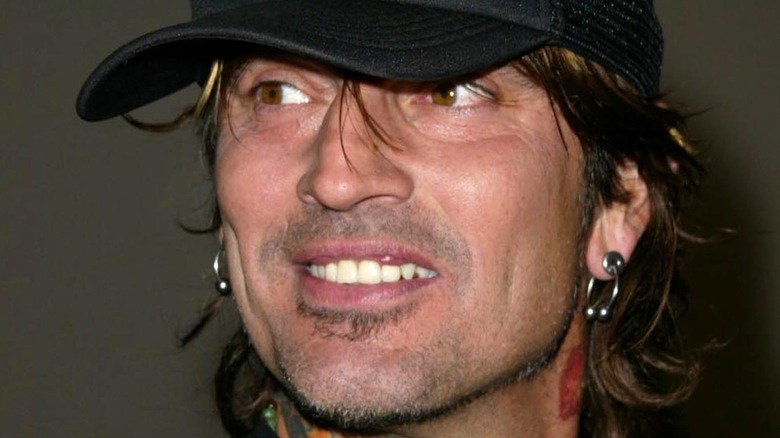 carrie-nelson/Shutterstock
Thomas Lee Bass — or Tommy Lee, as he known to fans — is a major figure in the music world as the drummer of the iconic rock band Mötley Crüe. Formed in 1981, Mötley Crüe is considered one of the most successful and popular acts, having sold more than 100 million albums and filled hundreds of arenas worldwide. Some of their best hits include, "Kickstart My Heart," "Tonight," "Live Wire," and "Girls, Girls, Girls," among others. Aside from Mötley Crüe, Tommy is also known for founding the metal combo Methods of Mayhem and, of course, his marriage to "Baywatch" alum and model Pamela Anderson. Their tumultuous love affair (despite being short-lived), in addition to their infamous sex tape, made them a '90s power couple and inspired the creation of Hulu's hit 2022 series, "Pam & Tommy."
While much of Tommy's career and rock star life have been well documented, what people may not know about him is that he has a younger sister who followed in his footsteps and also pursued a career in rock music. Just like her brother, Athena Lee is a true punk rocker and a talented drummer who has been making her own name — and creating her own beat — in the rock world since the late '80s. Here's what you should know about Tommy's lesser known but equally cool sister.
Athena Lee formed her own rock band
Growing up and seeing her brother play, it comes as no surprise to learn that Athena Lee went in the same direction as Tommy Lee and became a drummer herself. As stated in her AHEAD profile, Athena has played for several rock groups, including the all-female acts Butt Trumpet, Hardly Dangerous, and Femme Fatale. She also formed her own band KrunK with her ex-husband James Kottak, who was a drummer for the German rock group Scorpions, in the late '90s. The couple, however, separated in 2010, leading Athena to leave Krunk and join Femme Fatale. (KrunK was also later renamed Kottak.)
According to her interview with LightArt in 2015, Athena taught herself how to play drums. She remembers playing around with her brother's drum kit as a teenager, re-arranging his things whenever he's away on a tour and then putting it all back just before he'd get home. "After I'd play, I'd put everything back, and he never knew," she told Modern Drummer in 2006. When Tommy Lee did teach her some tricks, Athena said she was instantly hooked. "I grew up a dancer — not a stripper, a dancer — and every kind of beat moved me. So going to the drums was kind of a natural thing," she said. 
For her musical talents, Athena won Best Female Drummer at the 2nd Rock City Awards Show in 1997. She was also nominated as Best Drummer at the 7th L.A. Music Awards that same year — making her the first female to ever be nominated in the history of the awards show, per AHEAD.
Athena Lee is also a nurse, a reality star, and a cancer survivor
In addition to her career as a drummer, Athena Lee is also famous for starring in the Canadian reality series "Ex Wives of Rock" from 2012 to 2016. The show, as the title suggests, chronicles the lives of four women who shares the same unique trait — they all married and divorced a rock star and lived to tell about it. Athena was joined by Sharise Neil, the ex-wife of Mötley Crüe's Vince Neil, in the series narrated by KISS's Gene Simmon's wife Shannon Tweed and lasted three seasons, per IMDb. 
Between being a drummer and a reality star, Athena is also a surgical nurse and, per her Instagram, has continued working in the medical field. She stopped for several years after having her three children with her ex-husband James Kottak — Tobi, Miles, and Matt. "Yes, I actually was a surgical nurse and loved it," she told Greek American Girl back in 2014. "It just didn't work out. Our kids were too little and the hours were crazy." She added, "Maybe again someday I'll do it again... who knows?"
Moreover, Tommy Lee's younger sister is also a breast cancer survivor. Not very much is known about her cancer journey, but according to the internet, Athena was diagnosed with the Big C sometime during the '90s and had to have her one of her breasts surgically removed. Thankfully, she was declared cancer-free in 1999.