How Tarek El Moussa And Christina Hall Really Met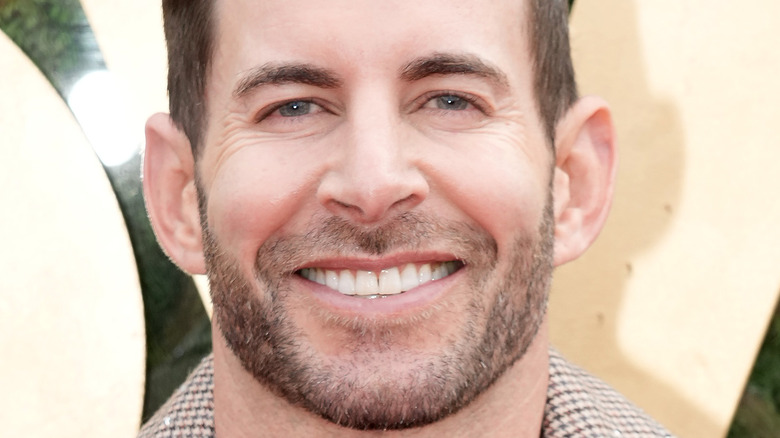 Jeff Kravitz/Getty Images
Tarek El Moussa and Christina Hall rose to fame with the HGTV hit show, "Flip or Flop" — however, they had very different experiences in real estate before the show.
What El Moussa lacked in experience with the house flipping industry, he made up by owning and selling property. In a piece he wrote for Realtor.com in July 2018, El Moussa explained that when he bought his first home in 2002, he made some mistakes and went into detail about the space. "It was the perfect bachelor pad ... The catch? The asking price was over $800,000," he wrote. With a budget of $400,000, El Moussa decided to take out a loan for $800,000. "With no money for furniture, I ended up living in an empty house for nearly nine months." El Moussa has come a long way from his beginnings in the field. The real estate professional began selling multi-million mansions, per his HGTV bio, before finding his true calling — flipping "distressed properties."
The realization of finding his niche paid off in many ways, including meeting his future wife and the mother of two of his children. Tarek El Moussa and Christina Hall were a match made in real estate heaven, so how did the pair meet?
They met while working in real estate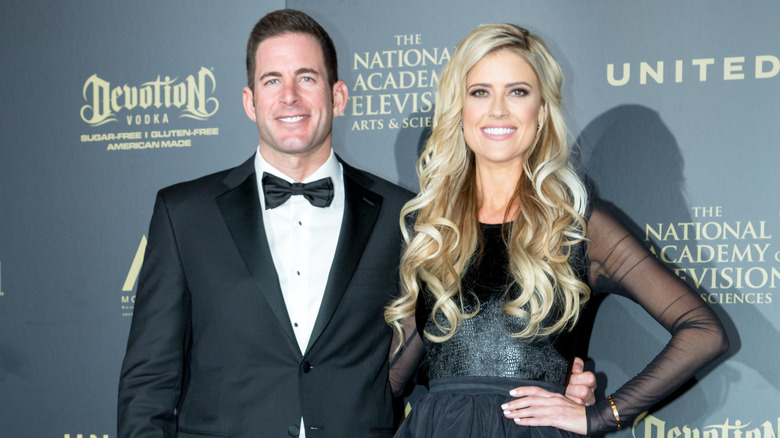 Greg Doherty/Getty Images
Tarek El Moussa and Christina Hall had so much chemistry on "Flip or Flop" that it's weird to think the pair had not always been an item. How they met is pretty interesting. In an interview with Good Housekeeping, Hall revealed that she and El Moussa met while working at Prudential.
"The day Tarek and I officially started dating, which was October 9, 2006, we moved in together," Christina later added. From creating vision boards to obtaining major milestones, El Moussa and Hall appeared to have it all. The pair continued to work at Prudential until 2008, when the market crashed and the two had to make a few lifestyle changes. They married in 2009, per CheatSheet. After tying the knot, the pair welcomed their first child, Taylor, in 2010, via People, and their second child, Brayden, in 2015.
The doting couple had very humble beginnings, but they would eventually land their big break with the HGTV series, "Flip or Flop." El Moussa revealed in the "Endless Hustle" podcast in May 2021 how the hit HGTV show got its start when he and Hall attended a small real estate show in Palm Springs. "There was no casting. TV didn't find me, I found TV," El Moussa said. "I forced it down their throats." The hit show made its debut in 2013 and became an overnight phenomenon. 
Tarek and Christina are no longer together, but continue to prioritize their kids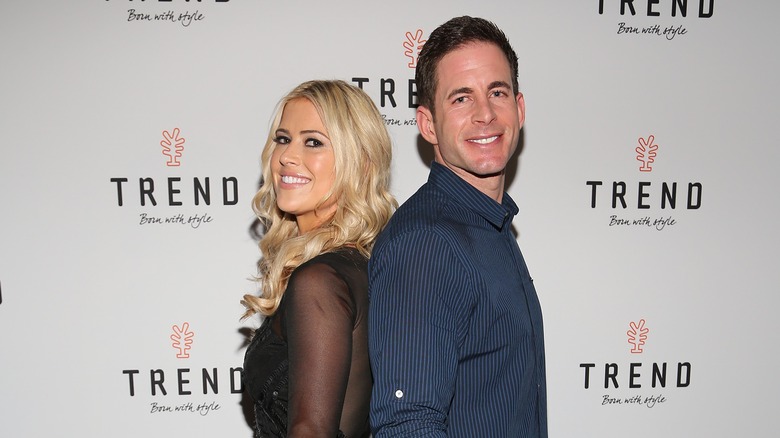 Alexander Tamargo/Getty Images
Tarek El Moussa and Christina Hall appeared to have it all: a strong foundation — career-wise, as well as in their relationship. However, "Flip or Flop" viewers watched their relationship take a turn and begin to crumble on air, leading to a divorce.
​​"Like many couples, we have had challenges in our marriage," the pair said in the statement obtained by People in December 2016. "We had an unfortunate misunderstanding about six months ago, and the police were called to our house in an abundance of caution. There was no violence and no charges were filed." Although their romance was a dead end, the pair continued to film their show while moving on to other partners until they announced the end of the series in 2022 after 10 seasons.
Although El Moussa and Hall are no longer a couple, they remain supportive of each other.  El Moussa married "Selling Sunset" star, Heather Rae Young, in October 2021, and Christina Hall married Josh Hall in April 2022. The famed exes have had their ups and downs, but they prioritize their children and co-parenting to the best of their abilities. "We work really hard, all of us, and we try to make decisions for what's in the best interest of the kids," El Moussa told Entertainment Tonight. Young echoed a similar sentiment, adding, "The kids are always number one, and communication is very important."