The Story Behind Stephen 'tWitch' Boss' Nickname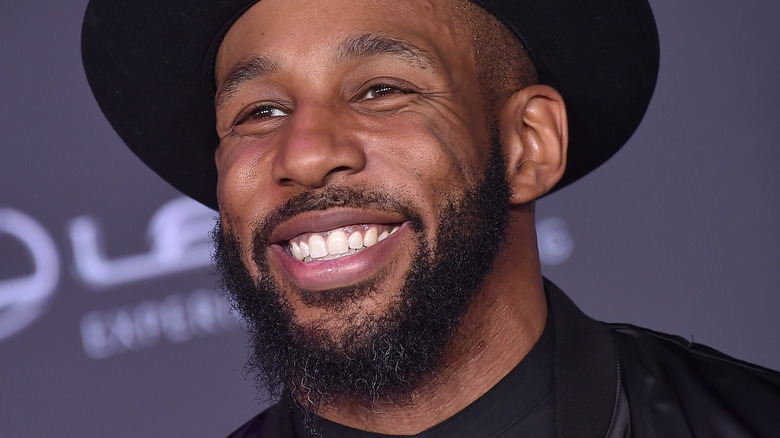 DFree/Shutterstock
The following article includes mentions of suicide.
Stephen "tWitch" Boss broke out onto the dance scene in the early 2000s when he made it all the way to the semi-finals of MTV's "The Wade Robson Project," according to TV Guide. He rose quickly from there. With his captivating smile, generous spirit and killer hip-hop moves, Boss was soon choreographing routines for popular South Korean artists, and starring in dance films, including "Hairspray," three "Step Up" installments, and, more recently, "Magic Mike XXL," the Daily Mail highlighted.
Boss rose to prominence, however, when he made it to the top 20 of "So You Think You Can Dance" and went on to reach the final, Entertainment Weekly reported. Boss achieved TV personality status in 2014 when he became the DJ on Ellen DeGeneres' eponymous talk show, of which he became executive producer six years later, TMZ noted. Boss tragically died by suicide on December 13, according to the outlet. "Stephen lit up every room he stepped into. He valued family, friends and community above all else and leading with love and light was everything to him," Boss' wife Allison Holker said in a statement. 
Following the sad news, Boss received an outpouring of tributes, proving he was a much beloved figure in the industry. "I'm heartbroken. tWitch was pure love and light. He was my family, and I loved him with all my heart," DeGeneres wrote on Twitter. Fans will always remember Boss for his big personality, electrifying dance moves, and also his quirky nickname — which has an interesting double origin.
If you or anyone you know is having suicidal thoughts, please call the National Suicide Prevention Lifeline by dialing 988 or by calling 1-800-273-TALK (8255)​.
Stephen 'tWitch' Boss' energy (and car) inspired the moniker
Stephen "tWitch' Boss had been twitching his whole life. Boss just could not stand still. That's how he got his famous moniker. Because not even school or church could keep him in a chair, those close to him started calling him "Twitch," The New York Times reported. "It remains very hard for me to sit still today, especially when music is playing," Boss explained in a 2015 interview with Kam Williams. "I had trouble in school because I didn't want to focus. Honestly, I would have rather been dancing."
But the word was used sporadically throughout his adolescence. It wasn't until he was 20 that Boss adopted the nickname. And before he did, he applied it to his car. Boss' first ride, a 1992 Toyota Paseo, also seemingly couldn't stand still for long. "[It] would accelerate on its own sometimes," Boss told AL.com in 2013. Twitch the Toyota became a key part of Boss' early career as a dancer.
So it made sense to dedicate his stage name to his car. "A lot of my dance knowledge and a lot of my dance thoughts took place in that car," the Alabama native explained. "Driving from place to place. Whether it was to Huntsville, Tuscaloosa, Bessemer, Birmingham, whatever. I'd choreograph in the car." Boss never regretted working his childhood nickname into his career. "It's a part of my being. It's become part of my persona, when it comes to dance," he told Williams.
Stephen 'tWitch' Boss' charisma earned him another nickname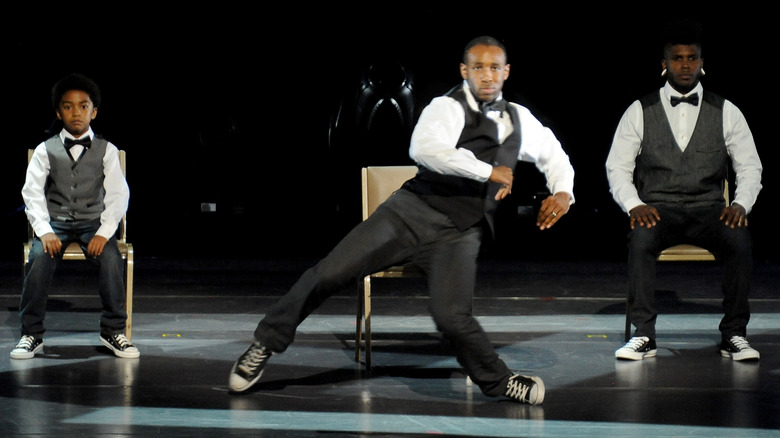 Angela Weiss/Getty Images
No one can deny Stephen "tWitch" Boss was a skilled dancer and performer, but they were not the only reasons that made him a popular TV fixture. Boss was also known for his presence. So much so that Boss earned the nickname "Mr. Personality" during the 2008 season of "So You Think You Can Dance," according to Reuters. Upon his death, many celebrities pointed this out in their tributes. "The talent. The charisma. The sweetest soul. I am forever grateful for the friendship and joy Stephen brought me," chef Cat Cora wrote on her Instagram.
Dancer Jade Chynoweth also highlighted how the person behind the dancer was just as galvanizing as his moves. "He inspired so many young dancers with his charisma, talent, kindness, intelligence, but most of all made you feel seen," she captioned her Instagram tribute. But Boss didn't use his charisma to simply charm those around him. The dancer believed that compassion could move mountains. "No act of kindness is too small," he told E! News at the Industry Dance Awards in October.
Boss didn't just talk the talk. He was a loud voice who often used his reach to promote racial justice. In the wake of the George Floyd murder in May 2020, Boss and Allison Holker used a TikTok challenge to explain white privilege, E! News noted. "He spoke out against police violence and used his platform in smart ways as he could," Shaun King wrote on Instagram.