Why Adam Levine And Blake Shelton Aren't Close Anymore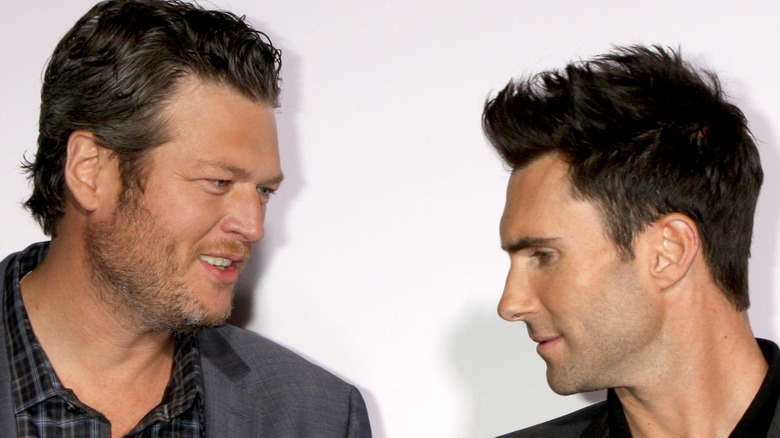 Kathy Hutchins/Shutterstock
Blake Shelton and Adam Levine became inseparable while working on opposing teams as coaches on "The Voice," and fans enjoyed watching their quirky banter evolve as the seasons passed — even if Shelton was the one raking in more wins. In a 2017 interview with The Tennessean. Shelton said of his then-buddy, "We are constantly at each other's throats, and sometimes we really do get mad at each other. We're those two guys you knew in high school where we have this bond that is unexplainable." According to Us Weekly, Shelton and Levine were friends on "The Voice" for 16 seasons before the Maroon 5 singer's departure in 2019.
Not long after, Shelton spoke out about his reaction to Levine leaving, tweeting, "After 16 seasons that changed both of ours lives ... I only found out about this yesterday and it hasn't set in on me yet." Sadly, however, their relationship hasn't continued to evolve in a way that's brought them closer. In fact, as of this writing, the two haven't been seen together in months and reports indicate they are no longer friends. The details behind their falling out will surprise you. 
Adam Levine wasn't invited to Blake Shelton's wedding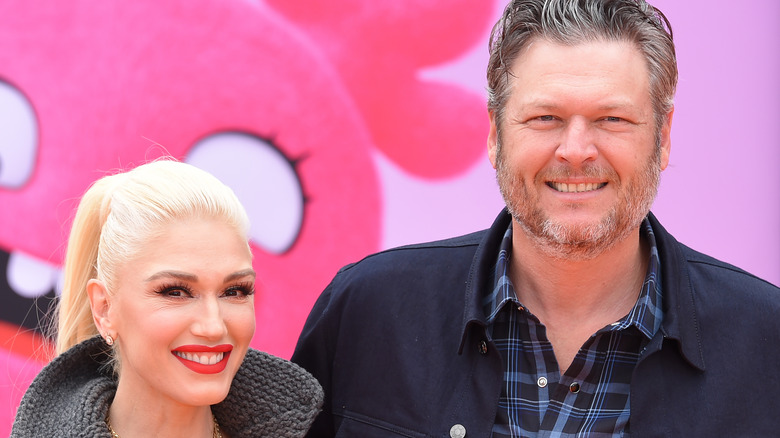 DFree/Shutterstock
In 2021, Adam Levine's name was not on Blake Shelton and Gwen Stefani's wedding guest list, per Page Six. That being said, a number of friends weren't invited to the nuptials. In an interview with SiriusXM's "The Storme Warren Show," Shelton opened up about having to tell friends that he didn't invite them to the small ceremony on his Oklahoma ranch. "So I've had awkward conversations with, with so many of my friends since it's 'Oh, oh yeah. I read y'all. Yeah, I read about that. How was that?'" Shelton said. "You know, I was like, 'Listen, you know, we kept it small, get over it, you know, it's not about you.'"
Still, fans were surprised about Levine not being invited considering the two spent years working together on "The Voice," and fellow host Carson Daly officiated the wedding.  The fact that Levine didn't attend was all the more head-turning considering Shelton had previously joked about having Levine perform at their wedding on "Late Night with Seth Meyers." During the interview, Shelton said, "I've decided that I've been doing this a long time now and I've got a lot of favors out there. He may not like it, but Adam Levine's gonna have to get the band together and come and play our wedding." He jokingly added, "Their music is so boring that it won't distract from the festivities and reception." 
A source said that Adam Levine and Blake Shelton don't talk anymore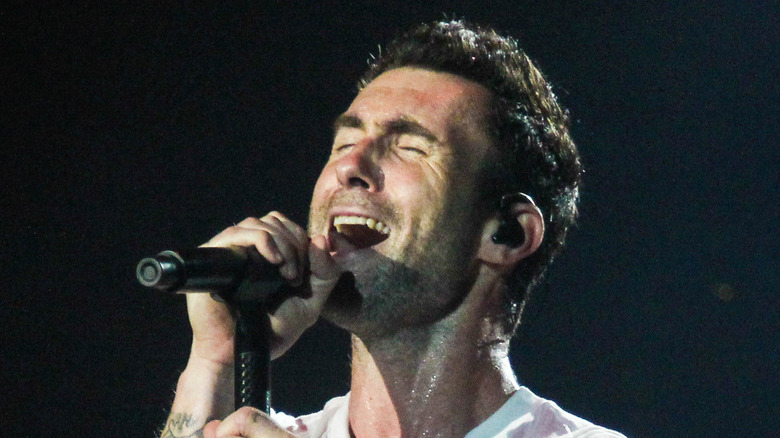 Andre Luiz Moreira/Shutterstock
In September 2022, a source told Radar Online that Adam Levine and Blake Shelton don't talk anymore. The insider said, "It wasn't all an act, but the relationship was exaggerated for TV. When Adam left the show the two of them didn't have to pretend anymore." The source continued, "There was no big dramatic falling out, but they both just moved on. It happens all the time with work relationships." And as time went on, the source noted, "Adam isn't the guy he pretends to be. He has secrets and was difficult backstage at 'The Voice.' When he left the show, there wasn't a single person, including Blake, who missed Adam and his drama."
Shelton, as fans are well aware, was part of "The Voice" from the beginning, and to this day remains the longest-running coach on the show. Sadly, though, he announced in October 2022 that he would not be returning to the show's 24th season (via NBC News). In a statement, he wrote, "It's been a hell of a ride over these 12 years of chair turns and I want to thank everyone at 'The Voice' from NBC, every producer, the writers, musicians, crew and catering people, you are the best."
There's no saying if Shelton and Levine will rekindle their friendship as the former leaves "The Voice," but if the past few years serve as any indication, it's likely the two singers will continue to go their separate ways.