The Real Story Of How Rebecca Romijn And Jerry O'Connell Met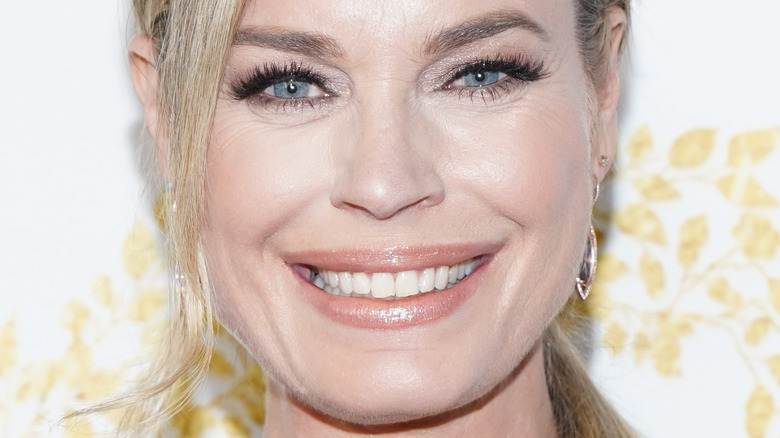 Rachel Luna/Getty Images
Rebecca Romijn and Jerry O'Connell are a comedic match in heaven. O'Connell has been in the entertainment industry for decades. Many recognize him from significant hits such as "Billions," "Star Trek: Discovery Logs," and "The Equalizer," but he got his start much earlier. Per IMDb, his first major role was in the classic "Stand by Me," a film that would forever shape his career.
"It's like a badge of honor having been a part of "Stand by Me." It's not just a good movie. [People] usually stop me [and] they pull me aside and say, '"Stand by Me" meant so much to not only me but to my dad, to my kids,'" O'Connell revealed to Entertainment Tonight. "It's just one of those [things], it spans generations." O'Connell's ability to connect with various fans has also led him to host talk shows, including "The Talk" and "Jerry O'.'
Romijn is a model who has graced the covers of many top-tier publications such as Cosmopolitan, Elle, Marie Claire, and more. She kicked off her catwalk career in 1991. She was even the first Sports Illustrated model to wear body paint in place of a swimsuit for the cover, Buzzfeed. She has done it all. Alongside her supportive husband, the pair show no sign of slowing down and are connected in many ways.
The pair initially met at a pool party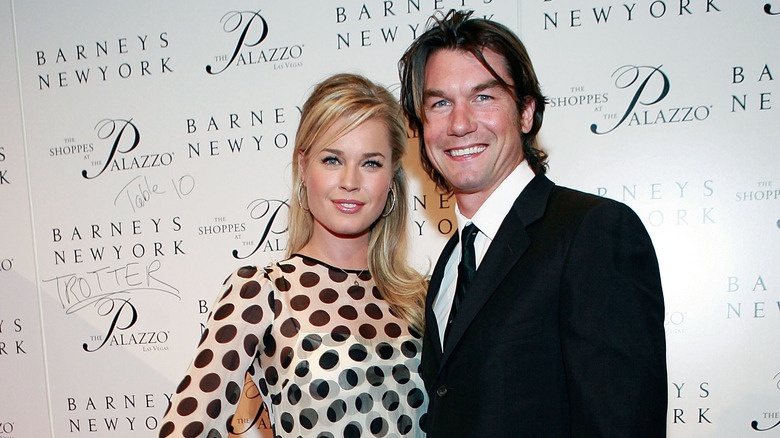 Jacob Andrzejczak/Getty Images
A wise person once said, "when you know, you know," Rebecca Romijn and Jerry O'Connell must agree. The pair, who just celebrated their 15th anniversary, say that they just "clicked." While the couple met under less-than-ideal circumstances, fate would later play a part in their rekindling.
"I met my wife and her ex John Stamos at a party when they were married. I remember thinking, 'Wow. This girl is really beautiful and funny.' I talked to her the whole party. My wife remembers that party and remembers us clicking. We clicked. My wife and I clicked. We clicked the first time we met," the "Obsessed" actor shared with People in February 2017. "I want to tell you this about my wife, and my wife says it funnier than I do, but we met. We started hanging out. I came for a sleepover ... and I never left. That's the truth. We just clicked."
Romijn was previously married to "Full House" alum, John Stamos, but they divorced in 2005. Her publicist noted at the time that the separation was "amicable." Romijn reunited with O'Connell at a Maxim Hot 100 party in 2004, tied the knot in 2007, and has been happily married ever since. The pair have been vocal about their admiration for each other since the beginning of their relationship, further proving they are meant to be!
They split duties and share everything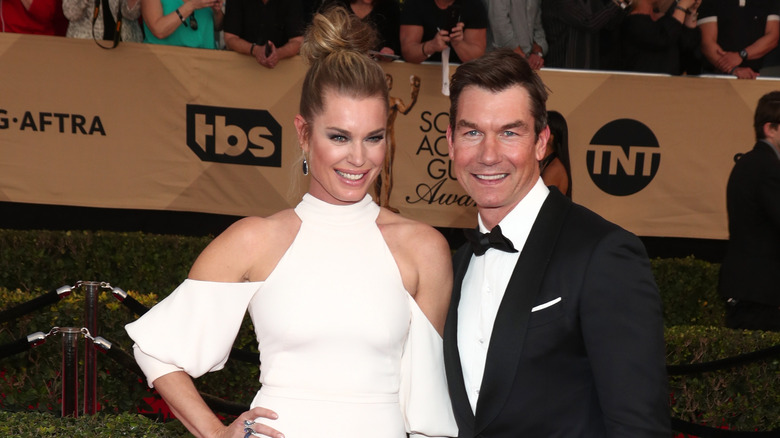 Todd Williamson/Getty Images
Rebecca Romijn and Jerry O'Connell have been making each other laugh the entire way in the long marriage. They twin daughters, Dolly and Charlie. During an interview with her husband on "The Talk," O'Connell, a former host on the hit daytime talk show, asked about the best part of being a mother the "Femme Fatale" actor had the perfect response. "Snuggling with them, getting hugs from them, getting to be a part of watching them become these incredibly complete people, getting to curate this world for them," Rebecca shared, (via Yahoo!). "It's an honor to raise them. They make me so proud."
In addition to balancing parenthood with their bustling careers, the pair remain aligned and help each other when they can. "We're each other's assistants. We pick up each other's slack," the "Rollerball" actor once shared with Redbook (via the Daily Mail). "That's what real life is."
Hard work pays off as the beloved couple celebrated their 15th anniversary. "We haven't thought really about it because I think we're both shocked that we made it this far. We're still getting over just the shock of still being married," the "Kangaroo Jack" alum playfully shared with Entertainment Tonight. All jokes aside, their partnership is what continues to bond this couple together.