A Look Inside Andy Samberg And Justin Timberlake's Friendship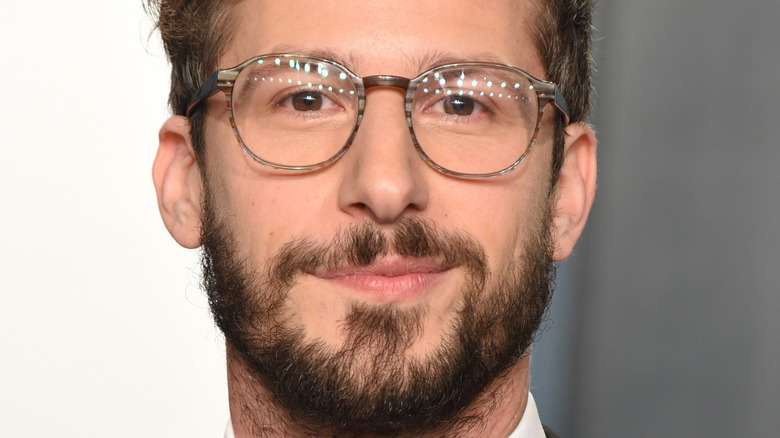 John Shearer/Getty Images
As anyone who's seen an Andy Samberg and Justin Timberlake's "Saturday Night Live" sketch will know, these two are the comedic duo of dreams, but what do we know about their real-life friendship? Samberg and Timberlake first cemented their status as comedic gold back in 2006, when the *NSYNC alum was featured as an "SNL" guest host. At the time, Samberg's band, The Lonely Island, was still behind the show's "Digital Shorts." When they partnered with Timberlake, they paved the way for a years-long working relationship. Their very first video, "D*** in a Box," has become nothing short of a pop culture phenomenon, and in 2009, they released the sequel track, "Motherlover." In 2011, they partnered up once again, along with Lady Gaga, for "3-Way (The Golden Rule)." 
The digital shorts weren't the only place Timberlake and Samberg worked together, though. They also co-starred in several "SNL" sketches, such as the 2013 "Immigrant Tale,"  and "Actor II Actor." Plus, who can forget Timberlake's cameo in The Lonely Island's 2016 feature film, "Popstar: Never Stop Never Stopping"? Of that casting, Samberg told Bustle the singer was excited to be involved — even though one of the most iconic scenes sees Samberg's entourage tell Timberlake's chef character to "Leave the singing to the professionals" (via YouTube). The film has an incredible 79% critic rating on Rotten Tomatoes, so clearly, the joke landed! 
Our question remains, though: What do we know about this duo's friendship IRL?
They know they've become a packaged deal
Justin Timberlake and Andy Samberg are absolutely buddies in real life, but the Brooklyn Nine-Nine actor admits that their bond pales in comparison to that of their on-screen "D*** in a Box" personas. However, that's simply because of how close those personas really are. Speaking to Playboy back in 2012, Samberg joked, "I consider Justin a friend, but those guys are inseparable," (via HuffPost). The Lonely Island frontman also added that they were eternally bonded thanks to that first collaboration. "Justin and I have become inextricably linked because of those videos. We've come to terms with the fact that in every interview we ever do for the rest of our lives we're going to get asked about 'D**** in a Box,'" he quipped. 
Samberg has joked about just how much of a packaged deal they've become on several occasions. In his opening monologue for his 2014 "Saturday Night Live" hosting debut, he made a point of noting that Timberlake wasn't in attendance ... though he shared that the singer had sent a special message. Cue a picture of Timberlake flipping the bird, holding up a sign reading, "You're gonna blow it." Samberg's hilarious response? "He's a good friend." 
The "Palm Springs" star poked fun at their close status once again in 2015, in his opening monologue for the Emmys. "Justin Timberlake is not coming. Now that we've put that to bed, what an exciting event, you guys!" he quipped.
Just don't ask JT to pick between Andy and this comedian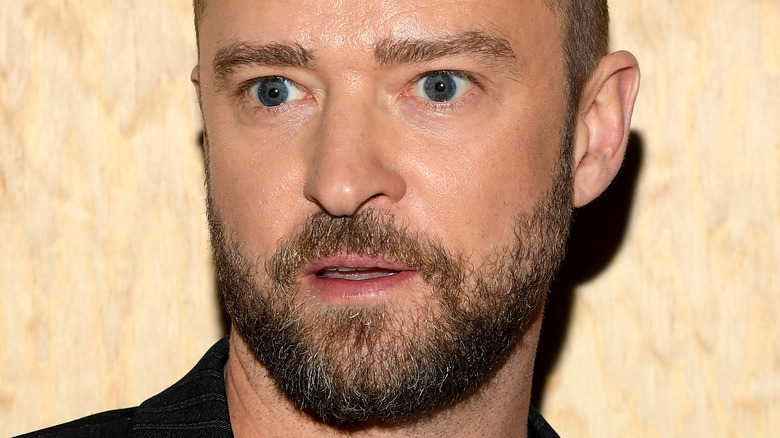 Pascal Le Segretain/Getty Images
Outside of their on-screen/on-stage antics, Andy Samberg and Justin Timberlake actually keep a relatively low profile when it comes to their friendship, especially in interviews. Aside from sharing with "First We Feast" that he and Samberg "hit it off immediately," Timberlake has kept much of his commentary on their collaborations to himself. However, if anything could point to just how close they are in real life, a comparison to Timberlake's known bestie, Jimmy Fallon, is a pretty good place to start. Well, maybe not for Timberlake's friendships, but for statistical purposes, anyway. 
In a game of "This or That" with OnTheRedCarpet, the "Sexy Back" singer was asked to choose between Fallon and Samberg ... and he froze. "Don't do that," he urged, a smile ever-so-slightly detectable. "Don't do that, you'll cause a national crisis ... don't do that," he reiterated. The fact that Timberlake didn't want to pick sides between the two certainly has us thinking that would be a close call!
With Samberg being a comedic musician, and Timberlake a musician known for his comedy, we're hardly surprised that on top of being great co-workers, they're also good friends. And, though Timberlake may be hesitant to dish on just how close they are, one thing we know for sure is thanks to "D*** in a Box," they'll be forever linked. If that's not a form of a friendship bracelet, we don't know what is.