Prince Harry And Meghan Markle Reportedly Want To Meet With The Royal Family
Chris Jackson/Getty Images
Buckingham Palace has yet to respond to claims Meghan Markle and Prince Harry made in their Netflix docuseries, "Harry & Meghan." During the final episodes of the series, The Duke of Sussex offered a rare glimpse into the tense relationship he has with his brother, Prince William, alleging the Prince of Wales left him terrified after "screaming and shouting" during family discussions about the couple's intentions to step down as senior royals. Harry also shared his belief that the office of his father, King Charles III, had leaked details of their correspondence to the media, according to The Guardian.
Sources have told The Sunday Times that the royal family doesn't intend to use the media as its mouthpiece to address Harry and Meghan's claims. One courtier claimed, "We are deliberately keen to send a message by being voiceless. Our duty is to get on with the job. It isn't to respond." But eyebrows were raised when the Daily Mail reported that Queen Consort Camilla Parker Bowles had dined with a group that included two of Meghan's harshest critics in the media, Piers Morgan and Jeremy Clarkson, on December 14. 
Two days later, Clarkson penned a vicious attack on Meghan in his column for The U.S. Sun. In it, he explained he has such disdain for the duchess that he dreams of a day when she would be made to parade the streets naked as angry crowds pelted her with feces. In addition to condemning Clarkson, many Twitter users called on Queen Camilla to apologize to Meghan for hosting Clarkson. Now, it looks like might get the chance to do so in person.
Prince Harry and Meghan Markle would 'like to have a meeting'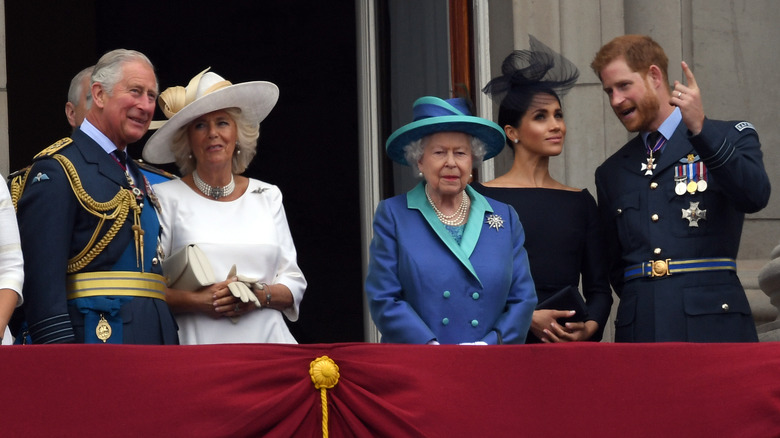 Anwar Hussein/Getty Images
For Prince Harry and Meghan Markle, it reportedly stung when Buckingham Palace arranged for a former royal aide, Lady Susan Hussey, to meet with someone she'd wronged, charity founder Ngozi Fulani. The former lady-in-waiting to Queen Elizabeth apologized for making unacceptable comments regarding Fulani's heritage last month. "Nothing like that was ever done when Harry and Meghan raised various concerns — no meeting, formal apology or taking responsibility or accountability," a source told The Sunday Times. "They'd like to have a meeting."
The outlet also quoted Harry's own words: "I have had to make peace with the fact we're probably never going to get genuine accountability or a genuine apology." However, due to the company Camilla Parker Bowles decided to keep after "Harry & Meghan" attempted to expose the inner workings of the royal family and the dark side of the British media, some of the Sussexes' supporters do feel that they've been vindicated. "Camilla invited Jeremy Clarkson and Piers Morgan to a private party, you can see why Meghan and Harry did the right thing getting out of that s*** show and speaking out," read one tweet.
According to The Telegraph, Harry and Meghan will be invited to King Charles III's coronation on May 6, 2023, should they wish to attend, giving the royal family another opportunity to make amends with the Duke and Duchess of Sussex.