Who Is Barbie Ferreira's Girlfriend, Elle Puckett?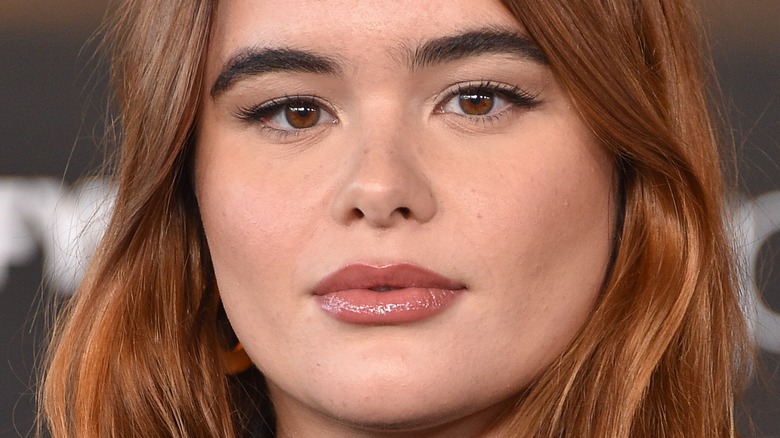 DFree/Shutterstock
Celebrities aren't always public with their personal romances, but Barbie Ferreira shares her girlfriend quite a bit. While she definitely still wants to keep certain personal aspects to herself, her love for her girlfriend, Elle Puckett, is easy to see. 
According to Yahoo, Ferreira has been dating Puckett since 2019. And this past Valentine's Day, Ferreira posted a sweet candid of her and Puckett. She captioned the snapshot, "love of my life," with a fiery heart emoji. And one of their earlier posts together came from Puckett, posting a photo of the two almost kissing on September 29, 2020. The caption reads, "true love's kiss."
In an interview with The New York Times, Ferreira said that queerness is normal and she's known she was queer for a while. "I feel like in my personal life I've been gay as hell," she said. Plus, her identity made her want to see her "Euphoria" character, Kat, realize she's queer too. "I think Kat's a little queer, but that might be my perspective," she said. Unfortunately, Ferreira won't be returning to "Euphoria" for it's proposed Season 3 according to Variety. But maybe more queer roles are in her future, like her character Bailey in HBO's film, "Unpregnant."
Barbie Ferreira's girlfriend, Elle Puckett, is a musician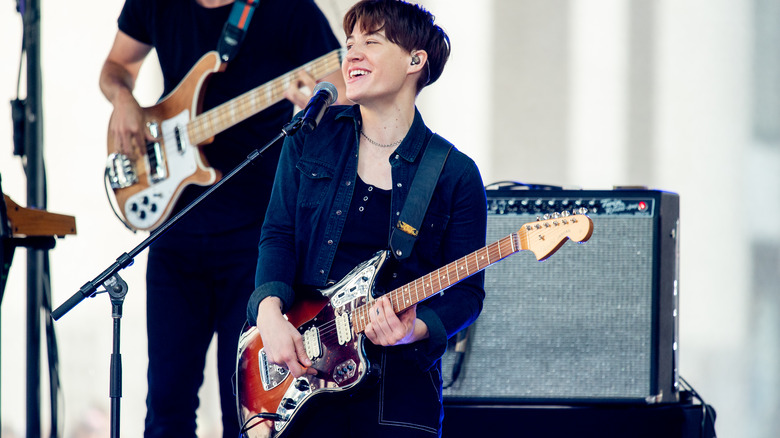 Roy Rochlin/Getty Images
When it comes to Barbie Ferreira's relationship and queerness, she's pretty happy with her girlfriend Elle Puckett. And who is she? She's not really in the same business as Ferreira, but pretty close. Puckett is a musician and according to the Warm Audio website she goes by the stage name Rosie Ugly. She's a guitarist, producer, and artist who started a band called Poema in 2016 with her sister. They have four EPs and performed at Warped Tour in 2010. But today she also makes music as a solo artist, Rosie Ugly, and she's a verified artist on Spotify.
Puckett has performed with pretty popular names as well. The Long Beach Post reported that Puckett performed with Maggie Rogers at the East Village Arts District on Jan. 20, 2019. Rogers performed her debut album, "Heard It In a Past Life," and the Puckett was the sole guitar player for the acoustic set, aside from when Rogers joined. In to playing alongside Rogers, Puckett has also performed with Lorde. In a Nov. 18, 2021 post, Puckett shared a photo on Instagram of her and three other musicians on stage with Lorde at the Guggenheim International Gala. And on April 14, Puckett posted that she's "very grateful to be touring again," with a photo of her on stage with Lorde again.
Barbie Ferreira came out the same year she started dating Elle Puckett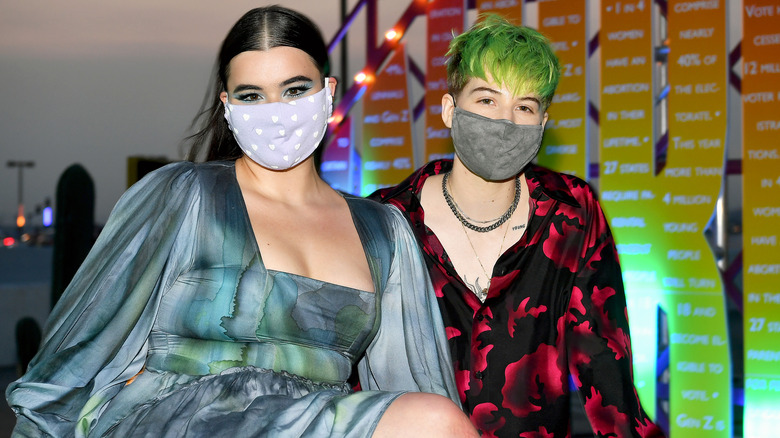 Amy Sussman/Getty Images
As stated before, Yahoo reported the two have been dating since 2019. And Ferreira came out, publicly, as queer that same year in an interview with Out Magazine. "I'm queer. In my private life, it's been going on for a long time," the actor said. "I obviously don't really identify as a straight woman ever in my life, but I feel like now I'm really in my queerness. I'm in LA living my 'L Word' life. Isn't it amazing?"
And the two are pretty serious three years in. While talking to Cosmopolitan for a profile on Sept. 30, 2020, Ferreira shared that Puckett actually gave Ferreira her first tattoo. "It's a spiral on my butt," the "Euphoria" actor said. "A spiral for my quarantine spiral." It's a stick-and-poke tattoo and Puckett used a kit that Ferreira got her for her birthday. Then, as Yahoo reported in March 2022, Ferreira shared that she and Puckett got matching tattoos together. The actor shared the experience on her Instagram story of the matching bleeding heart tattoo the couple now share. Ferreira's tattoo is on her rib and Puckett's is on her neck. As they say: the couple that tats together, stays together. Unless it's Pete Davidson's tattoo habit.