Why Uma Thurman Gave Her Youngest Daughter An Extremely Long Name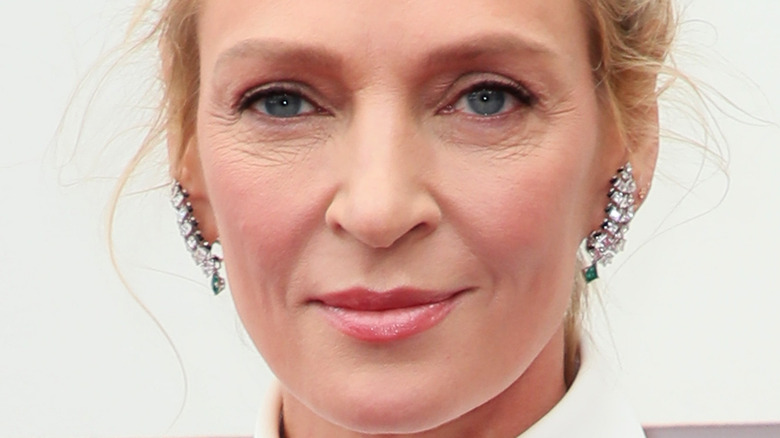 David Livingston/Getty Images
Celebrities are known to give their kids unusual names. Gwyneth Paltrow named her daughter "Apple" and Katie Holmes and Tom Cruise named their only daughter, "Shiloh." Others like Angelina Jolie and Brad Pitt went the route of choosing a less well-known name like "Maddox." And others still, like Sarah Michelle Gellar and Freddie Prinze Jr., chose a middle ground and named their kids Charlotte and Rocky. No one expects actors and visionaries to name their kids "Sally" or "Tom," although it happens, but sometimes they go a little too off-the-wall.
When it comes to Uma Thurman, she's gone a different path for each of her three kids. Her eldest child, actor Maya Hawke, has a name that people have heard of before. And her second child with Ethan Hawke is named "Levon," which isn't common in the United States, but still probably doesn't cause substitutes to do a double-take. However, her third child has a very abnormal, mouthful of a name.
Uma Thurman named her youngest daughter several names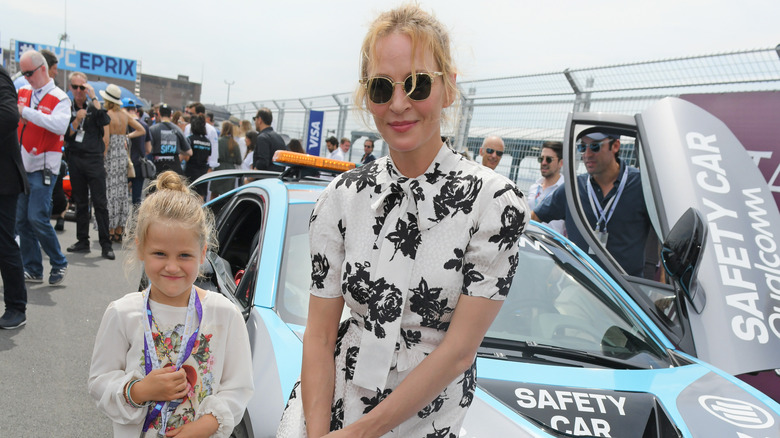 David M. Benett/Getty Images
Not only does Uma Thurman's third child have several names, but none of them are very common. As Entertainment Weekly reported when she was born in 2012, Thurman and her boyfriend at the time Arpad Busson named their daughter Rosalind Arusha Arkadina Altalune Florence Thurman-Busson. "Better known to family and friends as Luna," Thurman's reps said in a statement to People. "Each name has a special reason and meaning to her mother and father," Thurman said, according to The Daily Mail. Entertainment Weekly also reported the significance of at least three of the names: "Arusha is a city in Tanzania. Arkadina is the surname of a character in Anton Chekhov's play 'The Seagull.' Altalune may be a variation on "alta luna," Italian for "high moon" — and the name of a brand of wine."
But why did Thurman go with such a long name that she doesn't even use? In a 2013 appearance on "The Tonight Show with Jimmy Fallon" Thurman revealed that her eldest, Maya Hawke, gave her the idea, via UsWeekly. "My daughter came up with the best excuse, which was that I probably wouldn't get to have any more children, so I just put every name that I liked into [Luna's]," she said. "We couldn't quite agree on the name, so we call her Luna. She's lucky that way."
Uma Thurman is obviously a good mother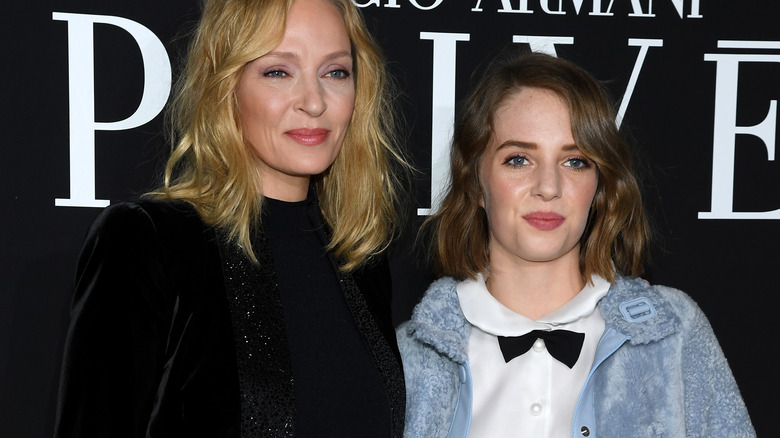 Pascal Le Segretain/Getty Images
While that has to be a tough name for a toddler to write out and learn, "Luna" isn't and is a nice compromise. Thurman has been open about her experience as a mom, sharing in 2009 that sometimes it's hard not to give unsolicited parenting advice so that others don't make her mistake, via MadeForMums. She also shared that she feels guilty for things that go wrong while being a parent. "You feel awful at times when something goes wrong or when you wish something could have gone better," she said. "But I have to remind myself that parenting isn't a sprint — it's a marathon."
And even as her kids get older, Thurman cares just as much. "It's a complicated career. One so much public-facing often," she told Access in 2022 about her worries regarding daughter Maya Hawke going into acting. "And she's a sensitive person." But it's obviously turning out fine for Hawke, who starred in Netflix's "Do Revenge." 
Hawke credits her actor mother for all she's learned about her craft. "My mom has been giving me advice on how to act [...] through a process of leading by example and showing me what it means to be a productive collaborator on set, a good worker, kind person, a good listener," Hawke told Who What Wear, via The Daily Mail. "I got to watch her my whole life, and so I have had wonderful teachers."