The Injury That Left Nick Jonas With A Scar On His Middle Finger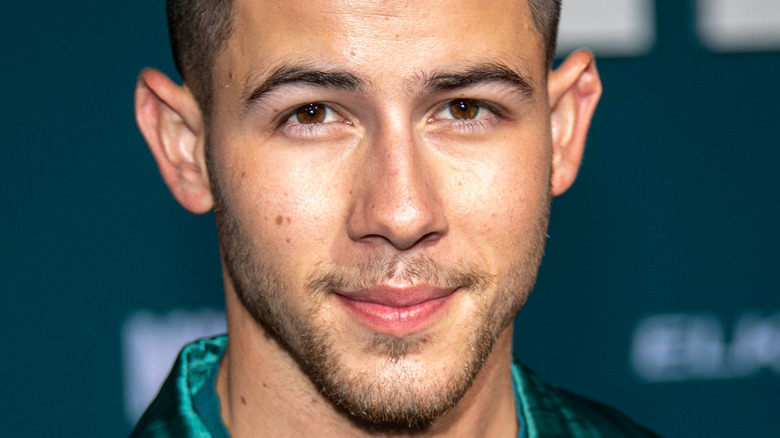 Eugene Powers/Shutterstock
The Jonas Brothers have been in the spotlight since they were teenagers — the release of their first album in 2006 effectively propelled them into super-stardom, per People. The three brothers who make up the band — Joe Jonas, Kevin Jonas, and Nick Jonas — have remained open with their fans through the years about everything going on in their lives, from their thoughts on their former Disney Channel television show to how they make married life work for them.
Much of what has gone on in the brothers' lives have been exposed to public scrutiny, but there are still a few interesting facts about them that even their most dedicated fans might not know. One such tidbit is that Nick, the youngest of the three bandmates, has a scar on one of his middle fingers, as noted by Insider. That's not the end of the story, though, because he once revealed how he ended up with the injury that led to the mark in a very interesting way.
Nick Jonas got his scar from a pocketknife
In an interview titled "Nick Jonas: 100 Things You Didn't Know" with MTV, Nick Jonas revealed that he has a scar on his left middle finger. Jonas even elaborated on the factoid in the YouTube video, saying that he cut his finger with a pocketknife when he was only nine years old. While the "Jealous" singer didn't provide more details about the exact circumstances under which he injured himself, he stated, "That was a mistake. I should not have had the pocketknife that day."
In a later interview with Us Weekly, Jonas shared a little bit more about the incident, saying, "I nearly cut my finger off with a pocketknife when I was 9." In other words, it sounds as though the event was more serious than the 30-year-old originally let on while discussing it during his MTV interview. The actor/musician clearly learned his lesson the hard way.
Another quirk about Nick Jonas' appearance has gotten attention
Rich Fury/Getty Images
While Jonas Brothers' Nick Jonas learned the hard way not to play with pocketknives after an accident that occurred when he was a child, the resulting scar on his middle finger isn't the only noticeable quirk about his appearance. Seventeen previously reported that the star actually has three front teeth instead of two. Although Seventeen provided readers with photographic evidence to back up its claims about Jonas' teeth, the rumor was quickly squashed.
Both Jonas and a dentist provided their input to People about the "three front teeth" theory, and the "Camp Rock" actor commented, "I don't. I just have kind of messed up teeth if it looks like I have three front teeth." Dentist Dr. Jennifer J. Bone also weighed in and said, "Based on the photos I've seen, Nick Jonas' teeth seem to be well within the range of normal." To clear things up for the record, then, that's one scar from a pocketknife and two (not three) front teeth for Nick Jonas.